Blogs edited and submitted by Chiho Kamioka
JOI Support staff and manager.
Campus festivals
Japanese Campus festivals
Japanese schools and universities have many cultural and intramural events during the school calendar. And in Autumn the campus festival season starts. Japanese Manga and Anime often feature these events in their story lines, and there are similar events in different countries too, but there is also a uniqueness to some of these festivals that make them "very Japanese".
Kamiyama sensei is a professional Japanese teacher at JOI living in the Tokyo area in Japan. She probably has great memories of the campus festivals at her alma mater Tsukuba University, so she introduces this topic in this week's Japanese learning blog.
You can learn Japanese for free by reading this blog and checking the vocabulary list, Kanji readings, and English translation. And you can listen to natural Japanese and practice Japanese by watching the YouTube video as well.
学園祭
Campus festivals

By KAMIYAMA Yuki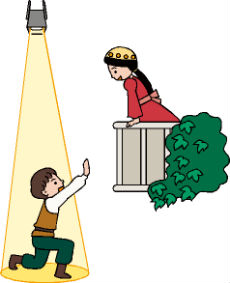 日本の学校には運動会などいろいろな行事がありますが、生徒たちが一番楽しみにしているのは学園祭です。
アニメやマンガで「学園祭」のシーンがでてくることありますよね。
学園祭の運営は生徒たちが行います。
高校では教室でいろいろな楽しい企画を準備します。
劇・喫茶店・お化け屋敷・クイズ大会などいろいろあります。
クラスのみんなで協力するので友情が深まります。まさに青春です。
体育館のステージではダンスや音楽、演劇の発表があります。
大学では規模も大きくなり、実行委員会が組織されます。
プロの歌手やバンド、お笑い芸人が出演することもあります。
ミスキャンパスやミスターキャンパスを選ぶ大会も注目されます。
学生だけでなく、キャンパスには数千人規模の来場者が訪れ、1年に1度のお祭りは盛り上がります。
学園祭が行われるのは秋です。
みなさんも機会があればぜひ行ってみてください。
To listen to this blog, please watch our Youtube video.
日本(にほん)の学校(がっこう)には運動会(うんどうかい)などいろいろな行事(ぎょうじ)がありますが、生徒(せいと)たちが一番(いちばん)楽(たの)しみにしているのは学園祭(がくえんさい)です。
アニメやマンガで「学園祭(がくえんさい)」のシーンがでてくることありますよね。
学園祭(がくえんさい)の運営(うんえい)は生徒(せいと)たちが行います。
高校(こうこう)では教室(きょうしつ)でいろいろな楽(たの)しい企画(きかく)を準備します。
劇(げき)・喫茶店(きっさてん)・お化(ば)け屋敷(やしき)・クイズ大会(たいかい)などいろいろあります。
クラスのみんなで協力(きょうりょく)するので友情(ゆうじょう)が深(ふか)まります。まさに青春(せいしゅん)です。
体育館(たいくかん)のステージではダンスや音楽(おんがく)、演劇(えんげき)の発表(はっぴょう)があります。
大学(だいがく)では規模(きぼ)も大(おお)きくなり、実行委員会(じっこういいんかい)が組織(そしき)されます。
プロの歌手(かしゅ)やバンド、お笑(わら)い芸人(げいにん)が出演(しゅつえん)することもあります。
ミスキャンパスやミスターキャンパスを選(えら)ぶ大会(たいかい)も注目(ちゅうもく)されます。
学生(がくせい)だけでなく、キャンパスには数千人規模(すうせんにん)の来場者(らいじょうしゃ)が訪(おとず)れ、1年(ねん)に1度(ど)のお祭(まつ)りは盛(も)り上(あ)がります。
学園祭(がくえんさい)が行(おこな)われるのは秋(あき)です。
みなさんも機会(きかい)があればぜひ行(い)ってみてください。
Campus festivals
There are many kinds of events at Japanese schools, like Sports days and the like, but the one event that the students most look forward to is the campus festival. Campus festivals often appear in Anime and Manga scenes, don't they ?
The management of the campus events is done by the students.
In high school the students think up of various fun plans in their classrooms. There are plays, cafes, ghost houses, quiz competitions, and the like. The classmates all cooperate in the planning and this leads to a deepening of friendships. It really is the picture of youth. On the stage in the school gym, there are dances, musical and play performances put on.
In universities, the scale gets bigger; an executive committee is organized. Professional singers, bands, comedians are called in to perform. The choosing of the Miss Campus and Mr. Campus is also one of the main focuses.
Its not only students, but there are also several thousand visitors that come to this once a year festival and they all get excited.
Campus festivals take place in autumn. If you get a chance, please go and have a look at one.
学園祭(がくえんさい) campus festival
運営する(うんえいする) manage
企画(きかく) plan
喫茶店(きっさてん) coffee shops
お化け屋敷(おばけやしき)haunted house
青春(せいしゅん) youth
規模(きぼ) scale
実行委員会(じっこういいんかい)executive committee
組織する(そしきする) organize
出演する(しゅつえんする) act
Last modified on