Japanese group lessons - JOI FlexLessons
FlexLessons : Learn Japanese on Your Schedule

FlexLessons are our small-group, online Japanese lessons. With a modular curriculum that fits busy lifestyles, these online Japanese classes are unmatched for value and convenience.
FlexLessons are our most popular lesson choice! A 50-minute live, online lesson for an unbeatable price.
Take FlexLessons on your schedule, at your pace. No start dates, no fixed schedule. Take a break when you need to, and later pick up where you left off - a truly flexible way to learn Japanese online.
Choose conversation-focused classes or JLPT/grammar-focused classes, or take both.
Exclusive features available only with FlexLessons keep you learning Japanese online at full speed. Learn more about FlexLessons exclusive features.
---
The Old Way to Learn: A Lesson Chain on a Fixed Schedule
Usually Japanese courses follow a linked "chain" of classes, where each lesson depends on the lessons that came before it. To understand lesson 4, for example, you need to take lessons 1, 2, and 3 first.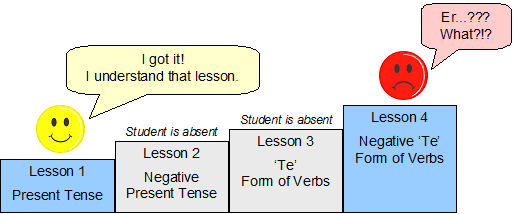 The old way doesn't work if you miss a session.
That approach works if you are able to attend every class, but what happens if you miss a session?
Because the later lessons are tied so closely to earlier ones, you can't easily start and stop lessons, or take breaks from classes.
---
The Better Way to Learn: JOI's FlexLessons
In contrast, each FlexLessons class at JOI is a module, a stand-alone unit of online Japanese learning that doesn't depend on other modules.
Our unique curriculum system means you don't have to follow a rigid course structure.

With JOI's FlexLessons, take classes at your pace, on your schedule.
Instead, you can take online Japanese lessons when your schedule permits, at the pace that meets your style, and---the best part---in any order you like!
There are no start dates or end dates for FlexLessons classes at JOI.
---
FlexLessons at All Levels for All Students
FlexLessons are available at all levels, from introductory to advanced. Conversation-focused classes and JLPT/grammar-focused classes are offered. See our online Japanese class offerings here.
FlexLessons are our most popular and affordable lesson choice. We recommend all students even students who opt for private Japanese lessons take FlexLessons as well.
FlexLessons are small-group classes, never more than 7 students. This small size ensures a lively classroom environment, but gives each student plenty of individual attention from the teacher. Plus, you can have three-way conversations, class quizzes and just plain fun learning Japanese online that can't be created in a private lesson.
During your FlexLessons class, take advantage of the time when another student is interacting with the teacher. Rather than wait for your turn, create your own learning zone:

While another student is answering a question, try to answer the question yourself. Challenge yourself to use the Japanese grammar form or phrase being introduced in the class. Did the other student use a word you didn't know ?

If a student is reading a sentence from the whiteboard, don't just listen read it aloud yourself!
Afterward, when the teacher repeats what was read, compare your pronunciation and pacing with the teacher's. Read the sentence to yourself until you get through it without any hesitation.
---
FlexLessons Exclusive Services
With your FlexLessons enrollment, you have access to services available only to FlexLessons students, including:


Level Track Keep on track to achieve your Japanese learning goals.


Tensaku essay correction service :Have your Japanese essay reviewed and corrected by a professional Japanese teacher.