Blogs edited and submitted by Maki Ikeda
JOI teacher and blog submissions writer.
The earliest cherry blossoms in Japan
日本一早い桜  The earliest cherry blossoms in Japan

By IKEDA Maki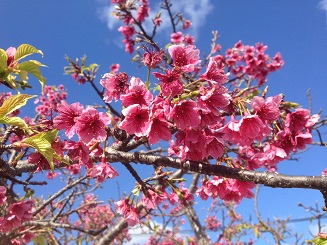 沖縄に一足早く桜の季節がやってきました。沖縄では、1月下旬ごろから桜が咲き始めます。
沖縄の桜と言えば、緋寒桜です。緋寒桜は、本州などでよく見かける桜、ソメイヨシノとは違う点があります。
まず、色が違います。緋寒桜は濃いピンク色の花、ソメイヨシノは白っぽい花を咲かせます。
それから、花が咲く時の条件が違います。緋寒桜は寒くなると花が咲く性質があるそうです。そのため、比較的寒い北部で先に花が咲き、だんだん南へ広がります。ソメイヨシノは暖かい南の地域から咲き始めます。
2月に咲く桜は、少し慣れない感じがしますが、南北に長い日本だからこそ味わえる美しさなのでしょう。
■To listen to this blog, please watch our video
---
★Kanji with hiragana

日本一(にほんいち)早(はや)い桜(さくら)
沖縄(おきなわ)に一足早(ひとあしはや)く桜(さくら)の季節(きせつ)がやってきました。沖縄(おきなわ)では、1月(がつ)下旬(げじゅん)ごろから桜(さくら)が咲(さ)き始(はじ)めます。
沖縄(おきなわ)の桜(さくら)と言(い)えば、緋寒桜(ひかんざくら)です。緋寒桜(ひかんざくら)は、本州(ほんしゅう)などでよく見(み)かける桜(さくら)、ソメイヨシノとは違(ちが)う点(てん)があります。
まず、色(いろ)が違(ちが)います。緋寒桜(ひかんざくら)は濃(こ)いピンク色(いろ)の花(はな)、ソメイヨシノは白(しろ)っぽい花(はな)を咲(さ)かせます。
それから、花(はな)が咲(さ)く時(とき)の条件(じょうけん)が違(ちが)います。緋寒桜(ひかんざくら)は寒(さむ)くなると花(はな)が咲(さ)く性質(せいしつ)があるそうです。そのため、比較的(ひかくてき)寒(さむ)い北部(ほくぶ)で先(さき)に花(はな)が咲(さ)き、だんだん南(みなみ)へ広(ひろ)がります。ソメイヨシノは暖(あたた)かい南(みなみ)の地域(ちいき)から咲(さ)き始(はじ)めます。
2月(がつ)に咲(さ)く桜(さくら)は、少(すこ)し慣(な)れない感(かん)じがしますが、南北(なんぼく)に長(なが)い日本(にほん)だからこそ味(あじ)わえる美(うつく)しさなのでしょう。
---
★English Translation
The earliest cherry blossoms in Japan
The Okinawa cherry blossom season has begun a little earlier than in other places. In Okinawa, cherry blossoms start to bloom around late January. And when we talk about the Okinawa cherry blossoms, we generally mean the Taiwan cherry variety. There are some points that make the Taiwan cherry blossoms different from the Yoshino cherry blossoms which are often seen in Honshu and other areas.
First of all, they are a different color. The Taiwan cherry gives a dark pink blossom whereas the Yoshino cherry flower petals are whitish in color.
Also, conditions of the timing of their blooms are different. The Taiwan cherry blossoms tend to have a predisposition to bloom when it becomes colder. Therefore they bloom comparitively earlier in the northern and colder areas first and gradually this spreads down southwards. The Yoshino cherry starts to bloom in the warmer southern areas first.
Cherry blossoms blooming in February feels a little strange, but the fact that Japan is a long country that spans from north to south, makes this one of the beauties that can be enjoyed here.
---
★This week's vocabulary

一足早(ひとあしはや)く little earlier than the others
緋寒桜(ひかんざくら) Taiwan cherry. One species of cherry blossom
本州(ほんしゅう) the largest island of Japan
ソメイヨシノ Yoshino cherry. One species of cherry blossom
濃(こ)いピンク色(いろ) pink-red
条件(じょうけん) condition
性質(せいしつ)がある have the predisposition to
比較的(ひかくてき) relatively
慣(な)れない感(かん)じ feel strange
南北(なんぼく)に長(なが)い long from north to south
味(あじ)わえる enjoy (the beauty)
Last modified on