Coffee in Japan
The coffee industry in Japan has a long and interesting history. Introduced to the country by Dutch and Portuguese traders in the 16th Century, it grew in popularity, especially after the second world war.
Nowadays, large firms like Starbucks dominate the café style coffee drinking, and canned coffee is still also a uniquely Japanese product.
This blog for Japanese learners by Japanese teacher Noriko Yokozuka, is about coffee and in particular "Siphon Coffee". Read the blog and find out more about this topic and learn new vocabulary, Kanji. You can listen to Yokozuka sensei reading the blog out loud to practice your Japanese listening skills.
はじめてのサイフォンコーヒー
My first Siphon Coffee

By YOKOZUKA Noriko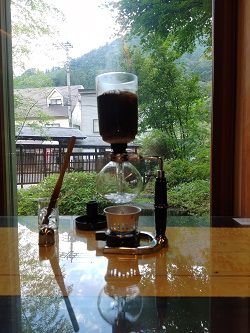 私はコーヒーが好きで、ほぼ毎日飲んでいます。とはいっても、コーヒーに詳しいわけではないので、こだわりは特にありません。どちらかといえばコーヒー豆は浅煎りより深煎りのほうが好きというぐらいです。 コーヒーを淹れる方法にもいろいろあるのだと思いますが、一般的なドリップ式しか知りませんでした。
 先日、とある場所で「サイフォンコーヒー」というものを見つけました。初めて聞く名前でしたので、どんなものだろうと気になり、注文してみました。出てきたのは「サイフォン」という器具で、それ使ってお店の人がコーヒーを入れてくれました。蒸気圧を利用して淹れるのだそうです。 今はドリップ式がほとんどですが、昔の喫茶店ではこのサイフォンコーヒーがよくあったんですよ、とお店の人が教えてくれました。 使っているコーヒーの粉は何だったか、聞いたけど忘れてしまいました。しかし初めてのサイフォンコーヒーはとても美味しかったです。
 きっと世界中にはいろいろな淹れ方があると思います。今度はどんなコーヒーに出会えるか楽しみにしています。
To listen to this blog, please watch our Youtube video.
はじめてのサイフォンコーヒー
 私(わたし)はコーヒーが好(す)きで、ほぼ毎日(まいにち)飲(の)んでいます。とはいっても、コーヒーに詳(くわ)しいわけではないので、こだわりは特(とく)にありません。どちらかといえばコーヒー豆(まめ)は浅煎り(あさいり)より深煎り(ふかいり)のほうが好きというぐらいです。 コーヒーを淹(い)れる方法(ほうほう)にもいろいろあるのだと思いますが、一般的(いっぱんてき)なドリップ式(しき)しか知(し)りませんでした。
 先日(せんじつ)、とある場所(ばしょ)で「サイフォンコーヒー」というものを見(み)つけました。初(はじ)めて聞(き)く名前(なまえ)でしたので、どんなものだろうと気(き)になり、注文(ちゅうもん)してみました。出(で)てきたのは「サイフォン」という器具(きぐ)で、それ使(つか)ってお店(みせ)の人(ひと)がコーヒーを淹れてくれました。蒸気圧(じょうきあつ)を利用(りよう)して淹れるのだそうです。 今(いま)はドリップ式がほとんどですが、昔(むかし)の喫茶店(きっさてん)ではこのサイフォンコーヒーがよくあったんですよ、とお店の人が教(おし)えてくれました。 使っているコーヒーの粉(こな)は何(なん)だったか、聞いたけど忘(わす)れてしまいました。しかし初めてのサイフォンコーヒーはとても美味(おい)しかったです。
 きっと世界中(せかいじゅう)にはいろいろな淹れ方(かた)があると思(おも)います。今度(こんど)はどんなコーヒーに出会(であ)えるか楽(たの)しみにしています。
My first Siphon Coffee
I like coffee and drink it almost every day. That saying, I am not knowledgeable about coffee, and I don't have much of a preference. But if I have to say, it would just be that I prefer lightly roasted coffee beans to dark roasted. There are many different ways to make coffee, but I only know the standard drip method.
The other day, I came across something called "siphon coffee" somewhere. It was the first time that I'd heard that name, and it piqued my curiosity, so tried ordering it. The shop staff then brought out a piece of apparatus called a "Siphon" and proceeded to use it to make my coffee. It uses steam pressure for the brewing process. The shopkeeper told me that although most coffee is made by the drip method nowadays, this type of siphon coffee was common in coffee shops in the past. I asked but cannot remember what type of beans they used. But my first siphon coffee was very good.
I'm sure there are various ways of brewing coffee around the world. I'm looking forward to seeing what kind of coffee I come across the next time.
浅煎り(あさいり) light roast (coffee)
深煎り(ふかいり) dark roast (coffee)
淹れる(いれる) to make (tea、coffee、etc.); to brew a beverage (with hot water)
ドリップ式(しき) drip
器具(きぐ) utensil; implement; tool; instrument; appliance; apparatus;
蒸気圧(じょうきあつ) vapor tension; steam pressure; vapour pressure head; vapor pressure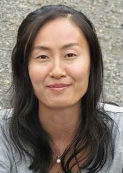 Konnichi-wa, everybody. I am originally from Ringo-no-ri in Aomori prefecture, but I am now living in Kakaa-tenka in Gunma prefecture. I've lived in several other of Japan's prefectures as well, including Niigata (which has gorgeous sunsets), Tochigi (where the Nikko Toshogu shrine is located), and Gifu (land of the famous Shirakawa-go area of historic rafter roofed houses).
I myself am studying Chinese, so I can really relate to the difficulty of learning a foreign language. But still, if we can get past that step and feel the excitement of having just a single word understood, the feeling of satisfaction that comes from communication is, no pun intended, beyond words. I'd like to invite everyone who visits our online Japanese school with the thought "I want to speak Japanese!" to join my classes. Until the day when you can say confidently, "I did it, I learned how to speak Japanese!", I promise to do my best to help you in your Japanese language studies.
Last modified on