Blogs edited and submitted by Chiho Kamioka
JOI Support staff and manager.
Sports day
Japanese Sports Days
Japanese Sports Days are a central part of the community culture. Although people who have never been to Japan might not have seen one in real life, the events are often featured in Japanese movies and Japanese Manga, so are often part of the standard images of Japan.
Ishibashi sensei, a Japanese teacher at JOI, has a son and she attends his school sports day as well as the local sports day in her area. So she has a unique, first-hand experience of these events which she introduces in this language blog.
This is a great blog to help you learn Japanese. It features a vocabulary list, Kanji readings, and Ishibashi sensei herself has created the audio and visuals for the YouTube video that accompanies this free Japanese learning tool.
運動会
Sports Day

By ISHIBASHI Kaori
日本では秋に学校、幼稚園、職場や地域などいろいろなところで運動会が開かれます。運動会は日本ではとても大きな行事です。
学校では生徒たちが赤と白のチームに分かれて、いろいろな競技を通して競います。
学校の運動会に参加する子供たちを応援するために、家族みんなで応援に行きます。
ですから、家族が見に行ける土曜日や日曜日に行われるのが普通です。
一日がかりで行われるときは家族が豪華なお弁当を持って応援に行くこともよくあります。
運動会ではいろいろなおもしろい競技があります。
代表的な競技は、短距離走、パン食い競争、玉入れ、綱引き、組体操、そして、リレーは最後に一番盛り上がる競技です。
わたしの住んでいる大阪では学校の運動会のほかに、地域の運動会もあって、たくさんの人が参加します。
みなさんも機会があれば、ぜひ参加してみてください。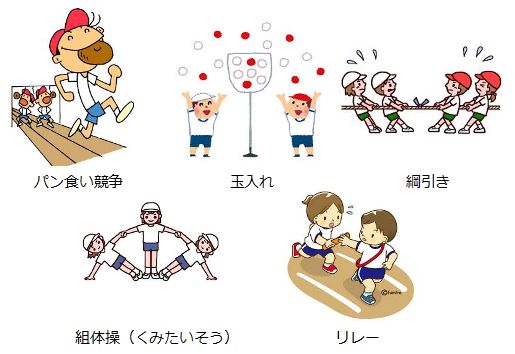 To listen to this blog, please watch our Youtube video.
運動会(うんどうかい)
日本(にほん)では秋(あき)に学校(がっこう)、幼稚園(ようちえん)、職場(しょくば)や地域(ちいき)などいろいろなところで運動会(うんどうかい)が開(ひら)かれます。運動会(うんどうかい)は日本(にほん)ではとても大(おお)きな行事(ぎょうじ)です。
学校(がっこう)では生徒(せいと)たちが赤(あか)と白(しろ)のチームに分(わ)かれて、いろいろな競技(きょうぎ)を通(とお)して競(きそ)います。
学校(がっこう)の運動会(うんどうかい)に参加(さんか)する子供(こども)たちを応援(おうえん)するために、家族(かぞく)みんなで応援(おうえん)に行(い)きます。
ですから、家族(かぞく)が見(み)に行(い)ける土曜日(どようび)や日曜日(にちようび)に行(おこな)われるのが普通(ふつう)です。
一日(いちにち)がかりで行(おこな)われるときは家族(かぞく)が豪華(ごうか)なお弁当(べんとう)を持(も)って応援(おうえん)に行くこともよくあります。
運動会(うんどうかい)ではいろいろなおもしろい競技(きょうぎ)があります。
代表的(だいひょうてき)な競技(きょうぎ)は、短距離走(たんきょりそう)、パン食(く)い競争(きょうそう)、玉入(たまい)れ、綱引(つなひ)き、組体操(くみたいそう)、そして、リレーは最後(さいご)に一番(いちばん)盛(も)り上(あ)がる競技(きょうぎ)です。
わたしの住(す)んでいる大阪(おおさか)では学校(がっこう)の運動会(うんどうかい)のほかに、地域(ちいき)の運動会(うんどうかい)もあって、たくさんの人が参加(さんか)します。
みなさんも機会(きかい)があれば、ぜひ参加(さんか)してみてください。
Sports Day
During Autumn in Japan, there are sports days held at various places, including schools, kindergartens, workplaces and in local areas.
Sports days are really big events in Japan.
In schools, the students split into two (white and red) teams and they compete in various athletic events.
The whole family goes to cheer the children participating in the sports days.
So the day is usually held on either Saturdays or Sundays so that the families can attend.
When the event takes a whole day, and the families often prepare gorgeous lunchboxes to take with them when they go to give support.
There are lots of interesting athletic events at the sports days.
The typical events are short-distance races, a race for the bun, the ball-toss game and tug of war, and then everyone gets most excited over the last event which is usually the relay event.
In the place where I live in Osaka, they also have a local sports day as well as the school sports day and lots of people take part in that.
If you ever get a chance, please try to take part in one too.
運動会(うんどうかい)sports meeting
幼稚園(ようちえん) kindergarten
職場(しょくば) workplace
地域(ちいき) local area
行事(ぎょうじ) event
競技(きょうぎ) athletic event
競う(きそ)う compete
参加(さんか)する participate
応援(おうえん)する cheer for
豪華(ごうか)な luxurious
代表的(だいひょうてき) representative, typical
短距離走(たんきょりそう) short-distance race
パン食(く)い競争(きょうそう) race for the bun
玉入(たまい)れ ball-toss game
綱引(つなひ)き tug of war
組体操(くみたいそう) gymnastic formation
リレー  relay
盛(も)り上(あ)がる exciting
Last modified on