Learn to speak Japanese at your pace !
JOI is so popular for good reasons. It provides an unsurpassed quality and quantity of services for learning Japanese online.
Whether you are a first-time Japanese speaker or advanced linguist, we help you achieve your goals.
You can take Japanese lessons in the comfort of your home, office, or school.
Save money and time on commuting to local classes, and learn from highly experienced online teachers.
Study when you feel motivated - just click on your computer to see and talk to your teacher and classmates.
3 Trial Lessons- Get Started !
---
Online Japanese Group and Private lessons

Japanese small-group lessons (FlexLessons)
Our small group lessons will develop your speaking, pronunciation, listening, reading, grammar, vocabulary and Kanji.They have an average of 2 to 4 students per lesson and a maximum of 7 students.
There are 20 different types of classes available so whatever your level, you can find a class to suit your needs.

FlexLessons are better than Private lessons if you are busy.With FlexLessons, you can take as many lessons as you want a day.At whatever time (see lesson schedule), with any teacher, at your level and on whatever day - at your own pace.
Aren't private lessons faster and more efficient ?
Not at all. Our modular curriculum system is based the most effective methods to learn Japanese.
Please try 3 Trial FlexLessons with our $9 or 900 yen.

Need a private Japanese teacher ?
If you prefer the one-on-one environment,but don't need the flexibility offered by FlexLessons, then Private Lessons are perfect for you.A first-rate, qualified Japanese teacher will create tailor-made lessons for you. This email address is being protected from spambots. You need JavaScript enabled to view it.

Choose both or either !
You can vary your learning and combine Group and Private learning.
Our most diligent learners often make the most of all the unique FlexLesson features, and tailor-made private lessons.
See more FlexLesson and Private Lesson details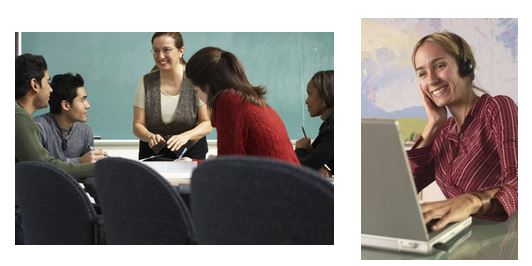 ---
Qualified and professional Japanese teachers
Our dedicated staff are hand-picked and trained to ensure that we continue to stay ahead of the field.

All our teachers are government-certified instructors or with university and graduate school Japanese teaching education.see JOI's online Japanese teachers
Learning from a qualified teacher is the most effective way to study Japanese and with 15 years of online experience under our belt and 20 years of language teaching experience, JOI can guarantee the results.
Just try our classes and see the difference!