FlexLessons (small-group lessons)
FlexLessons are JOI's small-group lessons
(average of 2 to 4 students per class, a max. of 7 students)
The most flexible & easy way to learn and improve your Japanese.Over 130 Group Lesson times available a week.
Levels range from Introductory to Advanced : 20 different levels of classes to match your progress effectively.

FlexLessons - our most popular lesson course choice!
A 50-minute live, online Japanese lesson for an unbeatable price.
3 trial lessons (Special Limited Offer!) for 9 dollars & Regular prices start at $5 per lesson - the most reasonable prices anywhere.
There is no limit to the number of classes you can take a day.
If you are busy, take your lessons on weekends, or take your lessons when you have space in your schedule.
FlexLessons use a unique modular curriculum system.
This is the most effective system to learn Japanese if you are new to online lessons.

A variety of Japanese courses on offer.
There are many types of FlexLesson:- Japanese everyday conversation classes, or grammar-focused classes, JLPT lessons(N1,N2,N3,N4,N5), Business Japanese, vocabulary lessons, Kanji, and reading skills.
Levels range from Introductory to Advanced.
( See online Japanese class details )

How to take lessons
Log into the reservation, check the lesson plans, choose the class topic and class time you'd like to take.
When it's your class time, login to the classroom, see the teacher and take the lesson.
Keep track of your progress and what lessons you have taken
In our Level Track feature, you can see all the JOI lessons for each level. The system keeps track of lessons and follows your progress for you. It's very easy to use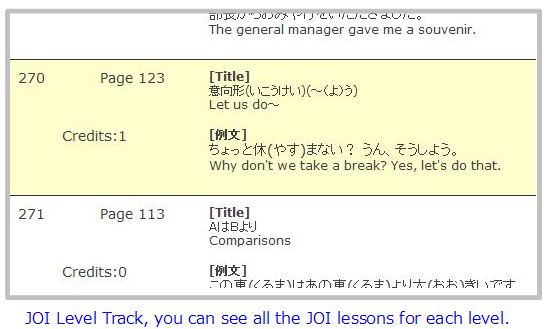 Learn at your own pace
FlexLessons have no start dates, you can start whenever you want - even today !
---
Private Lessons
In need of a tailor-made curriculum ? Then we recommend our private lessons !
Our dedicated support team and teaching staff assist you to create the perfect lessons to suit your needs.

Private Silver Lessons and Private Gold Lessons
There are two types of private lessons at JOI; Gold and Silver. Both types of private lessons are 50 minutes long and designed with your specific needs in mind with a tailor-made curriculum. The difference is, Gold Lessons have some additional features.
Private Gold lessons - extra features
This email address is being protected from spambots. You need JavaScript enabled to view it. and let us know your schedule times and goals.
After hearing your needs in detail, we will match you up with the most suitable teacher for you.

JOI offers team-teaching
You can have 2 or more Japanese teachers coordinate your curriculum and work together to meet
your requirements !( team-up private lessons )