Blogs edited and submitted by Chiho Kamioka
JOI Support staff and manager.
Pigeons
鳩
Pigeons

By YATABE Kumiko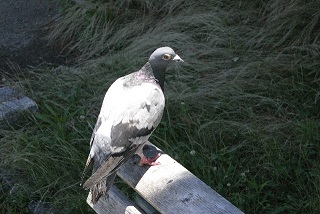 5月です。私はマンションに住んでいるのですが、毎年、この時期になると、鳩がベランダに来て巣を作ろうとします。ポー、ポーという声を聞いて、ああ、また初夏が来たと思うのです。
鳩は短く折った木の枝をくわえて、私達のベランダの隅に運んできます。その姿を見ると可愛いなと思うのですが、鳩が住みつくようになるとベランダが汚されるので、住ませてあげるわけにはいかないのです。同じマンションの他の世帯でも、みんな、この時期、鳩に頭を悩ませています。
先日、ベランダに来た鳩を夫が捕まえて(不注意な鳩さんですね)、ここに巣を作るなと説教をしてから、放してやりました。あの鳩は多分、雄だと思います。鳩は向かいの建物の屋上で待っていた奥さんのところに飛んでいきました。二羽はまだ、私達のベランダに巣を作ることを諦めていない様子で、こちらを見ながら何か話し合っているようでした。
鳩夫妻との戦いは、まだしばらく続きそうです。
■To listen to this blog, please watch our Youtube video
---
★Kanji with hiragana
鳩(はと) 
5月(ごがつ)です。私(わたし)はマンションに住(す)んでいるのですが、毎年(まいとし)、この時期(じき)になると、鳩(はと)がベランダに来(き)て巣(す)を作(つく)ろうとします。ポー、ポーという声(こえ)を聞(き)いて、ああ、また初夏(しょか)が来(き)たと思(おも)うのです。
鳩(はと)は短(みじか)く折(お)った木(き)の枝(えだ)をくわえて、私達(わたしたち)のベランダの隅(すみ)に運(はこ)んできます。その姿(すがた)を見(み)ると可愛(かわい)いなと思(おも)うのですが、鳩が住(す)みつくようになるとベランダが汚(よご)されるので、住ませてあげるわけにはいかないのです。同(おな)じマンションの他(ほか)の世帯(せたい)でも、みんな、この時期(じき)、鳩に頭(あたま)を悩(なや)ませています。
先日(せんじつ)、ベランダに来(き)た鳩を夫(おっと)が捕(つか)まえて(不注意(ふちゅうい)な鳩さんですね)、ここに巣(す)を作(つく)るなと説教(せっきょう)をしてから、放(はな)してやりました。あの鳩は多分(たぶん)、雄(おす)だと思(おも)います。鳩は向(む)かいの建物(たてもの)の屋上(おくじょう)で待(ま)っていた奥(おく)さんのところに飛(と)んでいきました。二羽(にわ)はまだ、私達(わたしたち)のベランダに巣を作ることを諦(あきら)めていない様子(ようす)で、こちらを見ながら何(なに)か話(はな)し合(あ)っているようでした。
鳩夫妻(はとふさい)との戦(たたか)いは、まだしばらく続(つづ)きそうです。
---
★English Translation
Pigeons.
It is the month of May. I live in a condominium and every year when this season comes around some pigeons try to build nests on my veranda. When I hear their cooing sounds, I think, "Uh-oh! Early summer is here."
The pigeons hold short broken twigs in their beaks and carry to them to the nooks in our veranda. When I see them doing this, I feel,"Aren't they cute !"...but if they start to live on our veranda they will make a mess of it, so I just can't let them live here. And all the other families living in our condominium worry about the pigeons during this season.
The other day, my husband caught one of the pigeons (it must have been a pretty careless pigeon), and he emphasized to it that it must not make a nest here and then let it go. I think that pigeon must have been male, because after we let him go he flew over to the opposite building's roof to his waiting wife. It looks as though this pair hasn't given up on building a nest on our veranda, it looks as though they were talking to each other while looking over in this direction.
Well, it seems that this battle with the pigeons is still ongoing.
---
★This week's vocabulary
時期(じき)
season, time
巣(す)
nest
初夏(しょか)
early summer
くわえる
hold --- in one's mouth (beak)
世帯(せたい)
family unit
頭(あたま)を悩(なや)ませる
to worry
不注意(ふちゅうい)な
careless
説教(せっきょう)
preach
放(はな)す
to release, let go
雄(おす)
male
諦(あきら)める
give up
様子(ようす)
look, appearance
戦(たたか)い
fight, battle
Last modified on