Blogs edited and submitted by Chiho Kamioka
JOI Support staff and manager.
Kyaraben
キャラ弁
Kyaraben

By KITANO Megumi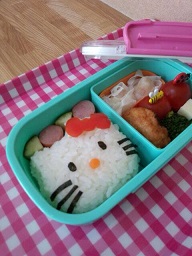 みなさんは、キャラ弁を知っていますか。
キャラ弁とは、お弁当の中身を、アニメや漫画等のキャラクターに見えるようにデコレーションしているお弁当の事です。
もともとは、子どもが嫌いな食べ物を食べさせるために、工夫されたのが始まりのようですが、最近では、レシピ本が売られたり、キャラ弁を作るための道具が売られたり、コンテストが開かれたり、どんどん進化しているようです。
私の姪が幼稚園に通っているのですが、幼稚園にお弁当を持っていく日は、姉もキャラ弁を作って持たせているようです。私が子どもの時は、もっとシンプルなお弁当だった気がします。私も一度は作ってみたい気がしますが、大変そうなので、毎回は作りたくないです。
みなさんも興味があれば、インターネットや、Youtubeを参考にして、作ってみてください。
■To listen to this blog, please watch our Youtube video
---
★Kanji with hiragana
キャラ弁(べん)
みなさんは、キャラ弁(べん)を知(し)っていますか。
キャラ弁(べん)とは、お弁当(べんとう)の中身(なかみ)を、アニメや漫画(まんが)等(など)のキャラクターに見(み)えるようにデコレーションしているお弁当(べんとう)の事(こと)です。
もともとは、子(こ)どもが嫌(きら)いな食(た)べ物(もの)を食(た)べさせるために、工夫(くふう)されたのが始(はじ)まりのようですが、最近(さいきん)では、レシピ本(ぼん)が売(う)られたり、キャラ弁(べん)を作(つく)るための道具(どうぐ)が売(う)られたり、コンテストが開(ひら)かれたり、どんどん進化(しんか)しているようです。
私(わたし)の姪(めい)が幼稚園(ようちえん)に通(かよ)っているのですが、幼稚園(ようちえん)にお弁当(べんとう)を持(も)っていく日(ひ)は、姉(あね)もキャラ弁(べん)を作(つく)って持(も)たせているようです。私(わたし)が子(こ)どもの時(とき)は、もっとシンプルなお弁当(べんとう)だった気(き)がします。
私(わたし)も一度(いちど)は作(つく)ってみたい気(き)がしますが、大変(たいへん)そうなので、毎回(まいかい)は作(つく)りたくないです。
みなさんも興味(きょうみ)があれば、インターネットや、Youtubeを参考(さんこう)にして、作(つく)ってみてください。
---
★English Translation
Kyaraben
Do you what Kyaraben are ? Kyaraben are lunchboxes which have had their contents designed in a way to look like animation or manga characters.
They originally began as a way to get kids to eat food they didn't like, but recently they have really evolved; there are recipe books on sale, and tools for making these character lunchboxes on sale and competitions held as well.
My niece goes to kindergarten and on the days that she has to bring a lunchbox, my sister makes Kyaraben for her to take. I seem to remember that when I was a kid, lunchboxes were far simpler. I think I'd like to try to make a Kyaraben at least once, but it seems quite difficult, so wouldn't want to make them every day.
If you are interested in doing this, please use the Internet and YouTube as a reference and give it a go.
---
★This week's vocabulary
中身(なかみ) contains
デコレーションdecoration
もともと originally
工夫 device
レシピ本 recipe book
道具 tool
進化 progress
姪 niece
幼稚園 kindergarten
参考 reference
Last modified on