Blogs edited and submitted by Chiho Kamioka
JOI Support staff and manager.
Strawberry shortcake
Japanese sweets
Japanese sweets are known as Wagashi and are a high Japanese culinary art form. But also Western style cake shops can be found in Japan and people usually buy cakes when visiting friends' houses, for birthdays and also for Christmas Day.
In this blog, one of JOI's veteran teachers, introduces a very popular Western style cake – which is surprisingly found mainly in Japan.
You can learn Japanese online for free with this Japanese language learners' blog. The audio reading is read by Seno sensei, so you can also practice listening to natural Japanese.
ショートケーキ
Strawberry shortcake

By SENO Chiaki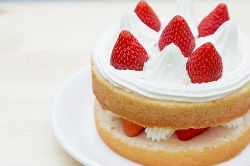 「ケーキ」と聞いて、多くの日本人が真っ先に思い浮かべるのは「いちごのショートケーキ」ではないでしょうか。
ふんわりとしたスポンジケーキを覆う白い生クリームと、赤い苺。クリームの甘さと苺の酸っぱさが絶妙です。
日本では赤と白は「紅白」と呼ばれ、お祝い事でよく使われています。おめでたい色彩もショートケーキが愛される理由のひとつかもしれません。
誕生日やクリスマスには定番のケーキですが、実は日本以外ではあまり見られないようです。機会があったら、ぜひ食べてみてくださいね。
To listen to this blog, please watch our Youtube video.
ショートケーキ
「ケーキ」と聞(き)いて、多(おお)くの日本人(にほんじん)が真(ま)っ先(さき)に思(おも)い浮(う)かべるのは「いちごのショートケーキ」ではないでしょうか。
ふんわりとしたスポンジケーキを覆(おお)う白(しろ)い生(なま)クリームと、赤(あか)い苺(いちご)。クリームの甘(あま)さと苺(いちご)の酸(す)っぱさが絶妙(ぜつみょう)です。
日本(にほん)では赤(あか)と白(しろ)は「紅白(こうはく)」と呼(よ)ばれ、お祝(いわ)い事(ごと)でよく使(つか)われています。おめでたい色彩(しきさい)もショートケーキが愛(あい)される理由(りゆう)のひとつかもしれません。
誕生日(たんじょうび)やクリスマスには定番(ていばん)のケーキですが、実(じつ)は日本(にほん)以外(いがい)ではあまり見(み)られないようです。機会(きかい)があったら、ぜひ食(た)べてみてくださいね。
Strawberry shortcake
When one mentions "cake", I think that the first thing that will come to mind for many Japanese people will be an image of strawberry shortcake.
A fluffy sponge cake covered with white fresh cream and with a red strawberries in it. The contrast between the sweetness of the cream and the sourness of the strawberry is exquisite.
In Japan, the color matching of red and white is also known as Kou Haku, and is often used for celebrations. This auspicious coloring may also be one of the reasons that this shortcake is so well loved.
It is a standard sweet on birthdays and at Christmas, but apparently it is not actually seen much outside of Japan. If you get a chance, please try to eat some.
真っ先(まっさき)に at the very beginning; first of all
~ではないでしょうか I think it might be the case that ....
ふんわり softly; fluffy; gently
絶妙(ぜつみょう)な superb; exquisite
紅白(こうはく) red and white
[お]祝い事(いわいごと) celebration
[お]めでたい happy; joyous; auspicious
~かもしれません may [might] (be, do); perhaps; maybe; possibly
定番(ていばん) standard articles
~以外(いがい) except; besideds
~ようです it seems that...
Last modified on