Blogs edited and submitted by Chiho Kamioka
JOI Support staff and manager.
Robots in Japan
ロボット
Robots in Japan

By IWAKI Naoko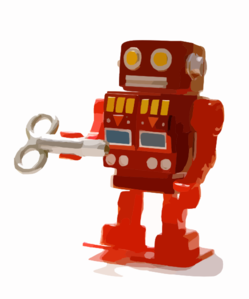 みなさんは「ドラえもん」を知っていますか?
日本の有名な漫画のキャラクターで、ネコ型のロボットです。
まるで人間のように何でもできる未来のロボットなのですが、
そんなロボットが現実世界にも登場しようとしています。
このロボットは人間の命令を受けて仕事をするロボットではありません。
いっしょにいる人を楽しませるためにいろいろな言葉をかけてくれたり、
悲しい顔をしている人をなぐさめたり、自らの判断で周りの人間と
コミュニケーションをとるロボットです。
この世界初の感情認識パーソナルロボットが今月から日本の携帯電話会社で
スタッフとしてデビューするそうです。
来年2月には一般向けにも販売されるようです。
ロボットが1家に1台という時代も遠くないかもしれませんね。
★ソフトバンクのロボット
■To listen to this blog, please watch our Youtube video
---
★Kanji with hiragana
みなさんは「ドラえもん」を 知(し)っていますか?
日本(にほん)の有名(ゆうめい)な漫画(まんが)のキャラクターで、ネコ型(がた)のロボットです。
まるで人間(にんげん)のように何(なん)でもできる未来(みらい)のロボットなのですが、そんなロボットが現実(げんじつ)世界(せかい)にも登場(とうじょう)しようとしています。
このロボットは人間(にんげん)の命令(めいれい)を受(う)けて仕事(しごと)をするロボットではありません。
いっしょにいる人(ひと)を楽(たの)しませるためにいろいろな言葉(ことば)をかけてくれたり、悲(かな)しい顔(かお)をしている人(ひと)をなぐさめたり、自(みずか)らの判断(はんだん)で周(まわ)りの人間(にんげん)とコミュニケーションをとるロボットです。
この世界初(せかいはつ)の感情(かんじょう)認識(にんしき)パーソナルロボットが今月(こんげつ)から日本(にほん)の携帯(けいたい)電話(でんわ)会社(がいしゃ)でスタッフとしてデビューするそうです。
来年(らいねん)2月(がつ)には一般(いっぱん)向(む)けにも販売(はんばい)されるようです。
ロボットが1家(いっか)に1台(いちだい)という時代(じだい)も遠(とお)くないかもしれませんね。
---
★English Translation
Robots in Japan
Have you ever heard of Doraemon ?
It is a a cat-shaped robot and is a famous Japanese Manga character.
It is a robot from the future and can do almost anything that humans can but, this type of robot is about to make an appearance in the real world.
The robot is not a type that does a job after receiving orders from a human.
But it is the type of robot that is made to please the humans that it is with at the time, so it can talk to you using various phrases and vocabulary, it can console you when you have a sad face and it can communicate with people around it using its own sense of judgement.
This personality robot, which is the world's first robot with emotion recognition, is going to make its debut as member of staff at Japanese cellular phone company this month.
A version for ordinary people will be out on sale from February next year. It is probably not long before the age when there is a robot in every home arrives.
---
★This week's vocabulary
登場(とうじょう)する enter the stage
命令(めいれい)する command
判断(はんだん) decision;j udgment
感情(かんじょう)認識(にんしき) emotion recognition
デビューする make one's debut;debut
販売(はんばい)する  sell
Last modified on