Blogs edited and submitted by Chiho Kamioka
JOI Support staff and manager.
Lake Akan and the Marimo Moss Balls
阿寒湖(あかんこ)とマリモ
Lake Akan and the Marimo Moss Balls

By ITAYA Sayuri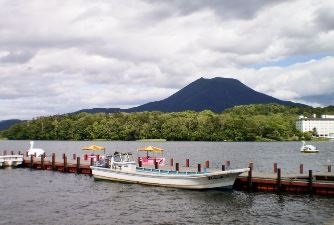 今日は私が住んでいる北海道にある湖の一つ、「阿寒湖」と「マリモ」を皆さんに紹介します。阿寒湖は北海道の東部、釧路市(くしろし)にあり、北海道で5番目に大きい湖です。周囲には雌阿寒岳(めあかんだけ)、雄阿寒岳(おあかんだけ)、阿寒富士(あかんふじ)、という活火山があり、もちろん温泉もあります。冬には凍ってしまうこの阿寒湖ですが、4月29日から遊覧船に乗ることができる観光シーズンが始まりました。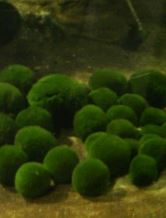 この阿寒湖で有名なのが天然記念物の「マリモ」です。マリモは緑色で、球状の「藻」の仲間。もともとは、細い糸のような形で湖底の岩や石についてくらしていますが、枝がちぎれてふわふわと水の中をただよいながら集まって毛の塊になり、さらに糸を伸ばして成長し、玉になる。こうして湖底で育つ植物なのです。丸くなる藻は世界でも珍しいそうですが、現在は保護するためにそのマリモの自然な姿を見ることはできないそうです。
でも、おみやげ店では人工マリモを買うことができます。これは近くにある湖の、「丸くならないマリモ」を、人が手で丸い形に整えて、新しい枝がのびてきてから販売しているのだそうです。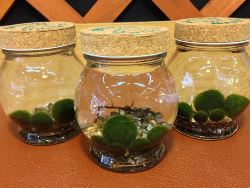 また、阿寒湖へ行くと、「マリモ」にちなんだお土産や食べ物もあります。「まりも羊羹」や「まりもプリン」、さらに「まりもソフト」もあります。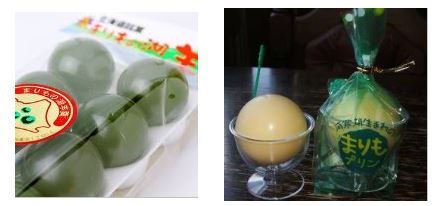 このソフトクリームはうすい緑色をしたクリームのなかに、マリモのような丸いゼリーが中に入っています。おいしかったですよ。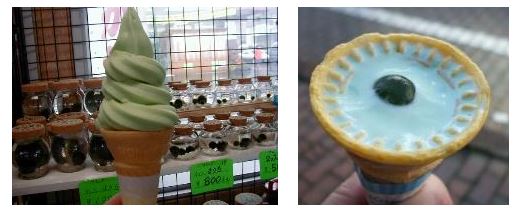 あなたもぜひ「マリモ」を見に阿寒湖へ行ってみてください。
■To listen to this blog, please watch our Youtube video
---
★Kanji with hiragana
今日(きょう)は私(わたし)が住(す)んでいる北海道(ほっかいどう)にある湖(みずうみ)の一つ、「阿寒湖(あかんこ)」と「マリモ」を皆(みな)さんに紹介(しょうかい)します。阿寒湖は北海道の東部(とうぶ)、釧路市(くしろし)にあり、北海道で5番目(ばんめ)に大きい湖です。周囲(しゅうい)には雌阿寒岳(めあかんだけ)、雄阿寒岳(おあかんだけ)、阿寒富士(あかんふじ)、という活火山(かっかざん)があり、もちろん温泉(おんせん)もあります。冬(ふゆ)には凍(こお)ってしまうこの阿寒湖ですが、4月29日から遊覧船(ゆうらんせん)に乗8の)ることができる観光(かんこう)シーズンが始(はじ)まりました。
この阿寒湖で有名(ゆうめい)なのが天然記念物(てんねんきねんぶつ)の「マリモ」です。マリモは緑色(みどりいろ)で、球状(きゅうじょう)の「藻(も)」の仲間(なかま)。もともとは、細(ほそ)い糸(いと)のような形(かたち)で湖底(こてい)の岩(いわ)や石(いし)についてくらしていますが、枝(えだ)がちぎれてふわふわと水(みず)の中(なか)をただよいながら集(あつ)まって毛(け)の塊(かたまり)になり、さらに糸を伸(の)ばして成長(せいちょう)し、玉(たま)になる。こうして湖底(こてい)で育(そだ)つ植物(しょくぶつ)なのです。丸(まる)くなる藻は世界(せかい)でも珍(めずら)しいそうですが、現在(げんざい)は保護(ほご)するために、そのマリモの自然(しぜん)な姿(すがた)を見ることはできないそうです。
でも、おみやげ店(てん)では人工(じんこう)マリモを買(か)うことができます。これは近(ちか)くにある湖の、「丸くならないマリモ」を、人が手で丸い形に整(ととの)えて、新(あたら)しい枝がのびてきてから販売(はんばい)しているのだそうです。
また、阿寒湖へ行くと、「マリモ」にちなんだお土産(みやげ)や食べ物(もの)もあります。「まりも羊羹(ようかん)」や「まりもプリン」、さらに「まりもソフト」もあります。
このソフトクリームはうすい緑色(みどりいろ)をしたクリームのなかに、マリモのような丸いゼリーが中に入(はい)っています。おいしかったですよ。
あなたもぜひ「マリモ」を見に阿寒湖へ行ってみてください。
---
★English Translation
Lake Akan and the Marimo Moss Balls
Today I would like to introduce to you all one of the lakes the island I live on, Hokkaido; called Lake Akan and the Marimo Moss Balls found there. Lake Akan, which is located in the eastern area of Hokkaido next to Kushiro city, is the 5th biggest lake in Hokkaido. Surrounding Lake Akan you can find the active volcanoes of Mount Akan, Mount Oakan, Akan-Fuji and of course there are some hotsprings too. Lake Akan is frozen over during the winter, but the season in which you can take a sightseeing boat on it began from April 29th this year.
Lake Akan is famous for the Marimo Moss Balls which are a protected species. Marimo Moss Balls, which are a member of the seaweed algae family, are green and spherical. They are originally thin, string-like shaped algae which live clinging onto rocks and stones at the bottom of the lake, but as they grow, the branches break off and drift in the waters and eventually gather into hairy lumps and keep growing by lengthening their own string forms, and finally become spherical in shape. And in this way they become plant life growing at the bottom of the lake. Round seaweed algae are very rare in the world, but currently, in order to protect them, we are unable to view these Marimo Moss Balls in their natural habitat.
But in souvenir shops, you can purchase man-made Marimo Moss Balls. These are "not-round" Marimo collected from nearby lakes and which are wound into a round shape manually, and once they start to grow their own branches, they are sold on to the public.

Also if you go to Lake Akan, you can find Marimo associated souvenirs and food. Marimo flavored sweet bean jelly, Marimo custard pudding as well as Marimo soft cream ices. This Marimo soft cream ice is made from a light green cream and you can find a Marimo shaped jelly sweet inside. It was really delicious !
If you get a chance, you should come to Lake Akan too and see the Marimo Moss Balls.
---
★This week's vocabulary
周囲(しゅうい):surroundings; environs
活火山(かっかざん/かつかざん):active volcano
遊覧船(ゆうらんせん):sightseeing boat
天然記念物(てんねんきねんぶつ):
(1) natural monument; (2) protected species (animal, habitat, etc.)
球状(きゅうじょう):(1) shape of a globe; globe shape; (adj-no) (2) spherical
藻(も):algae; waterweed; seaweed
ちぎれて:to be torn off; to be torn to pieces
ふわふわ:lightly (floating, drifting, etc.)
ただよい:to drift; to float
塊(かたまり):lump; mass
玉(たま):ball; sphere; globe; orb
保護(ほご):care; protection; shelter; safeguard
人工(じんこう):artificial; man-made; human work
ちなむ:to be associated (with); to be connected (with)
羊羹(ようかん):sweet bean jelly
Last modified on