Blogs edited and submitted by Chiho Kamioka
JOI Support staff and manager.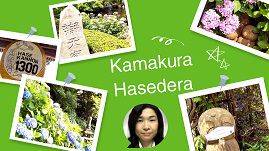 Hasedera Temple
Japan has thousands of temples to visit, and some have ancient historical significance. Although the city of Kyoto is often seen as the must-visit city for temple sightseeing, there are many temples dotted around the country that are worth making a detour for.
One such temple is the one introduced here by Japanese teacher Izumi Yanaka. It is a temple that can be visited any time of year since it has seasonal beauty all year round. But in this rainy season in Japan, it has a special attraction specific to this period.
Read the blog and learn some new Kanji and Japanese expressions. You can watch the YouTube video and look at the pictures to get a good idea of the views to expect at this beautiful Japanese sightseeing spot.
鎌倉長谷寺
Kamakura's Hasedera Temple

By YANAKA Izumi
 毎年、あじさいの季節になると鎌倉の長谷寺へ行きます。今年はご本尊の観音様が造立されてから1300年になるということで、普段は見られない観音様の全身像を見ることができ、毎日足に触れてお参りすることもできます。通常、この足に触れることができるのは年に1回、12月18日だけだそうですから、かなり特別なことです。
 今日は私の散策コースをご案内しましょう。
 敷地内にある山の斜面にはたくさんのあじさいが植えられていて、梅雨の時期には見事なあじさいを見ることができます。あじさいの道の途中にはかわいらしいお地蔵様を拝むことができ、心が和みます。
 散策を終えて見晴台に向かうと、そこから相模湾を一望できます。その眺めはすばらしいです。
 そこから下りて向かうのが大黒様と弁天様のまつられている場所です。大黒様は福々しくて、こちらも自然と笑みが浮かびます。弁天堂の隣にある弁天窟はその名のとおり洞窟になっており、中を歩くとひんやりしていて気持ちがいいです。
 もう一つ必ずお目にかかるのは「和み地蔵」というお地蔵様です。大きなお地蔵様でその顔を見ると幸せな気持ちになります。今はコロナ対策なのかマスクをしています。お地蔵様もマスクとは、ちょっと残念な感じもしますが、これもしょうがないのでしょうか。
 また自由に旅行ができるようになったら、一度あじさいの時期に訪れてみてください。あじさい以外にも桜や紅葉など多くの花や木がありますから、どの季節でも楽しめると思います。心が穏やかになる私のおすすめの場所です。
To listen to this blog, please watch our Youtube video.
鎌倉長谷寺(かまくら はせでら)
  毎年(まいとし)、あじさいの季節(きせつ)になると鎌倉(かまくら)の長谷寺(はせでら)へ行(い)きます。今年(ことし)はご本尊(ほんぞん)の観音様(かんのんさま)が造立(ぞうりゅう)されてから1300年(ねん)になるということで、普段(ふだん)は見(み)られない観音様(かんのんさま)の全身像(ぜんしんぞう)を見(み)ることができ、毎日(まいにち)足(あし)に触(ふ)れてお参(まい)りすることもできます。通常(つうじょう)、この足(あし)に触(ふ)れることができるのは年(ねん)に1回(かい)、12月(がつ)18日(にち)だけだそうですから、かなり特別(とくべつ)なことです。
  今日(きょう)は私(わたし)の散策(さんさく)コースをご案内(あんない)しましょう。
  敷地内(しきちない)にある山(やま)の斜面(しゃめん)にはたくさんのあじさいが植(う)えられていて、梅雨(つゆ)の時期(じき)には見事(みごと)なあじさいを見(み)ることができます。あじさいの道(みち)の途中(とちゅう)にはかわいらしいお地蔵様(じぞうさま)を拝(おが)むことができ、心(こころ)が和(なご)みます。散策(さんさく)を終(お)えて見晴台(みはらだしだい)に向(む)かうと、そこから相模湾(さがみわん)を一望(いちぼう)できます。その眺(なが)めはすばらしいです。
  そこから下(お)りて向(む)かうのが大黒様(だいこくさま)と弁天様(べんてんさま)のまつられている場所(ばしょ)です。大黒様(だいこくさま)は福々(ふくぶく)しくて、こちらも自然(しぜん)と笑(え)みが浮(う)かびます。弁天堂(べんてんどう)の隣(となり)にある弁天窟(べんてんくつ)はその名(な)のとおり洞窟(どうくつ)になっており、中(なか)を歩(ある)くとひんやりしていて気持(きも)ちがいいです。
  もう一(ひと)つ必(かなら)ずお目(め)にかかるのは「和(なご)み地蔵(じぞう)」というお地蔵様(じぞうさま)です。大(おお)きなお地蔵様(じぞうさま)でその顔(かお)を見(み)ると幸(しあわ)せな気持(きも)ちになります。今(いま)はコロナ対策(たいさく)なのかマスクをしています。お地蔵様(じぞうさま)もマスクとは、ちょっと残念(ざんねん)な感(かん)じもしますが、これもしょうがないのでしょうか。
  また自由(じゆう)に旅行(りょこう)ができるようになったら、一度(いちど)あじさいの時期(じき)に訪(おとず)れてみてください。あじさい以外(いがい)にも桜(さくら)や紅葉(もみじ)など多(おお)くの花(はな)や木(き)がありますから、どの季節(きせつ)でも楽(たの)しめると思(おも)います。心(こころ)が穏(おだ)やかになる私(わたし)のおすすめの場所(ばしょ)です。
Kamakura's Hasedera Temple
 Every year when the hydrangea season comes along, I visit the Hasedera temple in Kamakura. This year marks 1300 years since principle image of the Kannon,( the Buddhist deity of compassion) was erected so you can see the whole statue of the Kannon deity which you can not usually see, and every day you can worship it by touching its feet. Normally, you can only touch these feet once a year, on December 18th only, so this is really special.
 Today, I will present the walking course to you.
 There are many hydrangeas planted on the slopes of the mountain within the grounds, and the rainy season is the time when you can see these hydrangeas in full bloom. On the way along the hydrangea path, you can stop to pray at some cute Jizou statues and this soothes the mind. At the end of the walk, you face a viewing platform, and from there you can see a sweeping view of Sagami Bay. The view is wonderful.
 And from there you descend to the place where Daikoku Sama (the god of wealth) and Benten Sama (the goddess of arts and wisdom) are enshrined. Daikoku Sama looks so plump and jolly, you also find yourself smiling naturally. Next to the Benten Sama hall, you come to the Benten Caves which are, as the name says, caves in which you can walk and it feels cool and comfortable. And there is one more thing that you come across is a Jizou statue called the 'Nagomi Jizou'. It is a large Jizou statue which when you look into its face, you feel happy. Now, in order to prevent the Coronavirus or for some reason, it is wearing a mask. I felt that the mask on the Jizou statue was a bit of a shame but I guess it can't be helped. When we are able to travel freely, please come and visit here during the hydrangea season. Other than hydrangea, there are many flowering trees like Sakura cherry blossom trees, and red maple trees so you can enjoy it here during any season. I recommend this place as a place to quieten your mind.
(ご)本尊(ほんぞん)  the principal image
造立(ぞうりゅう) erecting (temple, Buddhist statue, etc.)
全身像(ぜんしんぞう) full-length portrait or statue
散策(さんさく) walking
心(こころ)が和(なご)む to feel relaxed; to be soothed
見晴台(みはらだしだい) viewing platform; viewpoint
一望(いちぼう) one sweep (of the eye); sweeping view;
福々(ふくぶく)しい (plump and) happy-looking
笑(え)みが浮(う)かぶ smile
洞窟(どうくつ) cave
ひんやりする cool; chilly
お目(め)にかかる meet

Hajimemashite ! My name is Izumi YANAKA.
Through my work as a System Engineer, I have had the experience of teaming up with foreign members of a team. After seeing the difficulties the team members went through with communication and cultural differences, I got to thinking, "If only there was something I could do to help !" Which was what led me to become a Japanese teacher.
How do you find studying Japanese ? Is it difficult ? Do you find it trying ? At the beginning, easy phrases will do, just think of what you want to say and give it a go. For example, let's talk about your favorite things. I like playing tennis, traveling, and gardening. What do you like to do ?
What's the best phrase to say in this situation ? Is this grammar usage correct ?
If you have questions like these on your mind, I want to answer them all one by one. And in this way, without even realizing it, your Japanese will come to improve.
Once you are able to speak, it gets to be fun. It's not difficult, and not trying at all ! I will help you widen your Japanese speaking world. Let's enjoy learning Japanese together.
Last modified on