Blogs edited and submitted by Chiho Kamioka
JOI Support staff and manager.
Featured
Japanese origin Kanji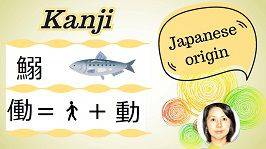 Japanese writing system and Chinese characters
The Japanese word kanji which means Chinese characters is taken from the meaning "Han characters". It forms a vital part of the Japanese writing system which also includes Hiragana alphabet and Katakana characters too.
There are a multitude of Chinese characters used in Japanese and it would not surprise you to know that some are uniquely formed by native Japanese and differ from the original Chinese characters. Much like many Chinese characters have regional differences within China and also in other nations that use the script, there are some characters of Japanese origin.
In this blog for Japanese language learners, Japanese teacher Kaori Ishibashi introduces this fascinating topic. Read the article and learn new Kanji and listen to Ishibashi sensei reading the blog and practice your Japanese listening too.
日本生まれの漢字
Japanese origin Kanji

By ISHIBASHI Kaori
 漢字は4~5世紀ごろ中国から日本に伝わったそうです。が、実は日本で生まれた漢字もあります。日本で生まれた漢字は国字と呼ばれ、2000以上あるそうです。今日は国字をいくつか紹介したいと思います。
 まずは畑(はたけ)です。昔は雑草を焼いて畑を作ったことから田んぼに火という漢字がついたそうです。
 次に働(はたら)くという漢字。人が動くと書いて働くという漢字になりました。
 それから、魚の鰯(いわし)という漢字です。魚に弱いと書きます。水から出ると弱って腐りやすくなるからだそうです。
 もう一つ、躾(しつけ)という漢字も日本でできました。身体(からだ)に美しいと書きます。とてもわかりやすい漢字ですね。
 みなさんも、日本生まれの漢字を探してみてください。
To listen to this blog, please watch our Youtube video.
日本(にほん)生(う)まれの漢字(かんじ)
 漢字は4~5世紀(せいき)ごろ中国から日本に伝(つた)わったそうです。が、実は日本で生まれた漢字もあります。日本で生まれた漢字は国字(こくじ)と呼(よ)ばれ、2000以上(いじょう)あるそうです。今日は国字をいくつか紹介(しょうかい)したいと思います。
 まずは畑(はたけ)です。昔(むかし)は雑草(ざっそう)を焼(や)いて畑を作(つく)ったことから田(た)んぼに火(ひ)という漢字(かんじ)がついたそうです。
 次(つぎ)に働(はたら)くという漢字。人(ひと)が動(うご)くと書(か)いて働くという漢字になりました。
 それから、魚(さかな)の鰯(いわし)という漢字です。魚に弱(よわ)いと書きます。水(みず)から出(で)ると弱(よわ)って腐(くさ)りやすくなるからだそうです。
 もう一つ、躾(しつけ)という漢字も日本でできました。身体(からだ)に美(うつく)しいと書きます。とてもわかりやすい漢字ですね。
 みなさんも、日本生まれの漢字を探(さが)してみてください。
Japanese origin Kanji
Kanji (or Chinese characters) reportedly came to Japan around the 4th and 5th century. However, there are some characters that were created in Japan. The Japanese origin Kanji characters are known as 'Kokuji' and there are over 2000 of them. Today I am going to introduce some of these.
First of all we have 'hatake' (畑) – meaning field or cultivated land. In the old days they used to burn weeds and wild grass to cultivate a field so the character is made by taking the character for rice field (田)and adding the character for fire (火).
Next the Kanji for work or 'hataraku'. By writing the character for a person (人) and character for move (動) you get the Kanji 'hataraku' (働く).
Then we have the character for sardines or 'iwashi'. It is written by writing the character for fish (魚) and writing the character for weak (弱). This is apparently because when sardines (鰯) are removed from the water, they soon become weak and spoil quickly.
And one more Kanji that was made in Japan is 'shitsuke' or discipline. You write the character for body (身体) and the character for beautiful (美). It is an easy Kanji character to understand, right - (躾)?
Try to look for some Kanji characters that were made in Japan too.
世紀(せいき)century
国字(こくじ)ideographs which originated in Japan
雑草(ざっそう)Weeds
鰯(いわし)sardine
腐(くさ)るspoil
躾(しつけ)discipline
身体(からだ)body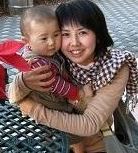 Hajimemashite, my name is Kaori Ishibashi.
I live in Ibaraki city, in Osaka prefecture, with my husband, son and daughter. Ibaraki city is in between Osaka and Kyoto and is in a very convenient location. Before I was married, I went to Canada and Spain as an exchange student. So I too love to study languages.
Since my children are still so young, I cannot readily go abroad, so I am really glad of the opportunity to communicate with people from various countries through JOI. Let's study Japanese together.
Last modified on