Blogs edited and submitted by Chiho Kamioka
JOI Support staff and manager.
June in Japan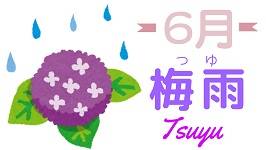 June in Japan
The month of June in Japan is usually seen as the rainy season or the beginning of summer. It can be an uncomfortable month which is humid and rainy.
The temperatures do not climb up to the highs of mid-summer months like August, but the humidity can be tough for many people to handle.
Japanese teacher Ayako Suzuki does not like this month at all. But in this blog for Beginner learners of Japanese, she introduces some different ways to enjoy the season.
Read the blog and learn some new Japanese vocabulary. And then listen to the blog while watching the YouTube video to practice Japanese listening.
6月
June

By SUZUKI Ayako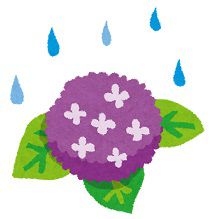 6月になりました。私は6月があまり好きではありません。日本の6月は梅雨の時期で雨が多く、じめじめした日が続きます。雨が続くと、気分も沈みがちになります。また、6月は祝日がない月です。祝日があると、一息つけるのですが、6月はそれがなくて、寂しいです。ちなみに、12月も祝日がないのですが、12月には年末年始の休みがあるので、あまり気になりません。
 しかし、この季節ならではの楽しみもあります。6月といえば、紫陽花。雨の中で咲く紫陽花は本当に美しく、見ていると心が洗われます。そして、さくらんぼやビワなどの旬の果物もおいしいですね。楽しみを見つけながら、苦手な6月を乗り切りたいと思います。
To listen to this blog, please watch our Youtube video.
 6月(がつ)になりました。私(わたし)は6月(がつ)があまり好(す)きではありません。日本(にほん)の6月(がつ)は梅雨(つゆ)の時期(じき)で雨(あめ)が多(おお)く、じめじめした日(ひ)が続(つづ)きます。雨(あめ)が続(つづ)くと、気分(きぶん)も沈(しず)みがちになります。また、6月(がつ)は祝日(しゅくじつ)がない月(つき)です。祝日(しゅくじつ)があると、一息(ひといき)つけるのですが、6月(がつ)はそれがなくて、寂(さび)しいです。ちなみに、12月(がつ)も祝日(しゅくじつ)がないのですが、12月(がつ)には年末年始(ねんまつねんし)の休(やす)みがあるので、あまり気(き)になりません。
 しかし、この季節(きせつ)ならではの楽(たの)しみもあります。6月(がつ)といえば、紫陽花(あじさい)。雨(あめ)の中(なか)で咲(さ)く紫陽花(あじさい)は本当(ほんとう)に美(うつく)しく、見(み)ていると心(こころ)が洗(あら)われます。そして、さくらんぼやビワなどの旬(しゅん)の果物(くだもの)もおいしいですね。楽(たの)しみを見(み)つけながら、苦手(にがて)な6月(がつ)を乗(の)り切(き)りたいと思(おも)います。
June
It is now the month of June. Personally, I don't like June much. In Japan, June is the month of the rainy season, and there is a lot of rain and many damp days in a row. When we have continuous rain, our feelings tend to the gloomy side. On top of this, the month of June does not have any national holidays either. When we have a holiday, we can get a chance to catch our breath but this doesn't happen in June, so it can feel quite desolate. Incidentally, December also doesn't have any national holidays either, but we have the New Year holidays at the end of December so you don't worry about it too much.
But there are things to enjoy that are unique only to this month. For example, June is the month for hydrangea. The site of hydrangea blooming in rain is truly beautiful, and when you look upon them your heart can feel washed and refreshed. And there are also many delicious fruits that are in season like cherries and loquats. I would like to get through this month June, which is not one of my favourites, by finding thing to enjoy like this.
じめじめした  humid, damp
一息(ひといき)つく  catch one's breath
~ならでは  only …, unique to …
紫陽花(あじさい)  hydrangea
旬(しゅん)  in season
乗(の)り切(き)る  get through

Konnichiwa. My name is Ayako Suzuki.
I live in Tochigi prefecture with my husband and two children. Tochigi has two towns that are very popular tourist attractions; Nikko, which is famous for its World Heritage shrine and its wonderful nature, and Mashiko which is famous for its pottery. Its only two hours by train from Tokyo, so if you get that chance, please come and visit Tochigi.
Through the language of Japanese, I am happy to and looking forward to meeting you all. Lets study Japanese together.
Last modified on