Blogs edited and submitted by Chiho Kamioka
JOI Support staff and manager.
Thank you Hanako san
Zoos in Japan
There are over 100 zoos in Japan. Ranging from large, crowd pleasing urban sprawls like the Ueno zoo to smaller ones like the one in the blog below, Inokashira park zoo.
The biggest draws are obviously the large exotic mammals like elephants, giraffe and panda but there are also reptile areas with large selections of snakes as well as areas with smaller mammals.
The lack of space and old-fashioned design of a large number of the zoos in Japan (many designed over 50 years ago), leaves a lot to be desired. But their popularity and attraction is still high.
In this Japanese language learner's blog, Ueno sensei, a teacher at JOI online Japanese school introduces an icon of Japan's zoo culture.
ありがとう、はな子さん
Thank you Hanako san

By UENO Akari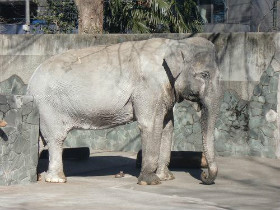 今年の5月、一頭のゾウが息を引き取りました。 名前は「はな子さん」。69歳の生涯でした。
はな子さんは戦後まもなくタイから来日しました。 それから66年間、ずっと動物園に見物に来る人たちを楽しませてくれました。
はな子さんには不思議な魅力があります。 わたしもその虜になった一人です。
はな子さんはほとんど動きません。特に高齢になってからは、ただそこにじっとたたずんでいることが多かったし、しゃべるわけでもないし・・・ でも、はな子さんに話しかけている人の多いこと! 老いも若きも、自分の好きなことをはな子さんにしゃべっては、すっきりした顔で三々五々立ち去っていきます。
すべてを悟ったような瞳とくっきりと刻まれた深い皺。 戦後から平成の日本をずっと生き抜いてきたこのゾウの前では、すべてをさらけ出したくなるような気持ちになるようです。
はな子さんがいる場所はコンクリートで、仲間もいないという環境だったため、海外からは非難の声がかなりあがっていました。私も、「こんなところにひとりぼっちでいるのは、どうなんだろう」と思うこともよくありました。
人間の身勝手な目的のために故郷から日本へ連れてこられたはな子さんが、どんな気持ちで66年間を過ごしたのか分かりません。ただ、動物園で飼育されているゾウが69歳まで生きるということは、とてもめずらしいことだと聞きました。
はな子さんの訃報を聞いた1週間後、お供えのお花と好物のバナナ、手紙を持って娘と動物園に手を合わせに行きました。はな子さんがいた場所は、同じように訪れた人が持ってきた花束で埋め尽くされていました。
今までありがとう、はな子さん。
To listen to this blog, please watch our Youtube video.
ありがとう、はな子(こ)さん
今年(ことし)の5月(がつ)、一頭(いっとう)のゾウが息(いき)を引(ひ)き取(と)りました。名前(なまえ)は「はな子さん」。69歳(さい)の生涯(しょうがい)でした。
はな子さんは戦後(せんご)まもなくタイから来日(らいにち)しました。 それから66年間(ねんかん)、ずっと動物園(どうぶつえん)に見物(けんぶつ)に来る人たちを楽(たの)しませてくれました。
はな子さんには不思議(ふしぎ)な魅力(みりょく)があります。 わたしもその虜(とりこ)になった一人(ひとり)です。
はな子さんはほとんど動(うご)きません。特(とく)に高齢(こうれい)になってからは、ただそこにじっとたたずんでいることが多(おお)かったし、しゃべるわけでもないし・・・ でも、はな子さんに話(はな)しかけている人の多(おお)いこと! 老(お)いも若(わか)きも、自分(じぶん)の好(す)きなことをはな子さんにしゃべっては、すっきりした顔(かお)で三々五々(さんさんごご)立(た)ち去(さ)っていきます。
すべてを悟(さと)ったような瞳(ひとみ)とくっきりと刻(きざ)まれた深(ふか)い皺(しわ)。戦後(せんご)から平成(へいせい)の日本(にほん)をずっと生(い)き抜(ぬ)いてきたこのゾウの前(まえ)では、すべてをさらけ出(だ)したくなるような気持(きも)ちになるようです。
はな子さんがいる場所(ばしょ)はコンクリートで、仲間(なかま)もいないという環境(かんきょく)だったため、海外(かいがい)からは非難(ひなん)の声(こえ)がかなりあがっていました。私も、「こんなところにひとりぼっちでいるのは、どうなんだろう」と思(おも)うこともよくありました。
人間(にんげん)の身勝手(みがって)な目的(もくてき)のために故郷(こきょう)から日本へ連(つ)れてこられたはな子さんが、どんな気持(きも)ちで66年間(ねんかん)を過(す)ごしたのか分(わ)かりません。ただ、動物園(どうぶつえん)で飼育(しいく)されているゾウが69歳(さい)まで生(い)きるということは、とてもめずらしいことだと聞(き)きました。
はな子さんの訃報(ふほう)を聞(き)いた1週間後(しゅうかんご)、お供(そな)えのお花(はな)と好物(こうぶつ)のバナナ、手紙(てがみ)を持(も)って娘(むすめ)と動物園(どうぶつえん)に手(て)を合(あ)わせに行(い)きました。はな子さんがいた場所(ばしょ)は同(おな)じように訪(おとず)れた人が持(も)ってきた花束(はなたば)で埋(う)め尽(つ)くされていました。
今(いま)までありがとう、はな子さん。
Thank you Hanako san
This year in May, one elephant breathed its last. Her name was "Hanako san". She lived up to 69 years old. Hanako san came to Japan soon after the war from Thailand. And from that time and for 66 years, she continued to delight all the people who came to see her at the zoo.
Hanako san had a mysterious attraction to her. I was one of the people who became greatly fascinated by her.
Hanako didn't move much, and especially when she became old, she mostly just stood there quietly without moving and it wasn't as if she talked or anything...but many people talked to Hanako san ! People, young and old came to stand in front of Hanako san and told her what they liked, and left there in groups of twos and threes with refreshed faces.
She had eyes that looked like that she understood everything and deeply engraved wrinkles. One felt as though one could expose everything in front of this elephant that had lived all the way through from post-war Japan up to the Heisei era.
Hanako's environment was made of concrete and she had no friends to share it with, so there were voices of criticism from foreign countries. I also often thought to myself, "I wonder if its right to put her in a place like this, all alone".
I do not know what kind of feelings she had as she spent all those 66 years separated from her home and brought to Japan just for the selfish motives of humans. But I heard that it is extremely rare for an elephant living in captivity to live to 69 years old.
One week after the announcement of Hanako san's passing, I took some flowers of offering , her favorite food of bananas and a letter and went with my daughter to put our hands together for her at the zoo. The place where Hanako san had been was filled with bouquets brought by people who had come to visit her in the same way as we were.
Hanako san, thank you for all you have done until now for us.
息(いき)を引(ひ)き取(と)る 亡(な)くなること。take one's last breath
戦後(せんご) postwar
~の虜(とりこ)になる be hooked on~; be fascinated by~
たたずんでいる 静(しず)かに立っている。
老(お)いも若(わか)きも young and old
三々五々(さんさんごご) by twos and threes
悟(さと)る realize; awake to
さらけ出(だ)す expose
身勝手(みがって)な selfish
飼育(しいく)されている be in caprivity
訃報(ふほう) news of someone's death
お供(そな)え offerings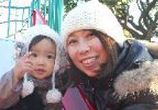 Hajimemashite everyone ! My name is Akari Ueno.
I live in Tokyo with my husband and daughter. I have had the experience of living in Hokkaido, Yokohama and Singapore.
I studied History in university, so I love touring around historical ruins. When I was younger, I went to see the Great Pyramids and Borobudur in Indonesia, but now I merely tour around the neighborhood parks with my daughter. I dream of touring around the world's famous ruins with my daughter one day.
When I study languages, one English phrase always comes to mind, "Use it, or lose it". I used to be scared of making mistakes, so even when I learned new vocabulary, I didn't use it. But after learning this English phrase from a friend, I started to use the vocabulary and terms I'd learned without fear of making mistakes.
Try to use your newly learned vocabulary and phrases all the time in the lessons. Looking forward to meeting you all in class !
Last modified on