Blogs edited and submitted by Chiho Kamioka
JOI Support staff and manager.
Pokemon Go
Japanese mobile games
There are many mobile games available to download in Japan. The most popular has been Puzzle and Dragons with about 18 million sales. The second most popular is Monster Strike.
However an American developed game based on Japanese Anime characters has just been released. It is looking to overtake the top two mobile games in Japan. I guess you can already guess what game we are talking about !
Find out more below and read this Japanese learner's blog by Igarashi sensei to improve your Japanese listening and vocabulary.
ポケモンGO
Pokemon Go

By IGARASHI Maki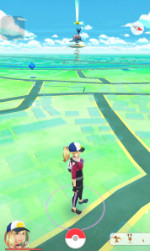 ポケモンGOというアプリが今大人気ですね。現実の世界でゲームができるというのが魅力のようです。先日、日本でもついに配信され、子供にお願いされて私もダウンロードしてみました。
ゲームの方法は簡単です。地図上に現れたポケモンをタップして、そのポケモンに向かってモンスターボールを投げると、捕まえられます。モンスターボールは『ポケストップ』という場所で手に入れられます。集めたポケモンを使って『ジム』と呼ばれる場所でバトルができるのです。
子供たちは夢中になって歩きたがりますが、夏の暑い日は熱中症に気を付けなければなりません。このゲームが原因で、いろいろな国で問題が起きていますね。特に歩きスマホは危ないです。ポケモンが現れたら携帯電話が振動するように設定して、移動するときはポケットに入れておき、震えたら周りに気をつけてから道の端でするようにしましょう。
日本の内閣サイバーセキュリティーセンターも、このゲームをする際の注意事項を発表しています。日本語を読む練習にもなりますから、ポケモンGOをされる方は是非見てみてくださいね。
To listen to this blog, please watch our Youtube video.
ポケモンGOというアプリが今(いま)大人気(だいにんき)ですね。現実(げんじつ)の世界(せかい)でゲームができるというのが魅力(みりょく)のようです。先日(せんじつ)、日本(にほん)でもついに配信(はいしん)され、子供(こども)にお願(ねが)いされて私(わたし)もダウンロードしてみました。
ゲームの方法(ほうほう)は簡単(かんたん)です。地図上(ちずじょう)に現(あらわ)れたポケモンをタップして、そのポケモンに向(む)かってモンスターボールを投(な)げると、捕(つか)まえられます。モンスターボールは『ポケストップ』という場所(ばしょ)で手(て)に入(い)れられます。集(あつ)めたポケモンを使(つか)って『ジム』と呼(よ)ばれる場所(ばしょ)でバトルができるのです。
子供(こども)たちは夢中(むちゅう)になって歩(ある)きたがりますが、夏(なつ)の暑(あつ)い日(ひ)は熱中症(ねっちゅうしょう)に気(き)を付(つ)けなければなりません。このゲームが原因(げんいん)で、いろいろな国(くに)で問題(もんだい)が起(お)きていますね。特(とく)に歩(ある)きスマホは危(あぶ)ないです。ポケモンが現(あらわ)れたら携帯電話(けいたいでんわ)が振動(しんどう)するように設定(せってい)して、移動(いどう)するときはポケットに入(い)れておき、震(ふる)えたら周(まわ)りに気(き)をつけてから道(みち)の端(はし)でするようにしましょう。
日本(にほん)の内閣(ないかく)サイバーセキュリティーセンターも、このゲームをする際(さい)の注意事項(ちゅういじこう)を発表(はっぴょう)しています。日本語(にほんご)を読(よ)む練習(れんしゅう)にもなりますから、ポケモンGOをされる方(かた)は是非(ぜひ)見(み)てみてくださいね。
Pokemon Go
The application called Pokemon Go is really popular isn't it. The attraction of it is that you can play it the real world. The other day, it was finally released in Japan, so following my child's request, I downloaded it too.
The game is easy to play. You click on the Pokemon character that appears on the map, and you can catch it by throwing a PokeBall at it. You can collect Poke Balls at places called Poke Stops. And using the Pokemon characters that you collected, you can play battles at places called Gyms.
Children get into it and want to walk around but, on hot summer days they have to be careful not to get heat stroke. This game has caused problems in several countries. Walking while looking at smartphones is especially dangerous. Please set your mobile phone to vibrate when a Pokemon character appears, when moving around put the phone in your pocket, then when it vibrates, take care of your surroundings and move to the side of the road.
The Japanese government National center of Incident readiness and Strategy for Cybersecurity have issued a warning of guidelines to take care when playing this game. If you are going to play the Polemon Go game, please take a look - it'll be good practice for Japanese too !
魅力(みりょく)charm; fascination; attractiveness
配信(はいしん)distribution
熱中症(ねっちゅうしょう)heat stroke
歩(ある)きスマホusing smartphones while walking
振動(しんどう)vibration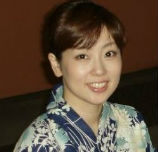 Hajimemashite, everyone . My name is Maki Igarashi.
Although I'm originally from Hokkaido, I live in Hiroshima because of my husband's work transfer. Hokkaido is the northernmost island of Japan. Winter is very cold and snowy, but Hokkaido's natural scenery is very beautiful, and we have a lot of delicious food. Here in Hiroshima, on Miya-jima Island, you can see Itsukushima Shrine, a world cultural heritage site. If you come to Japan, please visit these great places.
I'd like to see you smile at least once in every class. The lessons will be, well, fun! Prepare well, and review well! :o)
Don't get caught up thinking Japanese is a difficult language, enjoy studying and learning !
Try to use your newly learned vocabulary and phrases all the time in the lessons. Looking forward to meeting you all in class !
Last modified on