Blogs edited and submitted by Chiho Kamioka
JOI Support staff and manager.
Apples with nectar
Apples in Japan
Apple cultivation in Japan started in the pre-war Meiji period. The fruit has become one of the most popular fruits in the country and Japan has developed some of its own varieties. Many of these are exported and eaten all over the world.
In this blog, Oosawa sensei, one of the Japanese teachers at JOI online school, explains about one of the most famous of these types of apples. Please read the blog to help you learn Japanese, and also watch the video to help you listen to fluent Japanese reading.
みつ入りりんご
Apples with nectar

By OOSAWA Miki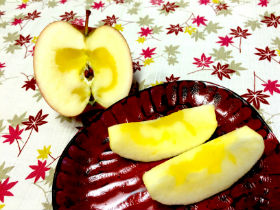 みなさんの国のりんごは甘いですか?すっぱいですか?
日本では、1000種類くらいのりんごがあるそうです。でも一般的にスーパーで売られているのは20種類くらいです。日本でりんごの旬といえば秋です。9月から11月にかけて、いろんな種類のりんごが食べられます。その中でとても人気があるのは「ふじ」というりんごです。11月にとれるりんごで、中には「みつ」が入っています。でも「みつ」と言っても、「はちみつ」ではありません。
りんごは葉で糖分を作ります。その糖分がたくさん作られると、りんごの中心に透き通った黄色い部分ができます。それが「みつ」です。みつ入りりんごは香りがよく、とてもジューシーです。お尻が赤いりんごは「みつ」が入っているサインです。
でも大切にとっておくと、いつの間にか「みつ」はなくなってしまいます。まわりの果肉にどんどん糖分と水分が吸収されてしまうのだそうです。買ったらすぐ食べるのがオススメです。
みなさんの国にもみつ入りりんごはありますか?
To listen to this blog, please watch our Youtube video.
みつ入(い)りりんご
みなさんの国(くに)のりんごは甘(あま)いですか?すっぱいですか?
日本(にほん)では、1000種類(しゅるい)くらいのりんごがあるそうです。でも一般的(いっぱんてき)にスーパーで売(う)られているのは20種類(しゅるい)くらいです。日本(にほん)でりんごの旬(しゅん)といえば秋(あき)です。9月(がつ)から11月(がつ)にかけて、いろんな種類(しゅるい)のりんごが食(た)べられます。その中(なか)でとても人気(にんき)があるのは「ふじ」というりんごです。11月(がつ)にとれるりんごで、中(なか)には「みつ」が入(はい)っています。でも「みつ」と言(い)っても、「はちみつ」ではありません。
りんごは葉(は)で糖分(とうぶん)を作(つく)ります。その糖分(とうぶん)がたくさん作(つく)られると、りんごの中心(ちゅうしん)に透(す)き通(とお)った黄色(きいろ)い部分(ぶぶん)ができます。それが「みつ」です。みつ入(い)りりんごは香(かお)りがよく、とてもジューシーです。お尻(しり)が赤(あか)いりんごは「みつ」が入(はい)っているサインです。
でも大切(たいせつ)にとっておくと、いつの間(ま)にか「みつ」はなくなってしまいます。まわりの果肉(かにく)にどんどん糖分(とうぶん)と水分(すいぶん)が吸収(きゅうしゅう)されてしまうのだそうです。買(か)ったらすぐ食(た)べるのがオススメです。
みなさんの国(くに)にもみつ入(い)りりんごはありますか?
Apples with nectar
Are the apples in your country sweet tasting ? Or are they sour ? In Japan, there are about 1000 types of apples. But the more common ones that you are sold in the supermarket are just 20 types. In terms of Japan seasons, the season for apples is autumn. You can eat various types of apples from September to November. Among these, one of the most popular types of apples is called "Fuji". You can get these apples in November and they have nectar 【or mitsu in Japanese】 inside them. But when we say mitsu, we do not mean honey 【which is hachi mitsu in Japanese】.
Apples make sugar with their leaves. And if they make a lot of sugar, then a transparent yellow part is made in the center of the apple. This is the mitsu (or nectar). Apples with this nectar have a nice flavor and are very juicy. One sign of whether there is nectar in the apple is if they have a red bottom.
But if you hold on to them for too long, then before you know it, the nectar will be lost. The water and sugar is gradually absorbed by the flesh. So I recommend you to eat them soon after purchase.
Do you have apples with nectar in your country ?
甘(あま)い sweet
すっぱい sour
種類(しゅるい) kind; sort; variety
旬(しゅん) season
秋(あき) autumn
人気(にんき)がある popular; marketable
はちみつ honey
糖分(とうぶん) sugar content
透(す)き通(とお)った clear
香(かお)りがよく good flavor
ジューシー juicy
サイン sign
いつの間(ま)にか Before I know it
果肉(かにく) flesh
吸収(きゅうしゅう)されて be absorbed
オススメ recommendation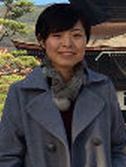 While all of you may have a different goal, there is one common purpose that you all share, which is to use the Japanese language in order to achieve something. I would be really glad if by learning Japanese here at JOI with me, and with your peers we can help to influence your life – even a little.
When I was a child, I used to perform a musical instrument, and played various kinds of music including pop and jazz. I also love to look at old buildings like temples and shrines and so I often travel. In my class, I would like to introduce some of Japanese culture and the traditions, through learning Japanese, and also introduce some of the characteristics of Japanese people. Lets face our goals together and go for it !
Last modified on