Blogs edited and submitted by Chiho Kamioka
JOI Support staff and manager.
Japanese Christmas
Christmas all around the world
Christmas season is celebrated in so many countries now all over the world. Some countries, like Japan, are not traditionally Christian, do not have the same traditional cultures of Western countries or have different climates and local cuisine.
Therefore there are often some variations to the Christmas traditions. For example, the Australians are famous for Christmas barbecues on the beach ! And in Ethiopia, (following the old Julian calendar) Christmas is celebrated in January !
Staying open to the many traditions and customs around the world and accepting the local differences allows us to enjoy the season where ever we might be !
You can study some Japanese vocabulary with this free Japanese learners' blog. And also practice listening to native Japanese by watching the YouTube video.
日本のクリスマス
Japanese Christmas

By SAKUDE Emi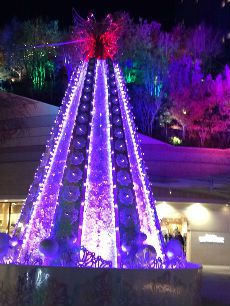 もうすぐクリスマスですね。この季節になると、街はどこもクリスマスのイルミネーションでとてもきれいです。華やかなクリスマスの季節は大人も子供もわくわくします。私は寒いのが苦手ですが、クリスマスの季節を毎年とても楽しみにしています。
日本は宗教に関係なく、一つのお祭りのようにクリスマスをお祝いします。そして、クリスマスは恋人、友達、家族で一緒に過ごす人が多いです。
そして、クリスマスパーティーのとき、絶対食べるものといえばケーキとチキンです。よく外国の方に「なんでクリスマスという特別な日なのにチキンを食べるんですか?チキンはいつでも食べられるのに。」と質問されます。日本では、ターキーは手に入りにくく、クリスマスはターキーより、チキンをよく食べます。ケンタッキーフライドチキンも人気があり、クリスマスには予約しなければ買うことができません。
私は毎年イルミネーションを見に行ったり、ローストチキンやケーキなどのごちそうを子供たちと作ったりして、家族でお祝いしています。 みなさんの国ではクリスマスをどのように過ごしますか?
To listen to this blog, please watch our Youtube video.
日本(にほん)のクリスマス
もうすぐクリスマスですね。この季節(きせつ)になると、街(まち)はどこもクリスマスのイルミネーションでとてもきれいです。華(はな)やかなクリスマスの季節(きせつ)は大人(おとな)も子供(こども)もわくわくします。私(わたし)は寒(さむ)いのが苦手(にがて)ですが、クリスマスの季節(きせつ)を毎年(まいとし)とても楽(たの)しみにしています。
日本(にほん)は宗教(しゅうきょう)に関係(かんけい)なく、一(ひと)つのお祭(まつ)りのようにクリスマスをお祝(いわ)いします。そして、クリスマスは恋人(こいびと)、友達(ともだち)、家族(かぞく)で一緒(いっしょ)に過(す)ごす人(ひと)が多(おお)いです。
そして、クリスマスパーティーのとき、絶対(ぜったい)食(た)べるものといえばケーキとチキンです。よく外国(がいこく)の方(かた)に「なんでクリスマスという特別(とくべつ)な日(ひ)なのにチキンを食(た)べるんですか?チキンはいつでも食(た)べられるのに。」と質問(しつもん)されます。日本(にほん)では、ターキーは手(て)に入(はい)りにくく、クリスマスはターキーより、チキンをよく食(た)べます。ケンタッキーフライドチキンも人気(にんき)があり、クリスマスには予約(よやく)しなければ買(か)うことができません。
私(わたし)は毎年(まいとし)イルミネーションを見(み)に行(い)ったり、ローストチキンやケーキなどのごちそうを子供(こども)たちと作(つく)ったりして、家族(かぞく)でお祝(いわ)いしています。 みなさんの国(くに)ではクリスマスをどのように過(す)ごしますか?
Japanese Christmas
It's almost Christmas time. During this season, the towns are decorated everywhere with Christmas lights and look really beautiful. Adults and children feel excited in this gorgeous Christmas season. Personally, I don't really like the cold, but even then I look forward to the Christmas season every year.
In Japan, Christmas is celebrated as one of the festivals regardless of religion. And a lot of people spend Christmas together with lovers, friends and family.
And at Christmas parties, when talking of food that is must at these events, it has to be cake and chicken. Foreign people often ask, "Why do you eat chicken on a special day like Christmas ? You can eat chicken on any other day !" In Japan, turkey is hard to come by, so instead of Christmas turkey, we usually eat chicken. Kentucky Fried Chicken is really popular and if you do not make a reservation for Christmas day, you won't be able to buy it.
Every year, I go to look at the illuminations, and make delicious food including roast chicken and cake with my children, and celebrate it with my family. How do you spend your Christmas ?
華(はな)やかな  gorgeous
わくわくします excited because of some pleasant expection
~に関係(かんけい)なく regardless of
~といえば Talking of (something)
ごちそう delicious food
Last modified on