Blogs edited and submitted by Chiho Kamioka
JOI Support staff and manager.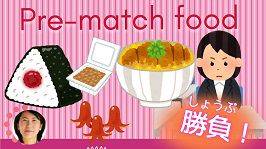 Japanese food for all occasions
Japanese people like to celebrate different occasions with special food. Washoku is a cuisine that often combines decorative elements of the ingredients to celebrate a specific meaning or event.
There are unique dishes to celebrate the New Year, Girl's Day and a host of other holidays or special days in the calendar.
In this blog for Japanese language learners, Japanese teacher Ayako Suzuki introduces one occasion for special food that is quite interesting. You can study new vocabulary and learn new Kanji from this blog. And listen to the blog being read in fluent Japanese to practice your listening for the JLPT test among other things.
勝負の日に食べる物
Pre-match food

By SUZUKI Ayako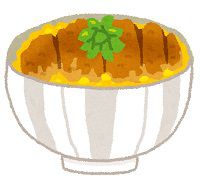 皆さんは、大切な試合や試験の前に、どんなものを食べますか。日本では、勝負事の前にはトンカツやカツ丼といった、カツ料理がよく食べられています。カツ料理は、「カツ」が「勝つ」につながることから、勝負の日に食べる人が多いようです。
 「試合に勝てますように」「試験に合格しますように」などという願いを込めて、カツを食べるのですが、このように、良い物事との縁が起こることを願ってする行動を「ゲン担ぎ」と言います。「ゲン」とは「縁起」という意味です。
 カツ料理以外にも、ウインナー[英語のwinnerから]、おむすび[お結び=良縁をつなぐ]、かつお[勝つ男]、納豆などのねばねば食材[最後までねばり強く努力できる]なども、勝負事の日にゲンを担いで食べる物として知られています。
To listen to this blog, please watch our Youtube video.
 皆(みな)さんは、大切(たいせつ)な試合(しあい)や試験(しけん)の前(まえ)に、どんなものを食(た)べますか。日本(にほん)では、勝負事(しょうぶごと)の前(まえ)にはトンカツやカツ丼(どん)といった、カツ料理(りょうり)がよく食(た)べられています。カツ料理(りょうり)は、「カツ」が「勝(か)つ」につながることから、勝負(しょうぶ)の日(ひ)に食(た)べる人(ひと)が多(おお)いようです。
 「試合(しあい)に勝(か)てますように」「試験(しけん)に合格(ごうかく)しますように」などという願(ねが)いを込(こ)めて、カツを食(た)べるのですが、このように、良(よ)い物事(ものごと)との縁(えん)が起(お)こることを願(ねが)ってする行動(こうどう)を「ゲン担(かつ)ぎ」と言(い)います。「ゲン」とは「縁起(えんぎ)」という意味(いみ)です。
 カツ料理(りょうり)以外(いがい)にも、ウインナー[英語(えいご)のwinnerから]、おむすび[お結(むす)び=良縁(りょうえん)をつなぐ]、かつお[勝(か)つ男(おとこ)]、納豆(なっとう)などのねばねば食材(しょくざい)[最後(さいご)までねばり強(づよ)く努力(どりょく)できる]なども、勝負事(しょうぶごと)の日(ひ)にゲンを担いで食(た)べる物(もの)として知(し)られています。
Pre-match food
What kind of food do you eat before an important game? In Japan, before a competition, we often eat cutlet food like pork cutlets and katsudon (pork cutlets served on top of a bowl of rice). Cutlet food or Katsu for short, is a pun or play on words to Katsu (meaning to win) so many people eat it as pre-match food on the game day.
When we are hoping or praying for something like, "I hope I win the game" or "I hope I pass the exam" etc, we tend to eat cutlet food and actions taken to pray for luck to happen like this are known as 'Genkatsugi' (or superstitions). Gen means an omen.
There are other foods apart from Katsu pork cutlets that we eat, for example, wiener sausages (a play on words on the English 'winner'), Omusubi rice balls (a play on the word Musubi meaning connection or union and = hoping to connect with good luck), Katsuo bonito fish (a play on words on the Kanji for win and man), natto fermented soybeans, or other sticky food (meaning to stick it out or persevere through to the end) among other food eaten on or before a competition or match day, is known as good omen food.
縁(えん)  luck; fortune
ゲン担(かつ)ぎ  superstition; acting superstitiously (for good luck)
縁起(えんぎ) omen; sign of luck
ねばねば  sticky; stringy
ねばり強い  tenacious; persevering; persistent; stubborn; steadfast  

Konnichiwa. My name is Ayako Suzuki.
I live in Tochigi prefecture with my husband and two children. Tochigi has two towns that are very popular tourist attractions; Nikko, which is famous for its World Heritage shrine and its wonderful nature, and Mashiko which is famous for its pottery. Its only two hours by train from Tokyo, so if you get that chance, please come and visit Tochigi.
Through the language of Japanese, I am happy to and looking forward to meeting you all. Lets study Japanese together.
Last modified on