Blogs edited and submitted by Chiho Kamioka
JOI Support staff and manager.
Featured
Cherry blossom season in Japan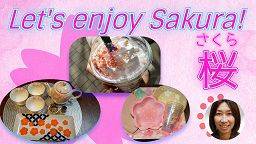 Cherry blossom season in Japan
The cherry blossom season usually occurs from the end of March and often reaching full bloom in early April.
However, possibly due to global warming, the season for the flowers reaching full bloom has been getting earlier and earlier. 2021 saw the earliest blooming since the 1400s!
The brevity of the flowers' lifespan is often juxtaposed with the fragility of life and there are many contemplative works of art around the topic. In this blog for Japanese learners, Japanese teacher Akari Ueno brings up the topic of this brevity, and finds ways to make the season feel longer.
Please read this to study some new Japanese vocabulary and listen to the blog being read out in the YouTube video.
桜を長く楽しみたい
I want to enjoy Sakura for longer

By UENO Akari
 今年、日本では、例年より早く桜の花が見頃を迎えているようです。私が住んでいる東京では、もう散り始めている所さえあります。そう、桜の花は咲いている期間が短いのが玉に瑕。それが潔くていいのかもしれないのですが、もっと長く楽しみたいのになあ、と毎年思ってしまいます。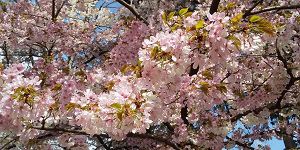 そんな気分の時、私は桜をモチーフにした物を生活に取り入れています。この紙皿やコップなどは100円ショップで買ったものです。家の中でもお花見気分を楽しむことができます。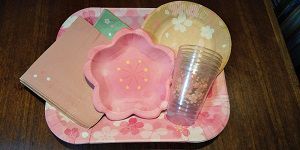 これは桜をイメージした飲み物です。この時期は桜に関する食べ物や飲み物がたくさん出回り、街中がとても華やかになります。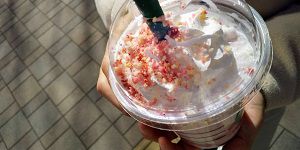 これは急須と湯のみです。このセットでお茶を飲むと、気分が上がります。それから、もう10年以上使っている型抜き。この時期になるとよく使います。ただのにんじんも、この型抜きを使うとかわいくなります。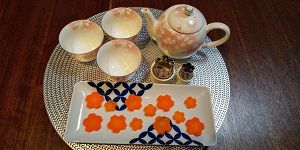 みなさんも、もしかしたら同じようなことをしているかもしれませんね。新型コロナの影響で今年来日できなかったみなさん、来年こそ来日して桜を楽しめますように。そして、桜に関するグッズや食べ物など、探してみてくださいね。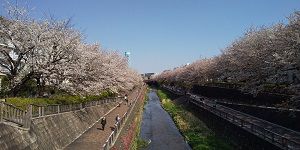 To listen to this blog, please watch our Youtube video.
桜(さくら)を長(なが)く楽(たの)しみたい
 今年(ことし)、日本(にほん)では、例年(れいねん)より早(はや)く桜(さくら)の花(はな)が見頃(みごろ)を迎(むか)えているようです。私(わたし)が住(す)んでいる東京(とうきょう)では、もう散(ち)り始(はじ)めている所(ところ)さえあります。そう、桜(さくら)の花(はな)は咲(さ)いている期間(きかん)が短(みじか)いのが玉(たま)に瑕(きず)。それが潔(いさぎよ)くていいのかもしれないのですが、もっと長(なが)く楽(たの)しみたいのになあ、と毎年(まいとし)思(おも)ってしまいます。
 そんな気分(きぶん)の時(とき)、私(わたし)は桜(さくら)をモチーフにした物(もの)を生活(せいかつ)に取(と)り入(い)れています。この紙皿(かみざら)やコップなどは100円(えん)ショップで買(か)ったものです。家(いえ)の中(なか)でもお花見(はなみ)気分(きぶん)を楽(たの)しむことができます。
 これは桜(さくら)をイメージした飲(の)み物(もの)です。この時期(じき)は桜(さくら)に関(かん)する食(た)べ物(もの)や飲(の)み物(もの)がたくさん出回(でまわ)り、街中(まちじゅう)がとても華(はな)やかになります。
 これは急須(きゅうす)と湯のみです。このセットでお茶(ちゃ)を飲(の)むと、気分(きぶん)が上(あ)がります。それから、もう10年(ねん)以上(いじょう)使(つか)っている型抜(かたぬ)き。この時期(じき)になるとよく使(つか)います。ただのにんじんも、この型抜(かたぬ)きを使(つか)うとかわいくなります。
 みなさんも、もしかしたら同(おな)じようなことをしているかもしれませんね。新型(しんがた)コロナの影響(えいきょう)で今年(ことし)来日(らいにち)できなかったみなさん、来年(らいねん)こそ来日(らいにち)して桜(さくら)を楽(たの)しめますように。そして、桜(さくら)に関(かん)するグッズや食(た)べ物(もの)など、探(さが)してみてくださいね。
I want to enjoy Sakura for longer
This year in Japan, the Cherry blossoms came into bloom earlier than average years. In Tokyo where I live, there are some places where the blossoms have already started to fall down. Yes, the only problem with cherry blossoms is that the period in which they bloom is really short. This can be seen as gallant but I think to myself every year that I'd love for them to bloom for longer.
When I feel this way, I try to incorporate things with a 'sakura' motif into my daily life. For example, I bought these paper plates and paper cups at the 100 yen store. So I can enjoy the feeling of cherry blossom viewing inside my home too.
This is a drink that uses sakura as its image. During this season, there are many food and drinks related to sakura that appear on the market and the town becomes quite showy.
This is a teapot and a teacup. Whenever I drink tea using this tea set, I feel quite excited. And here is a cookie cutter that I have been using for over 10 years. I often use it when this season comes around. Even just carrots can look cute when you use this die cutter.
Perhaps you do a similar thing to me? Due to the coronavirus pandemic, there are many of you who couldn't come to Japan I guess, I hope that next year you will be able to come and enjoy the cherry blossoms. And when you do, please look out for sakura-based goods when you go shopping.
◆見頃(みごろ)を迎(むか)えている: be in bloom
◆花が散(ち)る: flowers are falling
◆玉(たま)に瑕(きず): only fault; a fly in the ointment
◆潔(いさぎよ)い: gallant; brave
◆モチーフ: motif
◆~を取(と)り入(い)れる: incorporate~
◆~が出回(でまわ)る: appear on the market
◆急須(きゅうす): teapot
◆湯(ゆ)のみ: tea cup
◆気分(きぶん)が上(あ)がる: get excited; feel better
◆型抜(かたぬ)き: die cutting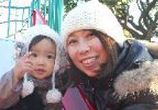 Hajimemashite everyone ! My name is Akari Ueno.
I live in Tokyo with my husband and daughter. I have had the experience of living in Hokkaido, Yokohama and Singapore.
I studied History in university, so I love touring around historical ruins. When I was younger, I went to see the Great Pyramids and Borobudur in Indonesia, but now I merely tour around the neighborhood parks with my daughter. I dream of touring around the world's famous ruins with my daughter one day.
When I study languages, one English phrase always comes to mind, "Use it, or lose it". I used to be scared of making mistakes, so even when I learned new vocabulary, I didn't use it. But after learning this English phrase from a friend, I started to use the vocabulary and terms I'd learned without fear of making mistakes.
Try to use your newly learned vocabulary and phrases all the time in the lessons. Looking forward to meeting you all in class !
Last modified on