Blogs edited and submitted by Chiho Kamioka
JOI Support staff and manager.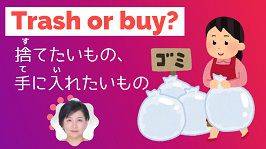 Changes in lifestyles during the pandemic
Lifestyles have changed greatly during the Coronavirus pandemic. Many people have had to spend time indoors more. And a large number of people have taken to working from home, or change their ways of commuting.
Have you made any changes to your lifestyle? Well, Japanese online school teacher Chiharu Takase has been reflecting on things she would like to take up and things she'd like to get rid of.
捨てたいもの、手に入れたいもの
Trash or buy?

By TAKASE Chiharu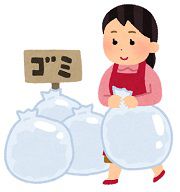 みなさんはこの激動の1年を通して、ものの考え方は変わりましたか?今回は「捨てたいもの、手に入れたいもの」という視点から自分自身を振り返ってみたいと思います。
 捨てたいもの、脂肪。手に入れたいもの、筋肉。
これはみなさん私と同じではないでしょうか。ステイホームは太りますね。食べることが癖になってしまったような気がします。習慣だったジョギングも消えてなくなってしまいました。
 捨てたいもの、モニター。手に入れたいもの、3次元の人間との会話。
私と同意見の方、いらっしゃいませんか。オンラインスクールの教師なのでモニター越しの会話には慣れているはずですが、すべてがオンラインになってしまうと、3次元の人間が恋しくなりますね。今まではどちらかというと用件が済むとささっと会話を終えてしまうタイプでしたが、今は人と会うとどうでもいい話をしてしまいます。
 捨てたいもの、車での移動。手に入れたいもの、歩いて移動する時間。
山のほうに住んでいるのでどうしても車は必要なものですが、できるだけ車での移動を減らしたいですね。コロナ禍で電車やバスを避けて車ばかりの生活に戻ってしまいました。これからは近くは歩いていく、また遠くの目的地へ行くときも少し手前の駐車場に止めて歩いていくようにしたいと思います。
 みなさんもこの1年で環境が大きく変化したと思います。みなさんの「捨てたいもの、手に入れたいもの」をぜひ教えてくださいね。
To listen to this blog, please watch our Youtube video.
捨(す)てたいもの、手(て)に入(い)れたいもの
 みなさんはこの激動(げきどう)の1年(ねん)を通(とお)して、ものの考(かんが)え方(かた)は変(か)わりましたか?今回(こんかい)は「捨(す)てたいもの、手(て)に入(い)れたいもの」という視点(してん)から自分自身(じぶんじしん)を振(ふ)り返(かえ)ってみたいと思います。
 捨(す)てたいもの、脂肪(しぼう)。手(て)に入(い)れたいもの、筋肉(きんにく)。
これはみなさん私(わたし)と同(おな)じではないでしょうか。ステイホームは太(ふと)りますね。食(た)べることが癖(くせ)になってしまったような気(き)がします。習慣(しゅうかん)だったジョギングも消(き)えてなくなってしまいました。
 捨(す)てたいもの、モニター。手(て)に入(い)れたいもの、3次元(じげん)の人間(にんげん)との会話(かいわ)。
私(わたし)と同意見(どういけん)の方(かた)、いらっしゃいませんか。オンラインスクールの教師(きょうし)なのでモニター越(ご)しの会話(かいわ)には慣(な)れているはずですが、すべてがオンラインになってしまうと、3次元(じげん)の人間(にんげん)が恋(こい)しくなりますね。今(いま)まではどちらかというと用件(ようけん)が済(す)むとささっと会話(かいわ)を終(お)えてしまうタイプでしたが、今(いま)は人(ひと)と会(あ)うとどうでもいい話(はなし)をしてしまいます。
 捨(す)てたいもの、車(くるま)での移動(いどう)。手(て)に入(い)れたいもの、歩(ある)いて移動(いどう)する時間(じかん)。
山(やま)のほうに住(す)んでいるのでどうしても車(くるま)は必要(ひつよう)なものですが、できるだけ車(くるま)での移動(いどう)を減(へ)らしたいですね。コロナ禍(か)で電車(でんしゃ)やバスを避(さ)けて車(くるま)ばかりの生活(せいかつ)に戻(もど)ってしまいました。これからは近(ちか)くは歩(ある)いていく、また遠(とお)くの目的地(もくてきち)へ行(い)くときも少(すこ)し手前(てまえ)の駐車場(ちゅうしゃじょう)に止(と)めて歩(ある)いていくようにしたいと思(おも)います。
 みなさんもこの1年(ねん)で環境(かんきょう)が大(おお)きく変化(へんか)したと思(おも)います。みなさんの「捨(す)てたいもの、手(て)に入(い)れたいもの」をぜひ教(おし)えてくださいね。
Trash or buy?
During this traumatic year, has the way you think about things changed? I'd like to take reevaluate myself from the viewpoint of "things that I would like to get rid of and things that I'd like to get hold of".
The thing I'd most like to get rid of is fat. And the thing I'd most like to 'buy into' is getting more muscle.
I think everyone feels the same as me, right? When we have to Stay Home, we gain weight. I feel as though eating has become a habit. And jogging, which used to be part of my routine has disappeared.
I'd like to get rid of the PC screen. And I'd like to go back to talking to people in three dimensional conversations.
Does anyone agree with me? As an online school teacher, I'm used to having conversations through the computer monitor, but I yearn to meet people in three dimensions. Until now, I've been the type of person that, when the point of the conversation is done, I quickly wrap up the conversation. But now when I meet people, I end up talking about trivial manners.
I want to get rid of getting around by car. I want to spend more time getting around on foot.
I live up in the mountains, so I really do need a car, but I would like to reduce my amount of travel by car. During the Corona virus pandemic, I have tried to avoid trains and buses and I have returned to a life of using cars only. But from now, if I am going somewhere near, I'd like to walk there, and if I am going somewhere far, then I think I'd like to park at a nearby car park and try to walk some of the way.
Your environment has changed greatly over this last year. What kind of things would you like to take up and what would you like to get rid of?
脂肪【しぼう】 (n) fat; grease; blubber; lard; suet
3次元【さんじげん】 (n) (1) three dimensions; three dimensional; 3D; 3-D;
済む【すむ】 (v5m,vi) (1) to finish; to end; to be completed;
目的地【もくてきち】 (n) place of destination
環境【かんきょう】 (n,adj-no) environment; circumstance
Konnichi-wa, everybody. Hajimemashite. My name is Chiharu Takase.
I was born in the spring, that's why my parents decided to include the the Kanji for spring (haru) in my name. My hometown is in Yamaguchi prefecture on the western coast of Honshu, but now I live in Kyoto, one of Japan's early capital cities. I'm married with one son, and my hobby is the Japanese tea ceremony.
Learning a new language, including Japanese, can be tough at first, but once you start comprehending the patterns and rhythm, you'll find that there is nothing more interesting. Do what you can, when you can, and enjoy the challenge. I'm really looking forward to meeting you in our online Japanese classroom. Let's spend an enjoyable 50 minutes together. Dozo yoroshiku onegai-shimasu.
Last modified on