Blogs edited and submitted by Chiho Kamioka
JOI Support staff and manager.
Not good at housework, Disliking housework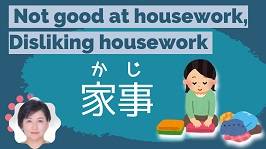 Household chores in Japan
There was a survey by the Nippon.com site which showed that Japanese wives do seven times more housework than their husbands. The imbalance is even true when both partners are working.
In this blog by a Japanese homemaker and language teacher Chiharu Takase, she points out her household chores likes and dislikes.
It is an amusing blog for Japanese language learners that takes a funny look at doing housework in Japan.
Read the blog and also listen to the blog by watching the video. You can learn new vocabulary and also new pronunciation from this free Japanese learning tool.
苦手な家事、嫌な家事
Not good at housework, Disliking housework

By TAKASE Chiharu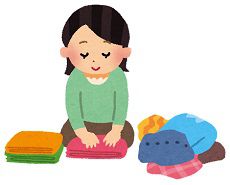 生活のために家事は毎日しなければならないことですが、みなさんの得意な家事、苦手な家事は何ですか。今日は毎日の家事について書いてみたいと思います。
 わたしは掃除は好きなほうです。掃除機をかけたり、床にモップをかけたりするのはほんの少しのエネルギーでできます。家計の管理もスムーズにできるほうだと思います。もともと計算したり、帳面をつけたりするのが苦にならない性格です。
 問題はここからです。食事作りは面倒だなあと思ってしまいます。毎日の夕飯の献立を考えるだけでも負担なので食材の宅配や冷凍食品をフル活用しています。夕飯は一度に作るのではなく、朝おかずを一品作っておき、日中の空き時間にもう一品作って、夕飯の前は汁物を用意するだけにしています。一度に何品も作る集中力がないからです。
 それから洗濯を干すのが嫌なので、衣類乾燥機を使っています。そこまで機械にやってもらっているのに、そのあとに洗濯物を畳んだり、クローゼットに片づけることもなかなか進みません。ですから、衣類部屋がきれいなことがありません。不思議なことに、嫌いなことに対してはたった10分の集中力が続かないのです。5分洗濯物を畳んで、全くちがうことをして気分を変えて、また5分クローゼットに衣類をしまってということを繰り返しながらなんとか衣類の片づけをしています。
 こうして考えてみるとわたしは苦手な家事、嫌な家事をこなすためにお金をずいぶん使っていることがわかります。継続するために自分なりの工夫もしているとも言えますが・・・みなさんは苦手な家事、嫌な家事をどうしていますか。
To listen to this blog, please watch our Youtube video.
苦手(にがて)な家事(かじ)、嫌(いや)な家事
 生活(せいかつ)のために家事(かじ)は毎日(まいにち)しなければならないことですが、みなさんの得意(とくい)な家事(かじ)、苦手(にがて)な家事(かじ)は何(なん)ですか。今日(きょう)は毎日(まいにち)の家事(かじ)について書(か)いてみたいと思(おも)います。
 わたしは掃除(そうじ)は好(す)きなほうです。掃除機(そうじき)をかけたり、床(ゆか)にモップをかけたりするのは、ほんの少(すこ)しのエネルギーでできます。家計(かけい)の管理(かんり)もスムーズにできるほうだと思(おも)います。もともと計算(けいさん)したり、帳面(ちょうめん)をつけたりするのが苦(く)にならない性格(せいかく)です。
 問題(もんだ)はここからです。食事(しょくじ)作(づく)りは面倒(めんどう)だなあと思(おも)ってしまいます。毎日(まいにち)の夕飯(ゆうはん)の献立(こんだて)を考(かんが)えるだけでも負担(ふたん)なので食材(しょくざい)の宅配(たくはい)や冷凍食品(れいとうしょくひん)をフル活用(かつよう)しています。夕飯(ゆうはん)は一度(いちど)に作(つく)るのではなく、朝(あさ)おかずを一品(いっぴん)作(つく)っておき、日中(にっちゅう)の空(あ)き時間(じかん)にもう一品(いっぴん)作(つく)って、夕飯(ゆうはん)の前(まえ)は汁物(しるもの)を用意(ようい)するだけにしています。一度(いちど)に何品(なんぴん)も作(つく)る集中力(しゅうちゅうりょく)がないからです。
 それから洗濯(せんたく)を干(ほ)すのが嫌(いや)なので、衣類乾燥機(いるいかんそうき)を使(つか)っています。そこまで機械(きかい)にやってもらっているのに、そのあとに洗濯物(せんたくもの)を畳(たた)んだり、クローゼットに片(かだ)づけることもなかなか進(すす)みません。ですから、衣類部屋(いるいべや)がきれいなことがありません。不思議(ふしぎ)なことに、嫌(きら)いなことに対(たい)してはたった10分(ぷん)の集中力(しゅうちゅうりょく)が続(つづ)かないのです。5分(ふん)洗濯物(せんたくもの)を畳(たた)んで、全(まった)くちがうことをして気分(きぶん)を変(か)えて、また5分(ふん)クローゼットに衣類(いるい)をしまってということを繰(く)り返(かえ)しながらなんとか衣類(いるい)の片(かた)づけをしています。
  こうして考(かんが)えてみるとわたしは苦手(にがて)な家事(かじ)、嫌(いや)な家事(かじ)をこなすためにお金(かね)をずいぶん使(つか)っていることがわかります。継続(けいぞく)するための自分(じぶん)なりの工夫(くふう)もしているとも言(い)えますが・・・みなさんは苦手(にがて)な家事(かじ)、嫌(いや)な家事(かじ)をどうしていますか。
Not good at housework, Disliking housework
We have to do housework daily for everyday life but which chores are you good at doing and which ones are you not very good at? Today I think I'd like to write about everyday housework.
I quite like cleaning. Vacuuming or mopping a floor takes just a little energy. And I think I can manage the family's finances quite smoothly. My personality is the type that finds calculating the household economies and putting them into a notebook the least bothersome.
And then, I also hate hanging up the washing, so I use a clothes dryer. And even after I've had machines do the job that far for me, I don't get around to folding the washing and putting it away into the closet. Which is why the laundry room never gets clean. But one strange thing is that I can only keep concentrating on a chore that I don't like for 10 minutes. So I fold the clothes for 5 minutes, then I do something completely different to change my feeling, then I put some clothes away in the closet for 5 minutes, and keep repeating that, and eventually the washing gets cleaned up.
When I come to think of it like this, I realized that I end up spending a lot of money on performing chores that I don't like. I think that I make an effort to continue in my own way … - do you have any household chores that you are not good at or any chores that you dislike?
家計(かけい):household economy; family finances;
献立(こんだて):menu; bill of fare
負担(ふたん):burden; load; responsibility
フル活用(かつよう):full use; extensive use; complete utilization
汁物(しるもの):soup
畳(たた)む←畳(たた)んだ:to fold (clothes, umbrella)
こなす:to finish; to complete; to manage; to perform
Konnichi-wa, everybody. Hajimemashite. My name is Chiharu Takase.
I was born in the spring, that's why my parents decided to include the the Kanji for spring (haru) in my name. My hometown is in Yamaguchi prefecture on the western coast of Honshu, but now I live in Kyoto, one of Japan's early capital cities. I'm married with one son, and my hobby is the Japanese tea ceremony.
Learning a new language, including Japanese, can be tough at first, but once you start comprehending the patterns and rhythm, you'll find that there is nothing more interesting. Do what you can, when you can, and enjoy the challenge. I'm really looking forward to meeting you in our online Japanese classroom. Let's spend an enjoyable 50 minutes together. Dozo yoroshiku onegai-shimasu.
Last modified on