Blogs edited and submitted by Chiho Kamioka
JOI Support staff and manager.
My daily life with wild birds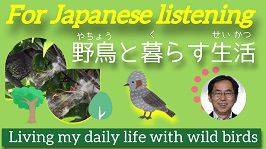 Wild Birds in Japan
There are about 700 bird species in Japan.17 species are endemic to Japan meaning that they can only be found in Japan. There are also many migratory species and some species that were introduced to the country by man.
In recent history, though many species have disappeared due to human activity, including hunting and environmental degradation. But there are concerted efforts to revive these species including bird sanctuaries and preserved forests and wetlands.
In this blog for Japanese learners, JOI teacher Hiroshi Yamamototells a slice of life story about his personal daily life with birdsin and around his house in Oita prefecture. You can listen to Yamamoto sensei read the blog.
And you can also listen to the sounds of the birds around his house too!This audio is a pleasure to listen to. Scroll down to the bottom of the blog to find the English translation and Kanji reading furigana version as well as a vocabulary list.
野鳥と暮らす生活 
Living my daily life with wild birds

By YAMAMOTO Hiroshi
 私の住んでいる所は、小さな田舎町です。家の周りには畑や木などがまだたくさん残っています。今の時期、いろいろな野鳥の鳴き声がよく聞こえます。特に夜明けの頃、たくさんの鳥が少しずつ鳴き始め、まだ静かな景色の中で良く響き、私の好きな時間です。
  実は4年前に家を建替えました。その時に、家に鳥が来てくれるといいなと思い、実のできる木を10種類くらい選んで植えました。そのお陰で、よく野鳥が木の実を食べに来てくれます。 また、暑くなると水浴びをしに、庭にあるバードバスにもよく鳥が寄ってきます。

  そんな中、今年の春、家の玄関の近くのアラカシの木に、ヒヨドリが初めて巣を作りました。高さ2.5mくらいの所に、いろいろな植物を集めてきて、小さな巣をじょうずに作っています。5月頃には、親鳥がずーと巣の中で静かに座っていました。 そして、6月に入って、小さな鳴き声を初めて聞きました。巣の中には、体の割にくちばしの大きなひな鳥が何羽かいるようです。毎日、親鳥が運んでくる餌を食べています。

 家族でも、いつもヒヨドリの話をしていて、まるで我が家の家族が増えた感じです。夏に台風が来るまでに、早く大きくなって無事に巣立ってくれるといいなと思っています。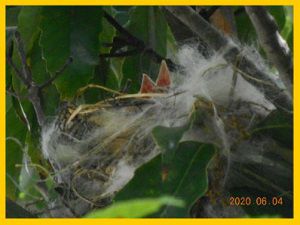 毎日、たくさんの野鳥の声を聞きながら暮らせることを、たいへん幸せに感じています。
To listen to this blog, please watch our Youtube video.
野鳥(やちょう)と暮(く)らす生活(せいかつ) 
  私(わたし)の住(す)んでいる所(ところ)は、小(ちい)さな田舎町(いなかまち)です。家(いえ)の周(まわり)りには畑(はたけ)や木(き)などがまだたくさん残(のこ)っています。今(いま)の時期(じき)、いろいろな野鳥(やちょう)の鳴(な)き声(ごえ)がよく聞(き)こえます。特(とく)に夜明(よあ)けの頃(ころ)、たくさんの鳥(とり)が少(すこ)しずつ鳴(な)き始(はじ)め、まだ静(しず)かな景色(けしき)の中(なか)で良(よ)く響(ひぎ)き、私(わたし)の好(す)きな時間(じかん)です。
 実(じつ)は4年(ねん)前(まえ)に家(いえ)を建替(たてか)えました。その時(とき)に、家(いえ)に鳥(とり)が来(き)てくれるといいなと思(おも)い、実(み)のできる木(き)を10種類(しゅるい)くらい選(えら)んで (う)えました。そのお陰(かげ)で、よく野鳥(やちょう)が木(き)の実(み)を食(た)べに来(き)てくれます。 また、暑(あつ)くなると水浴(みずあ)びをしに、庭(にわ)にあるバードバスにもよく鳥(とり)が寄(よ)ってきます。
 そんな中(なか)、今年(ことし)の春(はる)、家(いえ)の玄関(げんかん)の近(ちか)くのアラカシの木に、ヒヨドリが初(はじ)めて巣(す)を作(つく)りました。高(たか)さ2.5mくらいの所(ところ)に、いろいろな植物(しょくぶつ)を集(あ)めてきて、小(ちい)さな巣(す)をじょうずに作(つく)っています。5月(がつ)頃(ころ)には、親鳥(おやどり)がずーと巣(す)の中(なか)で静(しず)かに座(す)っていました。
 そして、6月(がつ)に入(はい)って、小(ちい)さな鳴(な)き声(ごえ)を初(はじ)めて聞(き)きました。巣(す)の中(なか)には、体(からだ)の割(わり)にくちばしの大きなひな鳥(どり)が何羽(なんわ)かいるようです。毎日(まいにち)、親鳥(おやどり)が運(はこ)んでくる餌(えさ)を食(た)べています。
家族(かぞく)でも、いつもヒヨドリの話(はなし)をしていて、まるで我(わ)が家(や)の家族(かぞく)が増(ふ)えた感(かん)じです。夏(なつ)に台風(たいふう)が来るまでに、早(はや)く大(おお)きくなって、無事(ぶじ)に巣立(すだ)ってくれるといいなと思(おも)っています。
毎日(まいにち)、たくさんの野鳥(やちょう)の声(こえ)を聞(き)きながら暮(く)らせることを、たいへん幸(しあわ)せに感じています。
Living my daily life with wild birds
The place where I live now is a small country town. There are still a lot of trees and fields around my house. In this season, you can often hear various wild bird calls. Especially at dawn a lot if birds begin to sing gradually and I really like the time when you can hear them from far but while the scene is still quiet.
Actually, we rebuilt our house 4 years ago. At the time, I thought to myself that I hoped some birds would come to our house, so I planted 10 types of trees which all could bear fruits. And because of this, wild birds often come to eat the fruits from the trees. And when it gets hot, birds often stop by to bathe in the birdbath that we have in our garden.
And among these, during spring this year, a brown-eared Bulbul made a nest for the first time in the Japanese blue oak tree near our front door. It has deftly made a small nest at about a height of 2.5 meters by collecting various pieces of vegetation. Around the month of May, the parent bird continuously sat in the nest quietly. And then in as June came around, we started to hear the chirps of small birds. And in the nest, it looks as if there are a few baby birds whose bills seem comparatively large compared to their bodies. Every day, they eat the feed that the parent birds bring.
Within our family as well, the conversation is always about the brown-eared Bulbuls, so much so that it feels as though we have added a new member to our family. I hope that they grow up fast and manage to leave the nest before the summer typhoons arrive.
Every day, I feel extremely happy at being able to live listening to the sound of a lot of wild birds.
田舎町(いなかまち) country town
野鳥(やちょう) wild bird
鳴(な)き声(ごえ) cry
夜明(よあ)け dawn
景色(けしき) scene
響(ひび)く to be heard far away
建替(たてか)え rebuilding
実(み) nut
お陰(かぜ)で because of
水浴(みずあ)び bathing
バードバス bird bath
アラカシ Quercus glauca
ヒヨドリ Brown-eared Bulbul
巣(す) nest
親鳥(おやどり) parent bird
植物(しょくぶつ) plant
割(わり) comparatively; relatively
くちばし bill
ひな鳥(どり) baby bird
餌(えさ) feed
我(わ)が家(や) one's family
台風(たいふう) typhoon
無事(ぶじ) safety
巣立(すだ)つ to leave the nest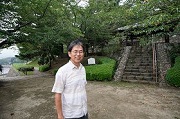 Konnichiwa! My name is Hiroshi Yamamoto. I live in Oita in Kyushu with my family (my wife, daughter and an old female cat). Oita is famous for hot springs. I often visit hot springs in the winter.
My hobbies are gardening and watching soccer. When caring for my plants, I notice their daily changes and I feel relaxed. About soccer, I played soccer until about 20 years ago. But now I just watch the game.
I worked for a machine manufacturer for about 40 years. During that time, I worked in various departments including factory, trade, research and development, sales, general affairs, accounting, and auditing. I think I can help you to understand about business, industry and life in Japan from my experience.
What is your purpose of studying Japanese? Let's make your dream come true by learning Japanese. I will do my best in our class to help you achieve your goals. Please knock on the classroom door at any time.
Last modified on