Blogs edited and submitted by Chiho Kamioka
JOI Support staff and manager.
Making my own bacon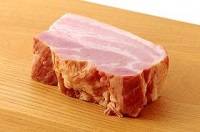 Homemade cooking
Although there are many great places to eat out in Japan, most families actually eat in most of the time. And there is a deep culture of making food at home too. Some Japanese housewives make their own miso paste and there are bread-making at home became quite a craze in recent years.
This blog by Ms. Chie Eguchi who is a Japanese teacher at JOI, explains one homemade idea that is slightly different from the norm, making her own bacon.
You can read the blog below and learn some new Japanese vocabulary. And on the video, you can watch and listen to the fluent Japanese language.
ベーコンを作ってみたい
Making my own bacon

By EGUCHI Chie
 冬は温かいスープがおいしい季節ですね。私もよく野菜をたっぷり使ったスープを作ります。 息子は特にベーコンが入ったスープが好きです。ベーコンを入れると苦手な野菜が入っていてもよく食べるので、クリームスープ、ポタージュ、ポトフ、トマトスープ・・・と毎日のようにベーコンを入れたスープを作っています。
 でも最近、ベーコンの添加物が気になるようになりました。調べてみたら、私がいつも買っているベーコンには色々な種類の添加物が入っていました。毎日食べるのはいやだな、と思いインターネットで無添加のベーコンを買ってみましたが、値段が高いので買い続けるのは難しそうです。
 そこで、「自分で作ってみたらどうだろう?」と思って探してみたら、家の中で燻製ができる 鍋が売っていました。その鍋を使えば、塩分が少なくて無添加のベーコンを自分で作ることができます。作る工程もおもしろそうです。早速買うことにしました。
 私のベーコン作りは成功するでしょうか?鍋が届いたら作ってみます。おいしかったらぜひ みなさんにもお知らせしたいです!
To listen to this blog, please watch our Youtube video.
ベーコンを作ってみたい
 冬(ふゆ)は温(あたた)かいスープがおいしい季節(きせつ)ですね。私(わたし)もよく野菜(やさい)をたっぷり使(つか)ったスープを作(つく)ります。 息子(むすこ)は特(とく)にベーコンが入(はい)ったスープが好(す)きです。ベーコンを入(い)れると苦手(にがて)な野菜(やさい)が入(はい)っていてもよく食(た)べるので、クリームスープ、ポタージュ、ポトフ、トマトスープ・・・と毎日(まいにち)のようにベーコンを入(い)れたスープを作(つく)っています。
 でも最近(さいきん)、ベーコンの添加物(てんかぶつ)が気(き)になるようになりました。調(しら)べてみたら、私(わたし)がいつも買(か)っているベーコンには色々(いろいろ)な種類(しゅるい)の添加物(てんかぶつ)が入(はい)っていました。毎日(まいにち)食(た)べるのはいやだと思(おも)い、インターネットで無添加(むてんか)のベーコンを買(か)ってみましたが、値段(ねだん)が高(たか)いので買(か)い続(つづ)けるのは難(むずか)しそうです。
 そこで、「自分(じぶん)で作つく」ってみたらどうだろう?」と思(おも)って探(さが)してみたら、家(いえ)の中(なか)で燻製(くんせい)ができる鍋(なべ)が売(う)っていました。その鍋(なべ)を使(つか)えば、塩分(えんぶん)が少(すく)なくて無添加(むてんか)のベーコンを自分(じぶん)で作(つく)ることができます。作(つく)る工程(こうてい)もおもしろそうです。早速(さっそく)買(か)うことにしました。
  私(わたし)のベーコン作(づく)りは成功(せいこう)するでしょうか?鍋(なべ)が届(とど)いたら作(つく)ってみます。おいしかったらぜひみなさんにもお知(し)らせしたいです!
Making my own bacon
Winter is a season when warm soup tastes delicious, right? I often make soup with lots of vegetables in them. My son especially likes soup with bacon in it. If there is bacon in it, even if there are vegetables which he doesn't like in it, he'll eat them so I make cream soup, potage, pot-au-feu, tomato soup.... it feels like I made soup with bacon in it almost every day.
But recently I have been concerned with the food additives in bacon. When I looked it up, I found out that the bacon that I always bought had various food additives in it. Since we ate it every day I thought that it wasn't desirable, so I tried buying additive-free bacon on the Internet but the price was so expensive it was difficult to continue buying it.
Then I thought to myself, "Why don't I try making it by myself?" and looked around and found a special pot being sold that lets you make smoked food at home. You can make low salt additive-free bacon by yourself with it. The process of making it also looked interesting. So I bought one right away.
I wonder if my bacon making will be a success. When the pot gets here, I'll try to make it. I'd like to let you all know too if it tastes good.
特(とく)に specially
苦手(にがて)な   not good at
毎日(まいにち)のように  almost every day
添加物(てんかぶつ)   release food additives
気(き)になる   I'm worried about
燻製(くんせい)    smoking
無添加(むてんか) additive-free
早速(さっそく) right away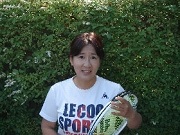 Hajimemashite everybody ! My name is Chie Eguchi. I live in Kawanishi city in Hyougo prefecture. Its about 20 minutes to Osaka station by train. It is an easy-going place with lots of fig and peach orchards.
I love reading books, and soaking in the bath while reading a book is my favorite pastime. I've been playing tennis since my university days, and although I'm a terrible player, I still play from time to time.
I have taught at Japanese language schools in Thailand, Hong Kong and Osaka. In my lessons, once you have grasped the meanings and understood the situations in which words and phrases are used, then the most important thing is to talk as much as possible. I want to help you learn Japanese in the most effective manner. Let's do this together !
Last modified on