Blogs edited and submitted by Chiho Kamioka
JOI Support staff and manager.
Shichi-Go-San
The 7-5-3 Ceremony
Shichi-Go-San or the 7-5-3 Ceremony is a traditional festival day in Japan for three- and seven-year-old girls and three- and five-year-old boys.
The ceremony dates back to a traditional rite of passage from Samurai times and is still continued today by people from all walks of life.
In this weekly blog for students who are learning the Japanese language, one of the Japanese teachers at JOI, Sakude sensei adds her personal viewpoint.
Read the blog to learn Japanese for free online. And listen to the natural spoken Japanese in the video to improve your language skills.
七五三
Shichi-Go-San

By SAKUDE Emi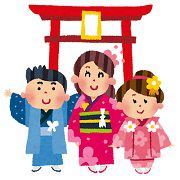 みなさんは七五三を知っていますか。
 7歳、5歳、3歳の子どもの成長をお祝いする日本の行事で、神社などにお参りをします。もともとは武家の儀式だったそうです。昔は乳児のときに亡くなってしまう子供も多かったため、無事に成長できたことの感謝を報告する意味もあります。
 現在では、スタジオなどで写真撮影をして、神社などにお参りをし、家族揃ってお祝いをするのが一般的なようです。昔は和装でしたが、今では洋装も増えてきました。我が家の長女次女のときは、スタジオで和装洋装で前撮りして、別の日にお参りをしました。そして、千歳飴を神社でもらって子どもたちはとても喜んでいました。千歳飴は子供への長寿の願いを込めた細長い飴です。
 今年は長男が5歳になります。大体10月か11月ごろにお参りするのでまだまだ先なのですが、早めに準備しようと思っています。
 みなさんの国では子供の成長をお祝いする行事がありますか?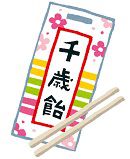 To listen to this blog, please watch our Youtube video.
七五三(しちごさん)
 みなさんは七五三(しちごさん)を知(し)っていますか。
 7歳(さい)、5歳(さい)、3歳(さい)の子(こ)どもの成長(せいちょう)をお祝(いわ)いする日本(にほん)の行事(ぎょうじ)で、神社(じんじゃ)などにお参(まい)りをします。もともとは武家(ぶけ)の儀式(ぎしき)だったそうです。昔(むかし)は乳児(にゅうじ)のときに亡(な)くなってしまう子供(こども)も多(おお)かったため、無事(ぶじ)に成長(せいちょう)できたことの感謝(かんしゃ)を報告(ほうこく)する意味(いみ)もあります。
 現在(げんざい)では、スタジオなどで写真撮影(しゃしんさつえい)をして、神社(じんじゃ)などにお参(まい)りをし、家族(かぞく)揃(そろ)ってお祝(いわ)いをするのが一般的(いっぱんてき)なようです。昔(むかし)は和装(わそう)でしたが、今(いま)では洋装(ようそう)も増(ふ)えてきました。我(わ)が家(や)の長女(ちょうじょ)次女(じじょ)のときは、スタジオで和装(わそう)洋装(ようそう)で前撮(まえど)りして、別(べつ)の日(ひ)にお参(まい)りをしました。そして、千歳飴(ちとせあめ)を神社(じんじゃ)でもらって子(こ)どもたちはとても喜(よろ)んでいました。千歳飴(ちとせあめ)は子供(こども)への長寿(ちょうじゅ)の願(ねが)いを込(こ)めた細長(ほそなが)い飴(あめ)です。
 今年(ことし)は長男(ちょうなん)が5歳(さい)になります。大体(だいたい)10月(がつ)か11月(がつ)ごろにお参(まい)りするのでまだまだ先(さき)なのですが、早(はや)めに準備(じゅんび)しようと思(おも)っています。
 みなさんの国(くに)では子供(こども)の成長(せいちょう)をお祝(いわ)いする行事(ぎょうじ)がありますか?
Shichi-Go-San
Do you about 'Shichi Go San'?
It is a Japanese event to celebrate the growth of children of 3,5 and 7 years old and people pay a (devotional) visit to a Shinto shrine. Originally, it was apparently a ceremony for the samurai class. In the past, there were many children who died during infancy so it was meant to show appreciation for and report that they had safely grown.
In present times, the common way to celebrate is for people to take photos in photograph studios and the like, visit shrines, and gather the family around to celebrate. In the old days people dressed in kimonos but now those in Western dress have been increasing. In our family, when it was my oldest daughter's time, we took pictures prior to the event and went to the shrine on a different day. And the children were really pleased to receive red and white candy sticks at the shrine. Red and white candy sticks (or Chitose Ame) are long candy sticks that are infused with a prayer for longevity.
This year, our oldest son is going to be 5 years old. Usually, people go to the shrines in October or November so it is still some time away, but I think I will prepare early.
Do you have any events in your country to celebrate children growing up?
お参(まい)り pay a (devotional) visit to a Shinto shrine
もともとは Originally
武家(ぶけ) the samurai class; 《born into》 a warrior family
儀式(ぎしき) a ceremony
乳児(にゅうじ) an infant, a baby (at the breast)
和装(わそう) dressed in (a) kimono
洋装(ようそう) Western dress
前撮(まえど)り taking pictures prior to the event
千歳飴(ちとせあめ) a long stick of red and white candy sold at a festival for children of three, five and seven years of age.
願(ねが)いを込(こ)める  cross your fingers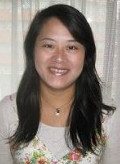 Hajimemashite! I am Sakude Emi. I live in Osaka, Japan's second largest city, with my daughters, son and my Brazilian husband. My hobby is cooking, especially dishes from around the world.
My husband and I often talk about how much misunderstanding there is in the world between individuals and between nations. We feel it is these misunderstandings that block smooth human relations. I would like to do what I can to unravel these knots of misunderstanding.
If there is anything you'd like to ask me, even if it's not connected to learning Japanese, please feel free. Let's do our best together. Ganbarou
Last modified on