Blogs edited and submitted by Chiho Kamioka
JOI Support staff and manager.
Obon
The Bon Festival
Througout Buddhist Asia, there are many similar festivals held and the one called the Bon Festival in Japan is a popular one in many countries.
The origins are from one of the disciples of Buddha who wanted to help his mother in the afterworld. So the modern version is usually associated with family and the ancestors.
In this Japanese language blog by Momoki sensei, who lives in Yamanashi prefecture, she explains the local custom in that area. Read the Japanese, learn from the vocabulary list and listen to the fluent Japanese reading on the video.
お盆
Obon

By MOMOKI Yuko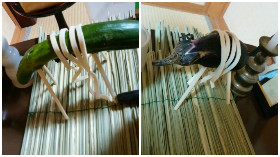 8月15日は一般的にお盆といわれている日です。お盆は、亡くなった方の霊が現世に帰ってくるといわれ、提灯やお供えを飾ってお迎えをします。地域によってお盆の時期や何をするかは違いますが、私が住んでいる山梨県笛吹市では13日に迎え火をたいてお迎えし、16日に送り火をたいてお見送りをしました。
お盆には、盆棚というお盆用の祭壇を作り、なすやきゅうりで作った牛や馬、果物などを飾ります。きゅうりは馬をあらわし、あの世からこの世に早く帰ってこられるように、なすは牛をあらわし、この世からあの世へゆっくり帰っていくように、また供物を運んでいけるようにという思いがこめられています。
私の父は13年前に亡くなっていますが、お盆のときは家の中で一緒にテレビを見たり、ご飯を食べているような気がします。きゅうりやなすにまたがった父を思い浮かべると笑ってしまいますが、大切で特別な行事です。
To listen to this blog, please watch our Youtube video.
お盆(ぼん)
8月(がつ)15日(にち)は一般的(いっぱんてき)にお盆(ぼん)といわれている日(ひ)です。お盆(ぼん)は、亡(な)くなった方(かた)の霊(れい)が現世(げんせ)に帰(かえ)ってくるといわれ、提灯(ちょうちん)やお供(そな)えを飾(かざ)ってお迎(むか)えをします。地域(ちいき)によってお盆(ぼん)の時期(じき)や何(なに)をするかは違(ちが)いますが、私(わたし)が住(す)んでいる山梨県笛吹市(やまなしけんふえふきし)では13日(にち)に迎(むか)え火(び)をたいてお迎(むか)えし、16日(にち)に送(おく)り火(び)をたいてお見送(みおく)りをしました。
お盆(ぼん)には、盆棚(ぼんだな)というお盆用(ぼんよう)の祭壇(さいだん)を作(つく)り、なすやきゅうりで作(つく)った牛(うし)や馬(うま)、果物(くだもの)などを飾(かざ)ります。きゅうりは馬(うま)をあらわし、あの世(よ)からこの世(よ)に早(はや)く帰(かえ)ってこられるように、なすは牛(うし)をあらわし、この世(よ)からあの世(よ)へゆっくり帰(かえ)っていくように、また供物(くもつ)を運(はこ)んでいけるようにという思(おも)いがこめられています。
私(わたし)の父(ちち)は13年前(ねんまえ)に亡(な)くなっていますが、お盆(ぼん)のときは家(うち)の中(なか)で一緒(いっしょ)にテレビを見(み)たり、ご飯(はん)を食(た)べているような気(き)がします。きゅうりやなすにまたがった父(ちち)を思(おも)い浮(う)かべると笑(わら)ってしまいますが、大切(たいせつ)で特別(とくべつ)な行事(ぎょうじ)です。
Obon
August 15th is generally known as Obon day. It is said that on Obon the spirits of the departed come back to this world, and people welcome them with lanterns and offerings. The Obon period and what people do for it differs from area to area, but in Fuefuki City in Yamanashi prefecture where I live, we welcome them with 'a welcome fire' on the 13th and see them off by lighting a ceremonial bonfire on the 16th.
During Obon, we make aspecial altar for the Obon purpose called a Bon Dana and we carve cows and horses from eggplants and cucumbers and display them with fruits. The horses made from cucumbers represent the meaning that we hope that the spirits can come from the other world to this world quickly, and the cows made from eggplants signify that we hope they go from this world back to the other world slowly and the hope that they can also carry offerings back with them is included in this.
My father died 13 years ago, so during Obon we presume that we watch TV at home together and eat dinner together. We laugh at the image of dad straddling a cucumber or eggplant, but it is an important and special event for us.
お盆(ぼん) tray, lantern festival, Bon festival
霊(れい) spirit、 pneuma
現世(げんせ) this life, recentness, this world
提灯(ちょうちん) lantern
お供(そな)え offering
迎(むか)え火(び)welcome fire
送(おく)り火(び)ceremonial bonfire(seeing off the spirits on the final night of O-Bon) 
祭壇(さいだん) altar
あの世(よ)other world, heaven, next world
この世(よ)this world, present world
供物(くもつ)offering
思(おも)い浮(う)かべる remember、retrieve、call back、call up、recall、think、recollect、remember、think back
行事(ぎょうじ) affair, event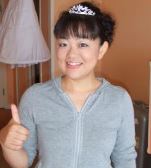 Konnichiwa everyone ! My name is Yuko Momoki and I live in Yamanashi prefecture which is famous for peaches and grapes and is the gateway to Mount Fuji. I have a lively family of 5, consisting of my husband, 2 sons, my mother and myself and we live in an environment surrounded by nature.
Up to now, I have taught Japanese to people from various countries and we have laughed together, worried together, gotten angry and at times spent time together that was often more intense and fun than the time spent with good friends.
When I think about how I will be able to spend the wonderful time that we have to share together...well my heart just pounds! I will try to make sure that we succeed in progressing your Japanese together, douzo yoroshiku onegaiitashimasu.
Last modified on