DVDレンタルランキング
DVD Rental Rankings

By YOKOZUKA Noriko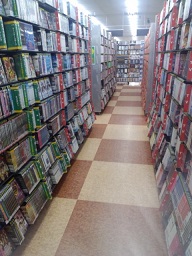 皆さんはDVDをよく見ますか。
日本のあるレンタル会社で、DVDレンタルランキングが出ていましたので、ご紹介します。このランキングは、6月1日~6月30日のランキングです。
邦画の上位5作品は、これです。
第1位 黒執事
第2位 清須会議
第3位 そして父になる
第4位 武士の献立
第5位 謝罪の王様
洋画の上位5作品は、これです。
第1位 ゼロ・グラビティ
第2位 REDリターンズ
第3位 ウルフ・オブ・ウォールストリート
第4位 エンダーのゲーム
第5位 ハンガー・ゲーム2
いかがでしょうか。皆さんが見たことのあるDVDはありますか。
機会があったら、日本の映画やドラマも、見てみてください。きっと、面白い作品が見つかると思います。
■To listen to this blog, please watch our Youtube video
---
★Kanji with hiragana
DVDレンタルランキング
皆(みな)さんはDVDをよく見(み)ますか。
日本(にほん)のあるレンタル会社(がいしゃ)で、DVDレンタルランキングが出(で)ていましたので、ご紹介(しょうかい)します。このランキングは、6月(がつ)1日(ついたち)~6月30日(にち)のランキングです。
邦画(ほうが)の上位(じょうい)5作品(さくひん)は、これです。
第1位(だいいちい) 黒執事(くろしつじ)
第2位(だいにい)  清須会議(きよすかいぎ)
第3位(だいさんい) そして父(ちち)になる
第4位(だいよんい) 武士(ぶし)の献立(こんだて)
第5位(だいごい)  謝罪(しゃざい)の王様(おうさま)
洋画(ようが)の上位(じょうい)5作品(さくひん)は、これです。
第1位 ゼロ・グラビティ
第2位 REDリターンズ
第3位 ウルフ・オブ・ウォールストリート
第4位 エンダーのゲーム
第5位 ハンガー・ゲーム2
いかがでしょうか。皆(みな)さんが見たことのあるDVDはありますか。
機会(きかい)があったら、日本の映画(えいが)やドラマも、見てみてください。きっと、面白(おもしろ)い作品(さくひん)が見つかると思(おも)います。
---
★English Translation
DVD Rental Rankings
Do you often watch DVDs ?
The DVD rental rankings have been released by certain Japanese rental company, so today I'd like to introduce these. These are the rankings from the period between June 1st and June 30th 2014.
The top 5 Japanese film rankings are as follows:-
No.1 Kuroshitsuji
No.2 The Kiyosu Conference
No.3 Like Father, Like Son
No.4 A Tale of Samurai Cooking: A True Love Story
No.5 The Apology King

The top 5 Western movie rankings are as follows:-
No.1 Gravity
No.2 Red 2
No.3 The Wolf of Wall Street
No.4 Ender's Game
No.5 The Hunger Games: Catching Fire
What do you think ? Are there any movies amomng them that you have watched before ? If you get a chance, please check out some Japanese movies or dramas. I'm sure you'll be able to find some intereresting works.
---
★This week's vocabulary
・レンタル rental
・ランキング ranking
・邦画(ほうが) a Japanese film [movie]
・上位(じょうい) a higher [an upper] rank
・作品(さくひん) a (piece of) work
・洋画(ようが) a foreign film
・いかが how; what
・いかがでしょうか=どうですか
・きっと surely, certainly
Last modified on