Blogs edited and submitted by Chiho Kamioka
JOI Support staff and manager.
Autumn in Japan
Many people feel that autumn in Japan is the most beautiful season. The leaves change colours in the many parks and mountain forests, and there are many seasonal fruits and vegetables that are very tasty.
You can hike up many of the easily accessible trekking routes as well as visit many of the celebrated temples and shrines with breathtaking scenery, and enjoy the joys of Japan's sightseeing.
Here in this blog by a Japanese teacher Chiharu Takase, you can find one person's view of what is fun in autumn and what she looks forward to. Listen to the blog being read out on the YouTube video to practice your Japanese listening. And study the vocabulary and Kanji as you scroll down this blog.
楽しい秋
Fall fun

By TAKASE Chiharu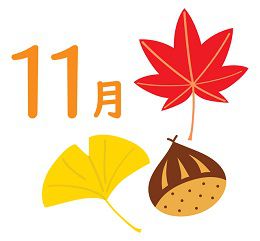 日本も緊急事態宣言が9月末で解除されました。少しずつにぎやかな町に戻ってくれるといいなと思っています。ちょうどこのタイミングで涼しく過ごしやすくなってきました。なんだか楽しい秋になりそうです。
 秋といえば、みなさんはどんな楽しみがありますか。私は茶道をしていますので、まずは何よりおいしい「抹茶」が楽しみです。11月は茶道では新しい抹茶をいただく季節で、茶室のしつらえも秋冬バージョンへと変わります。気温が下がっていくと、抹茶がとてもおいしく感じられます。あたたかいお湯で作る飲み物なので当たり前なんですけどね。
 それから、秋といえば、やっぱり「栗」でしょうか。栗を見ると秋になったなあと感じるのは私だけではないはずです。栗ご飯、栗餅、ぜんざいの中にも栗が入っていますね。ケーキのモンブランも栗なんですが、栗の形が残っているのが私は好きですね。
 最後はこれは秋の定番ですが、「紅葉」ですね。きれいに赤や黄色に色づいた紅葉も美しいですが、ほうきで掃かれて集められた枯れ葉の中に混じる紅葉もなんだか秋らしくていいですね。「もうすぐそこに冬が来ていますよ」と私たちに教えてくれているようです。半年前は青紅葉だったのですが、半年で色を変え、落ちていく。季節の巡りを感じさせる植物です。
 抹茶の緑、栗の黄色、紅葉の赤。
 今年の秋は外にでて秋を楽しめそうです。みなさんも楽しい秋を見つけたら、教えてくださいね。
To listen to this blog, please watch our Youtube video.
 楽(たの)しい秋(あき)
 日本(にほん)も緊急事態宣言(きんきゅうじたいせんげん)が9月末(くがつまつ)で解除(かいじょ)されました。少(すこ)しずつにぎやかな町(まち)に戻(もど)ってくれるといいなと思(おも)っています。ちょうどこのタイミングで涼(すず)しく過(す)ごしやすくなってきました。なんだか楽(たの)しい秋(あき)になりそうです。
 秋(あき)といえば、みなさんはどんな楽(たの)しみがありますか。私(わたし)は茶道(さどう)をしていますので、まずは何(なに)よりおいしい「抹茶(まっちゃ)」が楽(たの)しみです。11月(がつ)は茶道(さどう)では新(あたら)しい抹茶(まっちゃ)をいただく季節(きせつ)で、茶室(ちゃしつ)のしつらえも秋冬(あきふゆ)バージョンへと変(か)わります。気温(きおん)が下(さ)がっていくと、抹茶(まっちゃ)がとてもおいしく感(かん)じられます。あたたかいお湯(ゆ)で作(つく)る飲(の)み物(もの)なので当(あ)たり前(まえ)なんですけどね。
 それから、秋(あき)といえば、やっぱり「栗(くり)」でしょうか。栗(くり)を見(み)ると秋(あき)になったなあと感(かん)じるのは私(わたし)だけではないはずです。栗(くり)ご飯(はん)、栗餅(くりもち)、ぜんざいの中(なか)にも栗(くり)が入(はい)っていますね。ケーキのモンブランも栗(くり)なんですが、栗(くり)の形(かたち)が残(のこ)っているのが私(わたし)は好(す)きですね。
 最後(さいご)はこれは秋(あき)の定番(ていばん)ですが、「紅葉(こうよう)」ですね。きれいに赤(あか)や黄色(きいろ)に色(いろ)づいた紅葉(こうよう)も美(うつく)しいですが、ほうきで掃(は)かれて集(あつ)められた枯(か)れ葉(は)の中(なか)にまじる紅葉(こうよう)もなんだか秋(あき)らしくていいですね。「もうすぐそこに冬(ふゆ)が来(き)ていますよ」と私(わたし)たちに教(おし)えてくれているようです。半年前(はんとしまえ)は青紅葉(あおもみじ)だったのですが、半年(はんとし)で色(いろ)を変(か)え、落(お)ちていく。季節(きせつ)の巡(めぐ)りを感(かん)じさせる植物(しょくぶつ)です。
 抹茶(まっちゃ)の緑(みどり)、栗(くり)の黄色(きいろ)、紅葉(こうよう)の赤(あか)。
 今年(ことし)の秋(あき)は外(そと)に出(で)て秋(あき)を楽(たの)しめそうです。みなさんも楽(たの)しい秋(あき)を見(み)つけたら、教(おし)えてくださいね。
Fall Fun
The state of emergency in Japan was lifted at the end of September. We are hoping that the towns will gradually return to their lively atmosphere. The weather has become cooler and more comfortable just at this time. I think it's going to be a fun autumn.
What kind of things do you look forward to in autumn? I'm practicing tea ceremony, so the first thing I look forward to is the delicious 'matcha' green tea. November is the season when we use new 'matcha' green tea in the tea ceremony, and the tea room equipment changes into the versions for autumn and winter. The 'matcha' tastes more delicious as the temperature drops. I guess that's obvious since it is made with hot water.
And when it comes to autumn, chestnuts are what comes to mind. I'm sure I'm not the only one who feels that it's autumn when I see chestnuts. You put chestnuts in rice to make chestnut rice, as well as chestnut rice cakes, and zenzai. There's chestnut in Mont Blanc cakes but I prefer chestnuts when they still have their original shape.
Last but not least, the classic autumn thing is the autumn leaves. The autumn leaves that have turned a pretty red or yellow are nice, but the dead leaves that are mixed in with the autumn leaves that have been swept up with a broom also leave a fine taste of autumn. "It seems to be telling me that "winter is almost here". A half year ago the leaves were green, but after six months they have changed colour and start to fall. Plants are the ones that remind us of the cycle of the seasons.
The green of the green tea, the yellow of the chestnut, and the red of the autumn leaves.
This year it looks like I will be able to go outside and enjoy the autumn. Please let me know if you find any fun autumn things too.
緊急事態宣言 【きんきゅうじたいせんげん】 declaration of a state of emergency
しつらえ equipment; installation; facilities; arrangements
栗 【くり】 Japanese chestnut (Castanea crenata)
ほうき broom
巡り 【めぐり】circumference
Konnichi-wa, everybody. Hajimemashite. My name is Chiharu Takase.
I was born in the spring, that's why my parents decided to include the the Kanji for spring (haru) in my name. My hometown is in Yamaguchi prefecture on the western coast of Honshu, but now I live in Kyoto, one of Japan's early capital cities. I'm married with one son, and my hobby is the Japanese tea ceremony.
Learning a new language, including Japanese, can be tough at first, but once you start comprehending the patterns and rhythm, you'll find that there is nothing more interesting. Do what you can, when you can, and enjoy the challenge. I'm really looking forward to meeting you in our online Japanese classroom. Let's spend an enjoyable 50 minutes together. Dozo yoroshiku onegai-shimasu.
Last modified on