Blogs edited and submitted by Chiho Kamioka
JOI Support staff and manager.
Featured
Chill or heat the body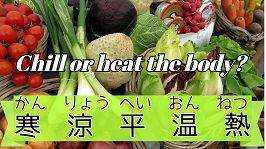 Chinese medicine in Japan
Chinese medicine is known as Kanpo in Japan.
It is based on herbal medicine that has a long and traditional history and was brought to Japan from China around the 5th century.
It is often viewed as alternative medicine by most people in modern Japan, but you can also use the national health insurance to receive herbal remedies, so it is officially acknowledged as a viable medicinal practice.
In this blog for Japanese learners, Japanese teacher Megumi Ogura introduces an aspect of the practice that is often discussed in Japanese media.
Read the blog to practice Japanese reading, check out the vocabulary list to learn new words and listen to the video to practice your Japanese listening, especially for the JLPT test.
体を冷やす食べ物、温める食べ物
Which foods chill or heat the body?
By Ogura Megumi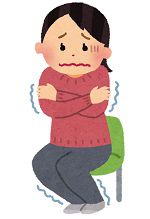 みなさん、ご飯とパン、どちらが体を冷やすと思いますか。
 「え?常温ならどちらも同じじゃないの?」と思いますよね。実はご飯よりもパンを食べる方が体は冷えるんです。
「冷え」というのは日本や中国など東アジア独自の捉え方かもしれませんが、日本では寒くなると「冷え性」という言葉が日常生活やメディアで頻繁に出てきます。「冷え性」とは簡単に言うと暖かい部屋にいても手足が冷たくなっている状態で、色々な体の不調の元だと考えられています。
 私は前々から悩んでいる冷え性を改善したくて、東洋医学に基づいた食養生の本を図書館で借りて読んでみました。すると、これまで知らなかった食材の見方があることを知りました。そのうちの1つが「五性」というものです。すべての食材・飲み物は〈寒、涼、平、温、熱〉の五つの性質に分類できます。例えば、寒性や涼性の食材を取ることで体の熱を取ったり、温性や熱性の性質を持つ食材で体を温めたりすることができるそうです。
 基本的には旬のものを食べると、その季節の体に適した温度にしてくれるそうです。たしかにきゅうりやトマトを旬の夏に食べるとさっぱりして気持ちがいいですが、冬に食べると体が冷える気がします。「旬のものを食べるのがよい」とよく言われますが、旬の時期に食べると新鮮でおいしいからだけでなく、実は自然と体調を整えてくれるからなんですね。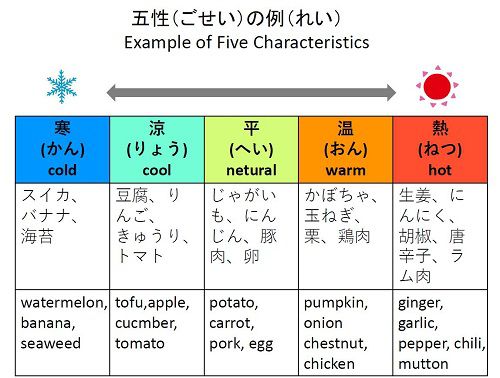 To listen to this blog, please watch our Youtube video.
体(からだ)を冷(ひ)やす食(た)べ物(もの)、温(あたた)める食(た)べ物(もの)
 みなさん、ご飯(はん)とパン、どちらが体(からだ)を冷(ひ)やすと思(おも)いますか。
 「え?常温(じょうおん)ならどちらも同(おな)じじゃないの?」と思(おも)いますよね。実(じつ)はご飯(はん)よりもパンを食(た)べる方(方)が体(からだ)は冷(ひ)えるんです。
 「冷(ひ)え」というのは日本(にほん)や中国(ちゅうごく)など東(ひがし)アジア独自(どくじ)の捉(とら)え方(かた)かもしれませんが、日本(にほん)では寒(さむ)くなると「冷(ひ)え性(しょう)」という言葉(ことば)が日常生活(にちじょうせいかつ)やメディアで頻繁(ひんぱん)に出(で)てきます。「冷(ひ)え性(しょう)」とは、簡単(かんたん)に言(い)うと、暖(あたた)かい部屋(へや)にいても手足(てあし)が冷(つめ)たくなっている状態(じょうたい)で、色々(いろいろ)な体(からだ)の不調(ふちょう)の元(もと)だと考えられています。
 私(わたし)は前々(まえまえ)から悩(なや)んでいる冷(ひ)え性(しょう)を改善(かいぜん)したくて、東洋医学(とうよういがく)に基(もと)づいた食養生(しょくようじょう)の本(ほん)を図書館(としょかん)で借(か)りて読(よ)んでみました。すると、これまで知(し)らなかった食材(しょくざい)の見方(みかた)があることを知(し)りました。そのうちの1つが「五性」(ごせい)というものです。すべての食(た)べ物(もの)・飲(の)み物(も)は〈寒(かん)・涼(りょう)・平(へい)・温(おん)・熱(ねつ)〉の5つの性質(せいしつ)に分類(ぶんるい)できます。例(たと)えば、寒性(かんせい)や涼性(りょうせい)の食材(しょくざい)を取(と)ることで体(からだ)の熱(ねつ)を取(と)ったり、温性(おんせい)や熱性(ねっせい)の性質(せいしつ)を持(も)つ食材(しょくざい)で体(からだ)を温(あたた)めたりすることができるそうです。
 基本的(きほんてき)には旬(しゅん)のものを食(た)べると、その季節(きせつ)の体(からだ)適(てき)した温度(おんど)にしてくれるそうです。たしかにきゅうりやトマトを旬(しゅん)の夏(なつ)に食(た)べるとさっぱりして気持ちがいいですが、冬(ふゆ)に食(た)べると体(からだ)が冷(ひ)える気(き)がします。「旬(しゅん)のものを食(た)べるのがよい」とよく言(い)われますが、旬(しゅん)の時期(じき)に食(た)べると新鮮(しんせん)でおいしいからだけでなく、実(じつ)は自然(しぜん)に体調(たいちょう)を整(ととの)えてくれるからなんですね。
Which foods chill or heat the body?
Which food do you think cools the body down more, rice or bread? "What? If they are both at room temperature then aren't they the same?" Actually, bread chills the body more than rice.
"Chills" is probably a way of thinking that is unique to China, Japan and East Asia, but the phrase, "Hie Shou" [or "a sensitivity to cold body type"] is a word that is used in everyday life in Japan and also comes up frequently in the media here. If I explain "Hie Shou" briefly, it is the situation in which even if someone is in a warm room, they still have cold hands and feet, and it is thought to be a source of various bad conditions for the body.
I have suffered from "Hie Shou" from long ago, and I wanted to improve this state, so I borrowed a book about healthy diets based on Chinese medicine from the library and read it. And then I found out new ways to view ingredients that I hadn't known until then. And one of these was something called "Go sei". All food ingredients and drinks are divided into 5 characteristics: Cold, cool, neutral, warm, and hot. So if one eats food which are cold or cool, they take away one's body heat but if you eat food which is warm or hot, this can heat up the body.
Basically if you eat food that is in season, then these will make your body the best temperature to match that season. Certainly, if you eat cucumbers and tomatoes in their natural summer season, they taste refreshing and good, but if you eat them in winter, they tend to cool down the body. We are often told that "It is good eat food that is in season", but this is not just because they taste fresh and delicious when in season, but they actually help to maintain the functions of your physical condition and nature.
常温(じょうおん)room temperature
冷(ひ)える get cold
冷(ひ)え coldness (feeling of cold)
捉(とら)え方(かた)way of viewing
頻繁(ひんぱん)に frequently
状態(じょうたい)state
不調(ふちょう)bad condition
〜の元(もと)source
前々(まえまえ)から from long time ago
悩(なや)む suffer
改善(かいぜん)する improve
東洋医学(とうよういがく)Eastern medicine
〜に基(もと)づいた based on
食養生(しょくようじょう)cure by diet
食材(しょくざい)ingredient
見方(みかた)way of looking
寒(かん)cold
涼(りょう)cool
平(へい)neutral
温(おん)warm
熱(ねつ)hot
性質(せいしつ)characteristic
分類(ぶんるい)categorize
基本的(きほんてき)に basically
旬(しゅん)seasonal
〜に適(てき)した best for; suitable for
温度(おんど)temperature
さっぱりする refreshing
時期(じき)season; time; period
新鮮(しんせん)fresh
実(じつ)は actually; in reality
整(ととの)える fix; prepare; maintain functions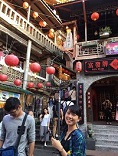 Konnichiwa, My name is Megumi Ogura. I live in Ehime prefecture. Ehime has a lot of citrus fruits like oranges and lemons and you can eat them all year round. Also, we are surrounded by the Inland Sea so you can catch delicious fish in the nearby sea (I also go fishing once in a while). It is a place that is blessed with nature and a very relaxing spot, so if you ever get a chance, please come to visit.
I love getting to know about different countries, places and cultures. I would like to support you in your Japanese learning but not only that, I would also like to hear about your country and culture.
Please let me know all about them in the classes. Let's enjoy studying Japanese together!
Last modified on