Blogs edited and submitted by Chiho Kamioka
JOI Support staff and manager.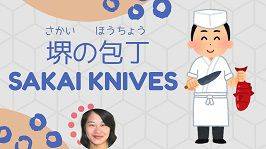 Japanese knives
Japanese knives have a cult following by chefs all over the world. There are many brands and famous artisans that have a long history of cutlery making.
Many people travel to Japan to purchase the perfect knife, and they also do the rounds of international fairs too. If they are well-maintained they can last a lifetime, as Osaka resident and Japanese teacher Emi Sakude finds out.
Read her blog about her changing to a local speciality, the Sakai knife! You can read this blog easily and practice learning Japanese Kanji too.
Listen to the blog on the YouTube video. And use this great Japanese learning tool.
堺の包丁
Sakai knives

By SAKUDE Emi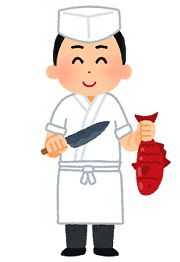 みなさんはどんな包丁を使っていますか。
 私は今まで特にこだわっていなかったのですが、コロナ禍の中、料理をする機会が多く、もっと品質がよい包丁を使いたいと思い、思い切って包丁を買い換えました。
 私の住んでいる大阪には刃物の産地として有名な堺市があります。みなさんはご存知ですか。なんと堺の包丁は国内の料理人の9割がつかっているそうです。和食ブームもあり世界中の料理人も注目しているそうです。
 堺の刃物生産は約600年の歴史があり、「品質がよい」と江戸幕府に認めれたことをきっかけに日本中に広まったそうです。一つ一つ職人の手仕事で丁寧に作られています。堺の包丁は鉄でできているので、ステンレスより錆びやすく刃こぼれしやすいので手入れが必要ですが、きちんと手入れすれば一生ものだそうで、切り方によって料理の味が変わるとも言われています。刺身などのやわらかい食材もスパッと切れうまみを閉じこめることができ食感も損なわないそうです。堺の包丁は、切れ味がよく持ちやすく今まで使っていた包丁と違っていて私はとても気に入っています。
 堺には刃物ミュージアムもあり、コロナが落ち着いたら一度行ってみたいなと思っています。
To listen to this blog, please watch our Youtube video.
堺(さかい)の包丁(ほうちょう)
 みなさんはどんな包丁(ほうちょう)を使(つか)っていますか。
 私(わたし)は今(いま)まで特(とく)にこだわっていなかったのですが、コロナ禍(か)の中(なか)、料理(りょうり)をする機会(きかい)が多(おお)く、もっと品質(ひんしつ)がよい包丁(ほうちょう)を使(つか)いたいと思(おも)い、思(おも)い切(き)って包丁(ほうちょう)を買(か)い換(か)えました。
 私(わたし)の住(す)んでいる大阪(おおさか)には刃物(はもの)の産地(さんち)として有名(ゆうめい)な堺市(さかいし)があります。みなさんはご存知(ぞんじ)ですか。なんと堺(さかい)の包丁(ほうちょう)は国内(こくない)の料理人(りょうりにん)の9割(わり)がつかっているそうです。和食(わしょく)ブームもあり世界中(せかいじゅう)の料理人(りょうりにん)も注目(ちゅうもく)しているそうです。
 堺(さかい)の刃物生産(はものせいさん)は約(やく)600年(ねん)の歴史(れきし)があり、「品質(ひんしつ)がよい」と江戸幕府(えどばくふ)に認(みと)めれたことをきっかけに日本中(にほんじゅう)に広まったそうです。一つ一つ(ひとつひとつ)職人(しょくにん)の手仕事(てしごと)で丁寧(ていねい)に作(つく)られています。堺(さかい)の包丁(ほうちょう)は鉄(てつ)でできているので、ステンレスより錆(さ)びやすく刃(は)こぼれしやすいので手入(てい)れが必要(ひつよう)ですが、きちんと手入(てい)れすれば一生(いっしょう)ものだそうで、切(き)り方(かた)によって料理(りょうり)の味(あじ)が変(か)わるとも言(い)われています。刺身(さしみ)などのやわらかい食材(しょくざい)もスパッと切(き)れうまみを閉(と)じこめることができ食感(しょっかん)も損(そこ)なわないそうです。堺(さかい)の包丁(ほうちょう)は、切(き)れ味(あじ)がよく持(も)ちやすく今(いま)まで使(つか)っていた包丁(ほうちょう)と違(ちが)っていて私(わたし)はとても気(き)に入(い)っています。
 堺(さかい)には刃物(はもの)ミュージアムもあり、コロナが落(お)ち着(つ)いたら一度(いちど)行(い)ってみたいなと思(おも)っています。
Sakai knives
What kind of kitchen knife do you use? Until now, I was not particular about the this, but during this Corona pandemic the opportunities to cook have increased and I thought about using a better quality kitchen knife, so I resolutely bought a new knife. In the metropolis of Osaka where I live, there is a locality famous for its cutlery production called Sakai city. Have you heard of this? And apparently 90% of domestic chefs use Sakai knives! And with the Washoku Japanese cuisine boom, chefs all over the world have taken notice of these knives.
The cutlery production in Sakai city has a 600 year history, and it started when it earned recognition for "being of good quality" from the Edo shogunate and from then its popularity spread all over Japan. They are all each hand-made by the handiwork of an artisan. Sakai knives are made of iron, so they rust easier than steel and the blade can be chipped easily so they require a lot of maintenance, but if you take good care of them, they last a lifetime, and it is said that the taste of the food changes according to the way it is cut. With sashimi and similar soft food ingredients, the knife cuts so swiftly that the flavor of the ingredient stays inside and the texture is above none. I love my my Sakai knife because its cutting quality is so good and it is so easy to hold, it is different to any knife that I have had before.
In Sakai city, there is a cutlery museum, when the Corona pandemic dies down, please come and visit it.
こだわる be particular about 《trifles》, stick to 《formality》
思(おも)い切(き)って daringly; boldly; resolutely; full fling
刃物(はもの) edge tool; cutlery; cutter; cutting tool
産地(さんち) locality, producing area
~をきっかけに~ taking advantage of…, with 《this》 as a start
手仕事(てしごと) hand work
一生(いっしょう)もの something that will last a lifetime (esp. high-quality products)
うまみ taste; flavor.
切(き)れ味(あじ) cutting quality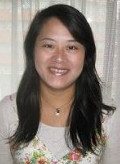 Hajimemashite! I am Sakude Emi. I live in Osaka, Japan's second largest city, with my daughters, son and my Brazilian husband. My hobby is cooking, especially dishes from around the world.
My husband and I often talk about how much misunderstanding there is in the world between individuals and between nations. We feel it is these misunderstandings that block smooth human relations. I would like to do what I can to unravel these knots of misunderstanding.
If there is anything you'd like to ask me, even if it's not connected to learning Japanese, please feel free. Let's do our best together. Ganbarou
Last modified on