Blogs edited and submitted by Chiho Kamioka
JOI Support staff and manager.
Hiroshima's landslide disaster
土砂災害
Hiroshima's landslide disaster

By IGARASHI Maki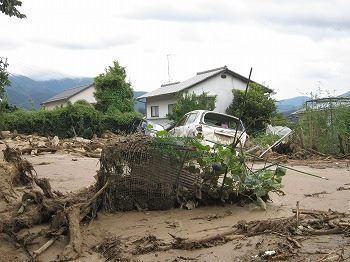 2014年8月19日、広島県には大雨が降りました。
すごい雷と大雨で、停電したり、断水したりする地域もありました。
私の家も一時、電気やテレビが消えたりして、不安な夜を過ごしました。
翌朝、テレビをつけると私の家から車で10分ほどのところがニュースに出てきました。
19日深夜から20日未明にかけて、土砂災害が発生したのです。
大雨が降って、水を大量に含んだ山が崩れ、山の土や岩、木や水が流れて、家や道路を飲み込んでしまいました。
この災害でたくさんの人がなくなり、みんなが心を痛めています。
消防、警察、自衛隊が復旧に全力を挙げています。ボランティアも動いていて、泥をかき分けたり、避難所では学校給食の調理員が温かい食事を提供したりしています。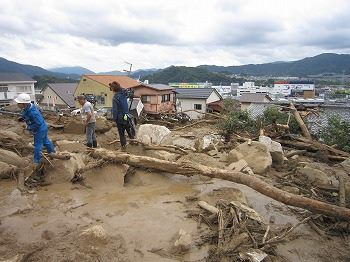 万が一の災害に備えて防災用品などの準備をしておくことはもちろん、いざというときに助け合えるよう周りの人とのつながりを大事にしましょう。
■To listen to this blog, please watch our Youtube video.
---
★Kanji with hiragana
土砂災害(どしゃさいがい)
2014年(ねん)8月(がつ)19日(にち)、広島県(ひろしまけん)には大雨(おおあめ)が降(ふ)りました。
すごい雷(かみなり)と大雨(おおあめ)で、停電(ていでん)したり、断水(だんすい)したりする地域(ちいき)もありました。
私(わたし)の家(いえ)も一時(いちじ)、電気(でんき)やテレビが消(き)えたりして、不安(ふあん)な夜(よる)を過(す)ごしました。
翌朝(よくあさ)、テレビをつけると私(わたし)の家(いえ)から車(くるま)で10分(ぷん)ほどのところがニュースに出(で)てきました。
19日(にち)深夜(しんや)から20日(はつか)未明(みめい)にかけて、土砂災害(どしゃさいがい)が発生(はっせい)したのです。
大雨(おおあめ)が降(ふ)って、水(みず)を大量(たいりょう)に含(ふく)んだ山(やま)が崩(くず)れ、山(やま)の土(つち)や岩(いわ)、木(き)や水(みず)が流(なが)れて、家(いえ)や道路(どうろ)を飲(の)み込(こ)んでしまいました。
この災害(さいがい)でたくさんの人(ひと)がなくなり、みんなが心(こころ)を痛(いた)めています。
消防(しょうぼう)、警察(けいさつ)、自衛隊(じえいたい)が復旧(ふっきゅう)に全力(ぜんりょく)を挙(あ)げています。ボランティアも動(うご)いていて、泥(どろ)をかき分(わ)けたり、避難所(ひなんじょ)では学校(がっこう)給食(きゅうしょく)の調理員(ちょうりいん)が温(あたた)かい食事(しょくじ)を提供(ていきょう)したりしています。
万(まん)が一(いち)の災害(さいがい)に備(そな)えて防災用品(ぼうさいようひん)などの準備(じゅんび)をしておくことはもちろん、いざというときに助(たす)け合(あ)えるよう周(まわ)りの人(ひと)とのつながりを大事(だいじ)にしましょう。
---
★English Translation
On August 19th 2014, torrential rains pured down on Hiroshima prefecture.
There was such terrible lightening and heavy rain, that some areas suffered power cuts and water supply suspensions.
In our house the power and TV went out temporarily and we spent an uneasy night.
The next day, when we switched on the TV, a house about 10 minutes away by car was on the News.
In the late night hours of the 19th and before the dawn of the 20th, landslides had occured.
Heavy rains had fallen, the mountains had taken on great amounts of water and started to break apart; the soil and rocks that make up the mountain were washed down along with trees and submerged roads and houses.
Many people lost their lives during this disaster and we were all greatly saddened by this.
Firemen, police officeers and members of the Self Defense Forces put all their strength into the recovery efforts. Volunteers also mobilised, pushing aside the mud; while school lunch cooks provided warm meals for those in the shelters.
If you are ever caught up in a disaster, it is of course important to prepare emergency supplies, but in the case of an emergency, let us take care to value our relationships with those around us.
---
★This week's vocabulary
未明(みめい) before dawn [daybreak, daylight], before it is light, in the gray of the morning.
土砂災害(どしゃさいがい) land slides, Sediment disaster
避難所(ひなんじょ) shelter
給食(きゅうしょく) school meals
調理員(ちょうりいん) cook
防災用品(ぼうさいようひん) emergency supplies
Last modified on