Blogs edited and submitted by Chiho Kamioka
JOI Support staff and manager.
Cat Temple Unrin-ji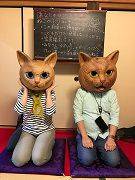 Temples in Japan
There are many temples and shrines in Japan. Temples are part of the Buddhist religion and Shrines are part of the Shinto religion.
Some of these places of worship are very famous and have a lot of daily visitors for sight-seeing and praying. But others are less well-known but often have some interesting back story as to their origin or specialize in one aspect of life (like child-birth or test-taking).
In this blog for Japanese learners, teacher Midori Miyake introduces one type of temple that is fast becoming a favourite for many people in Japan.
You can listen to the blog on the YouTube video and also learn new vocabulary at the bottom of this blog too.
猫寺(雲林寺)
Cat Temple Unrin-ji

By MIYAKE Midori
  みなさん、猫寺って聞いたことがありますか? 猫寺は、その名のとおり猫に縁が深い寺院の通称です。 インターネットで調べると日本全国各地にたくさんの猫寺があるようで驚きました。 今回ご紹介するのは、山口県萩市にある雲林寺です。 お寺のまわりには猫寺らしく、猫のお地蔵さんがたくさん並んでいます。 そして、お寺の入口の階段の所で二匹の白い招き猫がお出迎えしてくれます。
  階段をあがると上にぶら下がった木彫りの猫や大きく両手を広げて立っている猫もいて、まるで私たちを歓迎してくれているようです。 とにかくたくさんのユニークな木彫りの猫たちがいて、猫三昧です。
  私のお気に入りは、こちら「ねこかぶりコーナー」です。日本語で「猫をかぶる」とは、「おとなしい ふりをしている」という意味があります。面白いですね。
 こちら「撫で仏さま」は、自分の体の悪いところをさすりながらお参りすると良いみたいです。 もちろん、運が良ければ本物の猫さんにも会えますよ。 全てをご紹介出来ないのが残念ですが、興味のある方はインターネットで調べてみてください。実際に足を運んでみるのもいいかもしれないですね。
To listen to this blog, please watch our Youtube video.
猫寺(ねこでら)(雲林寺(うんりんじ))
  みなさん、猫寺(ねこでら)って聞(き)いたことがありますか? 猫寺(ねこでら)は、その名(な)のとおり猫(ねこ)に縁(えん)が深(ふか)い寺院(じいん)の通称(つうしょう)です。 インターネットで調(しら)べると日本(にほん)全国(ぜんこく)各地(かくち)にたくさんの猫寺(ねこでら)があるようで驚(おどろ)きました。 今回(こんかい)ご紹介(しょうかい)するのは、山口県萩市(やまぐちけん はぎし)にある雲林寺(うんりんじ)です。 お寺(てら)のまわりには猫寺(ねこでら)らしく、猫(ねこ)のお地蔵(じぞう)さんがたくさん並(なら)んでいます。 そして、お寺(てら)の入口(いりぐち)の階段(かいだん)の所(ところ)で二匹(にひき)の白(しろ)い招(まね)き猫(ねこ)がお出迎(でむか)えしてくれます。
  階段(かいだん)をあがると上(うえ)にぶら下(さ)がった木彫(きぼ)りの猫(ねこ)や大(おお)きく両手(りょうて)を広(ひろ)げて立(た)っている猫(ねこ)もいて、まるで私(わたし)たちを歓迎(かんげい)してくれているようです。 とにかくたくさんのユニークな木彫(きぼ)りの猫(ねこ)たちがいて、猫(ねこ)三昧(ざんまい)です。
 私(わたし)のお気(き)に入(い)りは、こちら「ねこかぶりコーナー」です。日本語(にほんご)で「猫(ねこ)をかぶる」とは、「おとなしい ふりをしている」という意味(いみ)があります。面白(おもしろ)いですね。
 こちら「撫(な)で仏(ぼとけ)さま」は、自分(じぶん)の体(からだ)の悪(わる)いところをさすりながらお参(まい)りすると良(よ)いみたいです。 もちろん、運(うん)が良(よ)ければ本物(ほんもの)の猫(ねこ)さんにも会(あ)えますよ。 全(すべ)てをご紹介(しょうかい)出来(でき)ないのが残念(ざんねん)ですが、興味(きょうみ)のある方(かた)はインターネットで調(しら)べてみてください。実際(じっさい)に足(あし)を運(はこ)んでみるのもいいかもしれないですね。
Cat Temple Unrin-ji
Have you ever heard of a Cat Temple? A Cat Temple is, just as it sounds, a temple which is bound deeply with the destiny of cats and thus is commonly known as such. When I did an Internet search, I was surprised to find that there are many cat temples all over the country.
This time I want to introduce a temple in Hagi City in Yamaguchi Prefecture called 'Unrin Ji'. There are many cat-style 'Ojizousan' or small Bodhisattva Buddhist statues lined up around the temple, as one would expect with a cat temple. And then at the entrance of the temple at the steps, you are greeted by two white beckoning cats.
When you climb up the steps and reach the top, you can see some hanging wood-carved cats as well as one that is standing with both hands spread out wide almost as if it is welcoming us. At any rate, there are so many unique wood-carved cats all over that you are immersed in cats.
My personal favourite part is this "put on a cat mask" corner. In Japanese, the phrase "put on a cat mask" means to "pretend to be docile". It is really funny, right?
This "stroking Buddha statue" is good for you if you rub any part of your body that is ailing while you are worshipping there. And of course, if you are lucky you can meet a real cat too. It's a pity that I cannot introduce all of it, but if you are interested please check it out on the Internet. Actually going to visit the place might be enjoyable too.
猫寺(ねこでら)    cat temple
縁(えん) fate; destiny
寺院(じいん) Buddhist temple
通称(つうしょう)  popular name; common name; nickname; alias
地蔵(じぞう) Kshitigarbha (bodhisattva who looks over children, travellers and the underworld) (travelers); Ksitigarbha; Jizo
招(まね)き猫(ねこ) beckoning cat; figure of a cat with one paw raised (usu. white porcelain)
出迎(でむか)える to meet; to greet
ぶら下(さ)がった to hang from; to dangle; to swing
三昧(ざんまい)  being immersed in; being absorbed in; indulging in
木彫(きぼ)り   wood carving; woodcraft
おとなしい     obedient; docile; quiet
ふり        pretence (pretense); show; pretending (to)
さする       to rub; to pat; to stroke; to massage
お参(まい)り   visit (to a shrine, grave, etc.); worship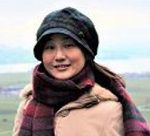 Konnichiwa! My name is Midori Miyake. After I graduated from university, I worked for a long time in a Japanese company, but a little while after getting married, I quit my job. After that, I studied and became a Japanese language teacher. I normally do yoga for my health. I think it's important to continue little by little everyday.
When learning Japanese, there are some times when it is fun and there are probably times when it is really difficult. But by continuing little by little you can improve your Japanese language ability and then if you can find some pleasure in using your Japanese in the classes I will be so glad. With language learning, speaking a lot is the path to improving. Don't be afraid to make mistakes, let's just speak a lot of Japanese! I am looking forward to speaking Japanese with you all.
Last modified on