Blogs edited and submitted by Chiho Kamioka
JOI Support staff and manager.
Diving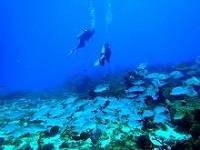 Water sports in Japan
Since Japan is an island nation with many incredible beaches, going to the beach and enjoying some water sports is one of the country's main tourist draws. There are many prefectures well known for surfing, like Miyazaki and of course in the south the islands of Okinawa are extremely popular. From windsurfing to scuba diving and everything in between, you can find something to suit even the most adventurous.
In this blog for Japanese langugage learners, Ogura sensei introduces one of her passions with the sea. This blog is a very good way to practice reading before the JLPT test in December. Learn some new vocabulary and listen to Ogura sensei read the blog herself.
ダイビング
Diving
By Ogura Megumi
 みなさん、ダイビング をしたことはありますか。わたしは今年の5月にダイビング のラインセスを取り、水深30mまで潜れるようになりました。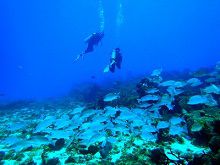 ダイビング におけるリスクはたくさんあり、真っ先に思い浮かぶリスクは酸欠になることですが、その他にも窒素中毒になることや肺が破裂することなど様々な危険があります。それらを防ぐために、人間の体の仕組みや、水圧が体にあたえる影響、ダイビング機材の正しい使い方など多くのことを勉強しなければなりませんでした。勉強は予想以上に大変でしたが、自分の安全に直結するものなので自然と頭に残りますし、何よりもその大変さを上回る楽しさや癒しの効果を感じ、ラインセンスを取ってよかったと思っています。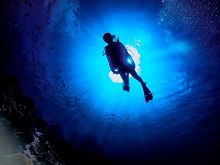 ダイビング の楽しみ方は人それぞれです。魚を見て楽しむ人もいれば、サンゴや魚の写真を撮るのが好きな人、また地形をみて楽しむ人もいるそうです。私はまだ初心者なので、海の中で自分の上に魚が泳ぐ姿を見ているだけで満足です。来年もまた夏になったらダイビング をして海を楽しみたいと思っています。みなさんもよければ、ぜひチャレンジしてみてください。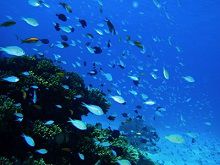 To listen to this blog, please watch our Youtube video.
ダイビング
 みなさん、ダイビング をしたことはありますか。わたしは今年(ことし)の5月(ごがつ)にダイビング のラインセスを取(と)り、水深(すいしん)30mまで潜(もぐ)れるようになりました。
 ダイビング におけるリスクはたくさんあり、真(ま)っ先(さき)に思(おも)い浮(う)かぶリスクは酸欠(さんけつ)になることですが、その他(ほか)にも窒素中毒(ちっそちゅうどく)になることや肺(はい)が破裂(はれつ)することなど様々(さまざま)な危険(きけん)があります。それらを防(ふせ)ぐために、人間(にんげん)の体(からだ)の仕組(しく)みや、水圧(すいあつ)が体(からだ)にあたえる影響(えいきょう)、ダイビング機材(きざい)の正(ただ)しい使(つか)い方(かた)など多(おお)くのことを勉強(べんきょう)しなければなりませんでした。勉強(べんきょう)は予想以上(よそういじょう)に大変(たいへん)でしたが、自分(じぶん)の安全(あんぜん)に直結(ちょっけつ)するものなので自然(しぜん)と頭(あたま)に残(のこ)りますし、何(なに)よりもその大変(たいへん)さを上回(うわまわ)る楽(たの)しさや癒(いや)しの効果(こうか)を感(かん)じ、ラインセンスを取(と)ってよかったと思(おも)っています。 
 ダイビング の楽(たの)しみ方(かた)は人(ひと)それぞれです。魚(うみ)を見(み)て楽(たの)しむ人(ひと)もいれば、サンゴや魚(さかな)の写真(しゃしん)を撮(と)るのが好(す)きな人(ひと)、また地形(ちけい)を見(み)て楽(たの)しむ人(ひと)もいるそうです。私(わたし)はまだ初心者(しょしんしゃ)なので、海(うみ)の中(なか)で自分(じぶん)の上(うえ)に魚(さかな)が泳(およ)ぐ姿(すがた)を見(み)るだけで満足(まんぞく)です。来年(らいねん)もまた夏(なつ)になったらダイビング をして海(うみ)を楽(たの)しみたいと思(おも)っています。みなさんもよければ、ぜひチャレンジしてみてください。
Diving
Have you ever been scuba diving? In May this year, I took my diving license and became able to dive up to 30 meters depth.
There are many risks involved in diving; the first risk that comes to mind is lack of oxygen, another one is nitrogen poisoning or getting burst lungs ; there are many dangers. To prevent these things from happening, you have to study a lot of subjects including the structure of the human body, the influence of water pressure on the body, and the correct way to use the equipment among other things. The study itself was a lot harder than was expected, but since it directly impacted my personal safety, the lessons stayed in my head quite naturally, but above all, the sheer enjoyment and the effect of the feeling of relaxation gained in the end surpassed the difficulty of it, so when I look back at it all, I am glad I took the license.
People have different ways of enjoying scuba diving. Some people enjoy just looking at the sea, some find it fun to take photos of the corral and fish. And apparently there are people who enjoy observing the undersea terrain. I myself am a beginner, so just watching fish swimming in the water above me brings me satisfaction. Next year, when summer comes along, I think I would like to go diving and enjoy the sea again. If you ever you'd like to too, please give it a try.
水深(すいしん)water depth
潜(もぐ)る to dive
真(ま)っ先(さき)に foremost; first
思(おも)い浮(う)かぶ come to mind
酸欠(さんけつ) lack of oxygen
窒素(ちっそ) nitrogen
中毒(ちゅうどく)addiction; poisoning
肺(はい)lung
破裂(はれつ)explosion; bursting
影響(えいきょう)effect; impact
機材(きざい) equipment
予想以上(よそういじょう)more than expected
直結(ちょっけつ)する to directly impact/p>
自然と(しぜん)と naturally
何(なに)よりも above all
上回(うわまわ) to surpass; exceed
癒(いや)し relax; comfort
サンゴ coral
地形(ちけい) landform; terrain
初心者(しょしんしゃ) beginner
満足(まんぞく) contentment; satisfaction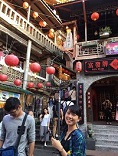 Konnichiwa, My name is Megumi Ogura. I live in Ehime prefecture. Ehime has a lot of citrus fruits like oranges and lemons and you can eat them all year round. Also, we are surrounded by the Inland Sea so you can catch delicious fish in the nearby sea (I also go fishing once in a while). It is a place that is blessed with nature and a very relaxing spot, so if you ever get a chance, please come to visit.
I love getting to know about different countries, places and cultures. I would like to support you in your Japanese learning but not only that, I would also like to hear about your country and culture.
Please let me know all about them in the classes. Let's enjoy studying Japanese together!
Last modified on