Blogs edited and submitted by Chiho Kamioka
JOI Support staff and manager.
Tsundoku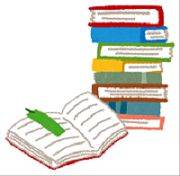 Japanese autumn season
The autumn season is a pleasant time in Japan. It is a good time to visit and go sightseeing since the weather is comfortable most of the time.
In Japan, the autumn season is seen as a special season for many reasons. In this interesting blog by Akari Ueno sensei, a Japanese teacher at JOI, she explains some of the ways that many Japanese people enjoy this season.
Ueno sensei also includes a lot of words and expressions that can be found in the JLPT test. Please read the blog and try to practice for the reading section of the test.
You can also listen to the video attached. It is good practice for JLPT listening.
積ん読
Tsundoku

By UENO Akari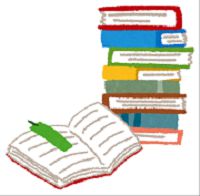 11月。日本では、ますます秋が深まっていく時期です。 「〇〇の秋」という言葉があります。秋は、特に旬のおいしい食べ物がたくさん出回り、食欲をそそることから、「食欲の秋」。暑い夏が過ぎて涼しくなるこの時期は体を動かしやすいことから、「運動の秋」。日が短くなり、夜に落ち着いて本が読めることから「読書の秋」などなど。
 私も「読書の秋」を実践すべく、読みたい本を張りきって積んでみるのですが、秋が終わってみると、読めた本はそのうちの1、2冊…。そんなことを毎年繰り返しています。いつだったか、JOIのレッスンでその話題になった時に、ある生徒さんが「そのような状態を『積ん読』、積まれた本のことを『積ん読本』というんですよ」と教えてくれました。
 辞書で調べてみると、ありました。 「積ん読(つんどく)」・・・「(「積(つ)んでおく」と「読書(どくしょ)」の「読(どく)」とをかけた洒落)書物を買ったまま、読まずに積んでおくこと」 まさに、私がしていることです。
 この言葉は少なくとも明治時代には本好きの間で広まっていたそうです。さらに、この言葉は「Tsundoku」という表記で、他の国でも広まっている、ということも分かりました。私のような人が昔からいること、今も世界中にいることを知って、とてもうれしくなりました。ご自宅に積ん読本がありますか?JOIのみんなで比べてみたいです。
To listen to this blog, please watch our Youtube video.
積(つ)ん読(どく)
 11月(がつ)。日本(にほん)では、ますます秋(あき)が深(ふか)まっていく時期(じき)です。「〇〇の秋(あき)」という言葉(ことば)があります。秋(あき)は、特(とく)に旬(しゅん)のおいしい食べ物がたくさん出回(でまわ)り、食欲(しょくよく)をそそることから、「食欲(しょくよく)の秋(あき)」。暑(あつ)い夏(なつ)が過(す)ぎて涼(すず)しくなるこの時期(じき)は体(からだ)を動(うご)かしやすいことから、「運動(うんどう)の秋(あき)」。日(ひ)が短(みじか)くなり、夜(よる)に落(お)ち着(つ)いて本(ほん)が読(よ)めることから「読書(どくしょ)の秋(あき)」などなど。
 私(わたし)も「読書(どくしょ)の秋(あき) を実践(じっせん)すべく、読(よ)みたい本(ほん)を張(は)りきって積(つ)んでみるのですが、秋(あき)が終(お)わってみると、読(よ)めた本(ほん)はそのうちの1、2冊(さつ)…。そんなことを毎年(まいとし)繰(く)り返(かえ)しています。いつだったか、JOIのレッスンでその話題(わだい)になった時(とき)に、ある生徒(せいと)さんが「そのような状態(じょうたい)を『積ん読(つんどく)』、積(つ)まれた本(ほん)のことを『積ん読本(つんどくぼん)』というんですよ」と教(おし)えてくれました。
 辞書(じしょ)で調(しら)べてみると、ありました。 「積ん読(つんどく)」・・・「(「積(つ)んでおく」と「読書(どくしょ)」の「読(どく)」とをかけた洒落(しゃれ))書物(しょもつ)を買(か)ったまま、読(よ)まずに積(つ)んでおくこと」 まさに、私(わたし)がしていることです。
 この言葉(ことば)は少(すく)なくとも明治時代(めいじじだい)には本好(ほんず)きの間(あいだ)で広(ひろ)まっていたそうです。さらに、この言葉(ことば)は「Tsundoku」という表記(ひょうき)で他(ほか)の国(くに)でも広(ひろ)まっている、ということも分(わ)かりました。私(わたし)のような人(ひと)が昔(むかし)からいること、今(いま)も世界中(せかいじゅう)にいることを知(し)って、とてもうれしくなりました。ご自宅(じたく)に積(つ)ん読本(どくぼん)がありますか?JOIのみんなで比(くら)べてみたいです。
Tsundoku
Its November. And in Japan, it feels more and more like fall. There is a saying in Japanese of "something something autumn". In autumn especially, there are many delicious seasonal foods are on the market which stimulate the appetite during this season so we call it "Good appetite autumn". The heat of the summer has passed and it is getting cooler now, so this season is a good time to move the body, so we also call it "Playing sports autumn". The days are shorter and in the evenings you can relax the body and read a book, so we also call it "Book reading autumn".
In order to put the "Book reading autumn" into practice, I get fired up and stack up piles of books to read during the season, but when autumn is over, I find that I have only read one or two books from that stack... And this goes on year in and year out. I don't remember when it was exactly but when this subject came up in a JOI lesson, one of the students told me that, "This kind of situation is known as Tsundoku and the piled up books are known as Tsundoku books.
I looked it up in the dictionary and it was there. Tsundoku – a pun meaning the act of buying many books in advance to read later but just buy them and do not get around to reading. Which is exactly what I am doing.
This word became popular, at least within book lovers during the Meiji Period. And I also found out that subsequently this word 'Tsundoku', in letter notation, spread out to other countries. I was really happy to learn that there were people like me a long time ago and also around the world. Do you have any books piled up in your house that you are yet to read? I'd love to compare this with everyone in JOI.
◆秋(あき)が深(ふか)まる: だんだん秋らしくなっていく様子のこと。 It feels like fall more and more.; Fall is in full swing.
◆旬(しゅん)の: seasonal
◆出回(でまわ)る: be marketed
◆食欲(しょくよく)をそそる: stimulate/whet one's appetite
◆実践(じっせん)する: practice; take action
◆~べく:~ようと思って、~するために
◆張(は)りきって: be fired up; be excited; with full of motivation
◆~を積(つ)む: stack~; pile up~
◆~ておく: do~ in advance
◆洒落(しゃれ): a pun
◆明治時代(めいじじだい): the Meiji period 1868-1912
◆表記(ひょうき): (letter) notation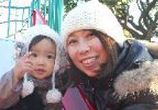 Hajimemashite everyone ! My name is Akari Ueno.
I live in Tokyo with my husband and daughter. I have had the experience of living in Hokkaido, Yokohama and Singapore.
I studied History in university, so I love touring around historical ruins. When I was younger, I went to see the Great Pyramids and Borobudur in Indonesia, but now I merely tour around the neighborhood parks with my daughter. I dream of touring around the world's famous ruins with my daughter one day.
When I study languages, one English phrase always comes to mind, "Use it, or lose it". I used to be scared of making mistakes, so even when I learned new vocabulary, I didn't use it. But after learning this English phrase from a friend, I started to use the vocabulary and terms I'd learned without fear of making mistakes.
Try to use your newly learned vocabulary and phrases all the time in the lessons. Looking forward to meeting you all in class !
Last modified on