Blogs edited and submitted by Chiho Kamioka
JOI Support staff and manager.
Bird Prey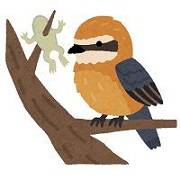 Interesting birds in Japan
Japan is home to over 400 species of birds and many are indigenous and endangered species too. Many species are protected and there are almost 200 protected bird habitats, since the islands are also a prominent lay-over site for migratory birds as well.
For birdwatcher's it is a fascinating country, and there are numerous bird-watching enthusiasts and groups all around the country.
In this blog for language learners' Sachiko Someya, one of the Japanese teachers at JOI, tells of an encounter with one of the more interesting birds in Japan.
Read this short blog to learn some new vocabulary and phrases and also practice your reading skills for the JLPT test. You can also watch the video to listen to the blog read in fluent Japanese to practice your listening skills.
モズのはやにえ
Bird Prey

By SOMEYA Sachiko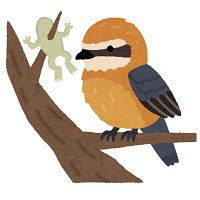 去年の年末、主人の実家がある千葉に帰省したときのことです。義母に「めずらしいものがあるよ」と庭に呼ばれました。
 行ってみると、木の枝にとかげが刺さっていてびっくり!ちょっとショッキングな光景ですが、説明を聞いてなるほどと思いました。モズは、昆虫やカエル、トカゲ、時には自分の体よりおおきいネズミ等も食べる肉食の鳥です。
 仕留めた獲物の一部を、枝先や木のとげなどに刺しておく習性があります。「もずのはやにえ」などとよばれます。なぜこのようことをするのかは、保存食として、獲物の固定、本能など、さまざまな説があるようです。秋に最も頻繁に行われるため、今の時期、垣根や木の枝をよく見ると、「モズのはやにえ」に遭遇することがあるかもしれません。
To listen to this blog, please watch our Youtube video.
モズのはやにえ
 去年(きょねん)の年末(ねんまつ)、主人(しゅじん)の実家(じっか)がある千葉(ちば)に帰省(きせい)したときのことです。義母(ぎぼ)に「めずらしいものがあるよ」と庭(にわ)に呼(よ)ばれました。
 行(い)ってみると、木(き)の枝(えだ)にとかげが刺(さ)さっていてびっくり!ちょっとショッキングな光景(こうけい)ですが、(せつめい)を聞(き)いてなるほどと思(おも)いました。モズは、昆虫(こんちゅう)やカエル、トカゲ、時(とき)には自分(じぶん)の体(からだ)よりおおきいネズミ等(とう)も食(た)べる肉食(にくしょく)の鳥(とり)です。
 仕留(しと)めた獲物(えもの)の一部(いちぶ)を、枝先(えださき)や木(き)のとげなどに刺(さ)しておく習性(しゅうせい)があります。「もずのはやにえ」などとよばれます。なぜこのようことをするのかは、保存食(ほぞんしょく)として、獲物(えもの)の固定(こてい)、本能(ほんのう)など、さまざまな説(せつ)があるようです。秋(あき)に最(もっと)も頻繁(ひんぱん)に行(おこな)われるため、今(いま)の時期(じき)、垣根(かきね)や木(き)の枝(えだ)をよく見(み)ると、「モズのはやにえ」に遭遇(そうぐう)することがあるかもしれません。
Bird Prey
This happened at the end of the year last year, when we visited my husband's hometown. My mother-in-law called to me from the garden, saying "There is something rare here!"
When I went out to see, I was surprised to find a lizard pierced onto a branch of the tree. It was quite a shocking scene, but when I heard the explanation, I thought that it made sense. The 'Mozu' is a bird that is carnivorous and eats insects, frogs, lizards and sometimes animals larger than itself.
It has a habit of piercing and leaving prey that it had captured on twigs or thorns of trees. They sometimes call these 'Mozu no Hayanie' [butcher-bird prey impaled on twigs, thorns, etc. for later consumption]. There are various theories as to why these birds do this, it could be a form of preserving food, or perhaps a method of securing captured prey, or just instinct. In this season of autumn when this happens the most frequently, if you look carefully at tree branches or in hedges, you might encounter some 'Mozu no Hayanie' too.
年末(ねんまつ)  end of year
実家(じっか) one's parents' home
光景(こうけい) view, scene, sight
獲物(えもの) prey
習性(しゅうせい) habit
頻繁(ひんぱん)に frequently
遭遇(そうぐう)する encounter

Konnichiwa, My name is Sachiko Someya. I live in Yokohama city in Kanagawa prefecture. Yokohama is an attractive city with a lot of tourist destinations. If you ever get the chance, please come and visit. Learning a new language can bring you a lot pleasure but can also be difficult. I would like to help you to enjoy learning Japanese. Let's try hard together ! I'm looking forward to meeting up with you online.
Last modified on