Blogs edited and submitted by Chiho Kamioka
JOI Support staff and manager.
Crazy about bugs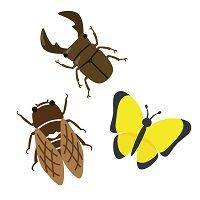 Bugs in Japan
Japan is a country with various seasons and between the spring and fall seasons, you have the rainy season and the sweltering hot summer. It is these seasons that bring out the bugs and insects in Japan. From mosquitos to caterpillars and from dragonflies to centipedes, you will find a host of harmless and slightly harmful bugs all over the country.
In this really charming and lovable blog, Japanese teacher Chie Eguchi introduces someone who really loves the bugs in Japan.
Read this blog in Japanese and learn some new Kanji and vocabulary. Then look at the English translation and YouTube video to listen to the Japanese read fluently.
虫に夢中
Crazy about bugs

By EGUCHI Chie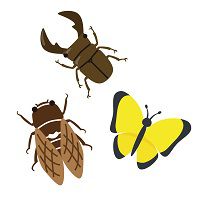 私には今年7歳になる息子がいます。虫が大好きで、特に春から秋にかけては虫のことばかり考えて生活しているようです。家では虫の図鑑を見たり、虫のDVDを見たり、虫の絵を描いたりしています。外に出た時は、木があればセミがいないか観察し、道ばたに草が生えていればバッタやカマキリがかくれていないかさがすので、なかなか目的地につくことができません。
 虫の中でも特にクワガタとカブトムシが大好きで、幼虫の時から育てています。毎日ケースの掃除をし、えさをやり、手にのせてながめています。名前をつけて話しかけていますが、虫は人になつかないので手をかまれたり、飛んで逃げられたりしています。私から見ると、何がおもしろいのか全然分かりません。
 息子の友だちにも虫が大好きな子が何人もいます。虫取りが好きなのは共通なのですが、取った後は家に持って帰って飼いたい子もいるし、取った後すぐに放す子もいます。家で飼いたい子のお母さんは、家が虫を飼うケースだらけになって大変だそうです。うちの息子は「取った後、写真を撮って放す」です。写真を数えたら、年間300匹以上の虫を捕まえていました。
 不思議なことに、虫が好きな子はほとんど男の子です。なぜ男の子は虫や虫取りが好きなのでしょう。調べてみたのですが、納得できる説明は見つけることができませんでした。これから秋に向けて、虫の季節はまだまだ続きます。私も何がおもしろいか分からないと言わず、子どもといっしょに虫の世界を楽しんでみるのもいいかもしれません。
To listen to this blog, please watch our Youtube video.
虫(むし)に夢中(むちゅう)
 私(わたし)には今年(ことし)7歳(さい)になる息子(むすこ)がいます。虫(むし)が大好(だいす)きで、特(とく)に春(はる)から秋(あき)にかけては虫(むし)のことばかり考(かんが)えて生活(せいかつ)しているようです。家(いえ)では虫(むし)の図鑑(ずかん)を見(み)たり、虫(むし)のDVDを見(み)たり、虫(むし)の絵(え)を描(か)いたりしています。外(そと)に出(で)た時(とき)は、木(き)があればセミがいないか観察(かんさつ)し、道(みち)ばたに草(くさ)が生(は)えていればバッタやカマキリがかくれていないかさがすので、なかなか目的地(もくてきち)につくことができません。
 虫(むし)の中(なか)でも特(とく)にクワガタとカブトムシが大好(だいす)きで、幼虫(ようちゅう)の時(とき)から育(そだ)てています。毎日(まいにち)ケースの掃除(そうじ)をし、えさをやり、手(て)にのせてながめています。名前(なまえ)をつけて話(はな)しかけていますが、虫(むし)は人(ひと)になつかないので手(て)をかまれたり、飛(と)んで逃(に)げられたりしています。私(わたし)から見(み)ると、何(なに)がおもしろいのか全然(ぜんぜん)分(わ)かりません。
 息子(むすこ)の友(とも)だちにも虫(むし)が大好(だいす)きな子(こ)が何人(なんにん)もいます。虫取(むしと)りが好(す)きなのは共通(きょうつう)なのですが、取(と)った後(あと)は家(いえ)に持(も)って帰(かえ)って飼(か)いたい子(こ)もいるし、取(と)った後(あと)すぐに放(はな)す子もいます。家(いえ)で飼(か)いたい子(こ)のお母(かあ)さんは、家(いえ)が虫(むし)を飼(か)うケースだらけになって大変(たいへん)だそうです。うちの息子(むすこ)は「取(と)った後(あと)、写真(しゃしん)を撮(と)って放(はな)す」です。写真(しゃしん)を数(かぞ)えたら、年間(ねんかん)300匹(さんびゃっぴき)以上(いじょう)の虫(むし)を捕(つか)まえていました。
 不思議(ふしぎ)なことに、虫(むし)が好(す)きな子(こ)はほとんど男(おとこ)の子(こ)です。なぜ男(おとこ)の子(こ)は虫(むし)や虫取(むしと)りが好きなのでしょう。調(しら)べてみたのですが、納得(なっとく)できる説明(せつめい)は見(み)つけることができませんでした。これから秋(あき)に向(む)けて、虫(むし)の季節(きせつ)はまだまだ続(つづ)きます。私(わたし)も何(なに)がおもしろいか分(わ)からないと言(い)わず、子(こ)どもといっしょに虫(むし)の世界(せかい)を楽(たの)しんでみるのもいいかもしれません。
Crazy about bugs
I have a son that is almost 7 years old. He loves bugs and especially in the period from spring to autumn he thinks about bugs all the time in his daily life. At home he is constantly looking at picture books about bugs, watching DVDs about bugs and drawing pictures of bugs. When he goes outside, if he sees a tree, he stops to check if there are any cicadas on it, if there is any grass growing along the roadside, he checks to see if any grasshoppers or mantis are hiding in it, so he doesn't get to his destination easily.
Among the bugs, he especially loves stag beetles and rhinoceros beetles and he raises them from their larval stages. He cleans their case every day, feeds them, and puts them in his hand and stares at them. He names them and talks to them, but bugs don't get close to humans, so they tend to bite his hand and fly off. From my point of view, I really do not see what is so interesting about them.
There are a few kids among my son's friends that love bugs too. They have the fact that they love catching bugs in common, although there are some kids that want to catch the bugs and pet them, and other kids that like to catch them and release them right away. For the kids who like to catch them and keep them as pets, their houses are full of petting cases so their mothers have a hard time of it. My son likes to catch them, take photos of them, and then release them. If I count the photos, I can see that he caught at least over 300 bugs during the year.
What is a mystery though is that the kids who like bugs are mostly boys. I wonder why little boys love bugs and catching bugs. I tried to look this up but I couldn't find a convincing explanation for it. As it leads into autumn, the season of bugs is still ongoing. I guess I'll stop saying that "I don't know what is interesting about them", and just go along with my son and try to enjoy it too.
~に夢中(むちゅう)だ  be crazy about~
なかなか~ない not~easily
特(とく)に specially
ながめる regard ~ closely
話(はな)しかける  speak to
放(はな)す   release
捕(つか)まえる    catch
納得(なっとく)する    be convinced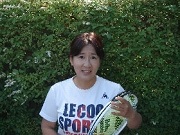 Hajimemashite everybody ! My name is Chie Eguchi. I live in Kawanishi city in Hyougo prefecture. Its about 20 minutes to Osaka station by train. It is an easy-going place with lots of fig and peach orchards.
I love reading books, and soaking in the bath while reading a book is my favorite pastime. I've been playing tennis since my university days, and although I'm a terrible player, I still play from time to time.
I have taught at Japanese language schools in Thailand, Hong Kong and Osaka. In my lessons, once you have grasped the meanings and understood the situations in which words and phrases are used, then the most important thing is to talk as much as possible. I want to help you learn Japanese in the most effective manner. Let's do this together !
Last modified on