Blogs edited and submitted by Chiho Kamioka
JOI Support staff and manager.
Tanabata Festival
七夕祭り
Tanabata Festival

By SENO Chiaki
七月七日は「七夕祭り」です。「七夕」と書いて特別に「たなばた」と読みますが、一説によるとその語源は、機織りの機械である「棚機(たなばた)」のようです。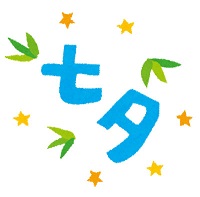 七夕には伝説があります。牛飼いの牽牛と機織りの織姫は熱烈な恋人同士。二人は結婚してからというもの、毎日仕事もせず遊んでばかりいました。怒った神様は二人を天の川の両岸に引き離し、年に一度だけ会うことを許しました。それが七月七日の夜。二人の再会のひとときです。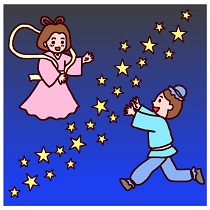 七夕祭りに欠かせないのが笹飾りです。家庭で飾ることは今では少なくなりましたが、我が家でも久し振りに用意してみました。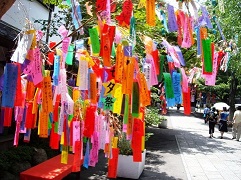 ※商店や地域で、大きな七夕祭りを開催するところもあります。
*There are large Tanabata festival exhibitions held at some stores and in some areas。
短冊に願いを書くと叶えられると言い伝えられています。あなたなら、どんな願いを書きますか?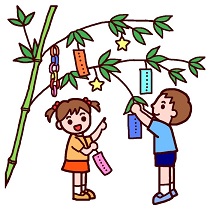 ■To listen to this blog, please watch our Youtube video
---
★Kanji with hiragana
七夕祭(たなばたまつ)り
七月七日(しちがつなのか)は「七夕祭(たなばたまつ)り」です。「七夕」と書(か)いて特別(とくべつ)に「たなばた」と読(よ)みますが、一説(いっせつ)によるとその語源(ごげん)は、機織(はたお)りの機械(きかい)である「棚機(たなばた)」のようです。
七夕(たなばた)には伝説(でんせつ)があります。牛飼(うしか)いの牽牛(けんぎゅう)と機織(はたお)りの織姫(おりひめ)は熱烈(ねつれつ)な恋人同士(こいびとどうし)。二人(ふたり)は結婚(けっこん)してからというもの、毎日(まいにち)仕事(しごと)もせず遊(あそ)んでばかりいました。怒(おこ)った神様(かみさま)は二人(ふたり)を天(あま)の川(がわ)の両岸(りょうがん)に引(ひ)き離(はな)し、年(ねん)に一度(いちど)だけ会(あ)うことを許(ゆる)しました。それが七月七日(しちがつなのか)の夜(よる)。二人(ふたり)の再会(さいかい)のひとときです。
七夕祭(たなばたまつ)りに欠(か)かせないのが笹飾(ささかざ)りです。家庭(かてい)で飾(かざ)ることは今(いま)では少(すく)なくなりましたが、我(わ)が家(や)でも久(ひさ)し振(ぶ)りに用意(ようい)してみました。
短冊(たんざく)に願(ねが)いを書(か)くと叶(かな)えられると言(い)い伝(つた)えられています。あなたなら、どんな願(ねが)いを書(か)きますか?
---
★English Translation
Tanabata Festival
July 7th is the Tanabata festival in Japan. The kanji is written as 「七夕」 but in this special case, it is read as 'Tanabata', one theory about the origin of the reading is that it comes from "hata ori' or "weaving" machine and is named from the "Festival of the Weaver" which is read as Tanabata.
There is a legend behind the Tanabata festival. A cowherd who raised cattle and weaver who weaved textile became a passionate couple. From the time they got married, instead of working, they did nothing but play. An angry god set them apart on opposite banks of the Milky Way (river) and allowed them to meet up only once a year. This was the night of July 7th . It is the one time that the two can meet again.
Bamboo grass decorations are indispensable for the Tanabata festival. There are few houses where they put up these decorations now, but this year, for the first time in a while, we tried to put them up in our house.
It is traditionally said that if you write your wishes on the small strips of paper, they will come true. If it were you, what would you write for your wish ?
---
★This week's vocabulary
機織(はたお)り  weaving; weaver
牛飼(うしか)い  cattleman; raising cattle
~同士(どうし)  fellow; mutual; companion; comrade
恋人同士(こいびとどうし)  pair of lovers; couple; girlfriend and boyfriend
~てからというもの  from the time; ever since; since
~もせず  without (doing); instead of
~てばかりいる  do nothing but...
天(あま)の川(がわ)  Milky Way
~に欠(か)かせない  be crucial for; be indispensable in
我(わ)が家(や)  one's house; one's home; one's family
短冊(たんざく)  long, narrow card on which Japanese poemsare written (vertically); strip of paper
願(ねが)いが叶(かな)えられる  The wish is realized
あなたなら  What if you...?
Last modified on