Blogs edited and submitted by Chiho Kamioka
JOI Support staff and manager.
Changing White Day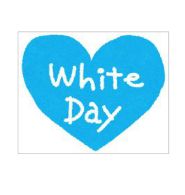 Japanese consumer marketing
Japanese consumers can be very fickle yet also very loyal customers. They can stick with a custom or create a new habit which continues for decades or even generations, and are apt to jump onto a quick fad that lasts for only a matter of weeks.
There are many strategies that are housed in cultural images but are really just a clever marketing ploy by a certain industry to capitalize on a niche market.
In this weekly blog by one of JOI online school's Japanese teachers, Chie Eguchi, is a look at Valentine's Day and the recently past White Day. The cultural meaning of these two days has been gradually changing and the marketing strategies of several companies have had to alter to fit these changes.
Read the blog and listen to the fluent Japanese language in the video, and learn new Japanese vocabulary too.
変わっていく?ホワイトデー
Changing White Day

By EGUCHI Chie
3月14日はホワイトデーでした。日本ではホワイトデーは「バレンタインデーに女性から チョコレートをもらった男性が、お返しのプレゼントをする日」です。しかし、このホワイトデーに 関する商品の売り場が、年々縮小する傾向にあるそうです。
先に変化したのはバレンタインデーです。「女性が、好きな男性や、お世話になっている男性に贈る」ということに加え、女性同士でチョコレートを交換し合う「友チョコ」という習慣が広まってきました。私の子どもは幼稚園生なのですが、幼稚園でも男の子にはあげずに女の子同士でチョコレートを交換する子がたくさんいました。また、中学生や高校生になると、たくさんの友達にチョコレートを配るため、家で親が手伝って大量のクッキーやチョコレートを作るという話もよく聞きます。女の子同士で楽(たの)しむ日で、男性に思いを伝えるという意味は薄れつつあるのかもしれません。
「友チョコ」はバレンタインデー当日にチョコレートを交換するため、ホワイトデーには何もしません。 そのため、ホワイトデーの存在が少し目立たなくなってきているようです。これからどうなっていくかは分かりませんが、長くつづいている習慣が流行によって少しずつ変わっていくのは興味深いですね。
To listen to this blog, please watch our Youtube video.
変(か)わっていく?ホワイトデー
3月14日(さんがつじゅうよっか)はホワイトデーでした。日本(にほん)ではホワイトデーは 「バレンタインデーに女性(じょせい)からチョコレートをもらった男性(だんせい)が、お返(かえ)しのプレゼントをする日(ひ)」です。しかし、このホワイトデーに関(かん)する商品(しょうひん)の売(う)り場(ば)が、年々(ねんねん)縮小(しゅくしょう)する傾向(けいこう)にあるそうです。
先(さき)に変化(へんか)したのはバレンタインデーです。「女性(じょせい)が、好(す)きな男性(だんせい)や、お世話(せわ)になっている男性(だんせい)に贈(おく)る」ということに加(くわ)え、女性同士(じょせいどうし)でチョコレートを交換(こうかん)し合(あ)う「友(とも)チョコ」という習慣(しゅうかん)が広(ひろ)まってきました。私(わたし)の子(こ)どもは幼稚園生(ようちえんせい)なのですが、幼稚園(ようちえん)でも男(おとこ)の子(こ)にはあげずに女(おんな)の子(こ)同士(どうし)でチョコレートを交換(こうかん)する子がたくさんいました。また、中学生(ちゅうがくせい)や高校生(こうこうせい)になると、たくさんの友達(ともだち)にチョコレートを配(くば)るため、家(うち)で親(おや)が手伝って(てつだって)大量(たいりょう)のクッキーやチョコレートを作(つく)るという話(はなし)もよく聞(き)きます。女(おんな)の子(こ)同士(どうし)で楽(たの)しむ日(ひ)で、男性(だんせい)に思(おも)いを伝(つた)えるという意味(いみ)は薄(うす)れつつあるのかもしれません。
「友(とも)チョコ」はバレンタインデー当日(とうじつ)にチョコレートを交換(こうかん)するため、 ホワイトデーには何(なに)もしません。そのため、ホワイトデーの存在(そんざい)が少(すこ)し 目立(めだ)たなくなってきているようです。これからどうなっていくかは分(わ)かりませんが、長(なが)くつづいている習慣(しゅうかん)が流行(りゅうこう)によって少(すこ)しずつ変(か)わっていくのは興味深(きょうみぶか)いですね。
Changing White Day
March 14th was White Day. In Japan, White Day is the day on which men give return gifts to the ladies from whom they received presents on Valentine's Day. However, the area where White Day related goods are put out on sale has tended to get smaller and smaller, year by year.
Valentine's Day was the first to change though. In addition to women giving presents to the guys they like and to men who have been helpful to them, the custom of ladies giving chocolates between themselves or 'Friend Chocolates' has spread. My children are in Kindergarten, and even in Kindergarten, there are many girls who exchanged chocolates with each other and not giving any to the boys. When they get to Junior High School or High School, I've often heard stories of parents helping to make large amounts of cookies and chocolates in order to give them out to lots of friends. Since it is has become a day on which girls enjoy among themselves, the meaning of Valentine's Day as a day when you express your feelings towards a boy may be fading.
Because 'Friend Chocolates' are exchanged on the day, they don't do anything on White Day. And because of this White Day's existence has become less conspicuous. I don't know what is going to happen from now but I am very interested in customs that have been continued for a long time but which have been changing little by little due to trends.
お返(かえ)しin return
お世話(せわ)になっている男性(だんせい)Mr. A who is always very kind and helpful  to me.
~に加(くわ)え in addition to ~
~同士(どうし) between women
広(ひろ)まる   spread
薄(うす)れる   fade
~つつある    to be doing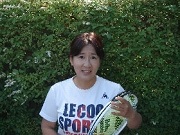 Hajimemashite everybody ! My name is Chie Eguchi. I live in Kawanishi city in Hyougo prefecture. Its about 20 minutes to Osaka station by train. It is an easy-going place with lots of fig and peach orchards.
I love reading books, and soaking in the bath while reading a book is my favorite pastime. I've been playing tennis since my university days, and although I'm a terrible player, I still play from time to time.
I have taught at Japanese language schools in Thailand, Hong Kong and Osaka. In my lessons, once you have grasped the meanings and understood the situations in which words and phrases are used, then the most important thing is to talk as much as possible. I want to help you learn Japanese in the most effective manner. Let's do this together !
Last modified on