Blogs edited and submitted by Chiho Kamioka
JOI Support staff and manager.
Hay fever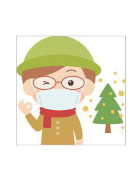 Hay fever in Japan
If you visit Japan in March and April, you will tend to see many people wearing masks. This is not due to air pollution or due to colds, but it is probably because many people are hay fever sufferers.
The Japanese hay fever phenomenon was created by a forestation policy decision made shortly after World War II. This policy involved planting Japanese cypress and cedar which were an important resource for the construction industry.
The over-planting of a limited variety of trees and the resulting production of a single type of pollen is thought to have been a major contributing factor to the increasing allergic symptoms suffered by one third of the population.
Kaori Ishibashi is a Japanese language teacher at JOI and she reads and writes this language learner's blog. Listen to Ishibashi sensei read the article and learn some useful Japanese vocabulary from this blog.
花粉症
Hay fever

By ISHIBASHI Kaori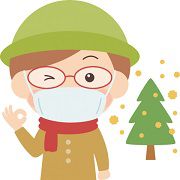 日本では春になると花粉症に悩まされる人が多いです。 日本人の3人に1人が花粉症患者だそうです。 なぜそんなに花粉症の人が多いのでしょうか。
花粉症は、植物の花粉が原因で鼻水やくしゃみ、目のかゆみなどのアレルギー症状が起こるものです。 日本の春の花粉症の原因は主にスギとヒノキの木だそうです。秋の花粉症の原因は主に雑草だそうです。
症状のひどい人は薬を飲んだり、目薬をさしたりしています。この時季は多くの人がマスクをしています。マスクは見た目はあまりよくありませんが、最近は性能のいいマスクが売られていて、効果が高いようです。それに、最近では花粉対策の眼鏡をかけている人もよく見かけます。 海外から来る人も、日本に来て初めてアレルギー症状が出たという人が多いです。
日本では3月から4月にかけて、桜の花が咲くので、多くの観光客が日本を訪れます。とても美しい季節ですが、アレルギーに悩まされたときにはぜひ便利な花粉症グッズを試してみてください。
To listen to this blog, please watch our Youtube video.
花粉症(かふんしょう)
日本(にほん)では春(はる)になると花粉症(かふんしょう)に悩(なや)まされる人(ひと)が多(おお)いです。 日本人(にほんじん)の3人(さんにん)に1人(ひとり)が花粉症患者(かふんしょうかんじゃ)だそうです。 なぜそんなに花粉症(かふんしょう)の人が多いのでしょうか。
花粉症は、植物(しょくぶつ)の花粉が原因(げんいん)で鼻水(はなみず)やくしゃみ、目(め)のかゆみなどのアレルギー症状(しょうじょう)が起(お)こるものです。 日本の春の花粉症の原因は主(おも)にスギとヒノキの木だそうです。秋の花粉症の原因は主に雑草(ざっそう)だそうです。
症状のひどい人は薬(くすり)を飲(の)んだり、目薬(めぐすり)をさしたりしています。この時季(じき)は多くの人がマスクをしています。マスクは見(み)た目(め)はあまりよくありませんが、最近(さいきん)は性能(せいのう)のいいマスクが売(う)られていて、効果(こうか)が高(たか)いようです。それに、最近では花粉対策(たいさく)の眼鏡(めがね)をかけている人もよく見かけます。 海外(かいがい)から来(く)る人も、日本に来(き)て初(はじ)めてアレルギー症状が出たという人が多いです。
日本では3月(がつ)から4月にかけて、桜(さくら)の花(はな)が咲(さ)くので、多くの観光客(かんこうきゃく)が日本を訪(おとず)れます。とても美(うつく)しい季節(きせつ)ですが、アレルギーに悩まされたときにはぜひ便利(べんり)な花粉症グッズを試(ため)してみてください。
Hay fever
When spring comes to Japan, there are a lot of people who suffer from hay fever. One in three people in Japan are patients with hay fever. Why are there so many people with hay fever?
Hay fever is when allergic symptoms like runny noses, sneezing, itchy eyes etcetera arise, caused by pollen from plants. In Japanese spring, the main cause of hay fever is from Japanese cedar and Japanese cypress trees. In autumn the causes of hay fever are weeds.
For people who suffer from terrible symptoms, they take medicine and use eye drops too. And in this season, many people wear masks. Masks do not look very nice, but recently, there are high-performance masks on sale and these are apparently very effective. On top of this, you can often see people wearing anti-hay fever glasses. There are also many people who visit Japan from foreign countries and when they arrive here, they get their first allergic symptoms.
In Japan between March and April, the cherry blossoms bloom, and many tourists visit Japan. It is a very beautiful season but, if you are worried about allergies, please try some of the convenient hay fever goods.
花粉症(かふんしょう)hay fever
悩(なや)まされるsuffer from
患者(かんじゃ)patient
花粉(かふん)pollen
鼻水(はなみず)runny nose
くしゃみsneeze
目のかゆみitchiness of eyes
アレルギーallergy
症状(しょうじょう)symptom
スギcedar
ヒノキcypress
目薬(めぐすり)eye drops
性能(せいのう)performance
効果(こうか)effect
対策(たいさく)measures
雑草(ざっそう)weed
訪(おとず)れるvisit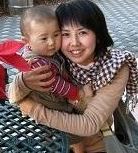 Hajimemashite, my name is Kaori Ishibashi.
I live in Ibaraki city, in Osaka prefecture, with my husband, son and daughter. Ibaraki city is in between Osaka and Kyoto and is in a very convenient location. Before I was married, I went to Canada and Spain as an exchange student. So I too love to study languages.
Since my children are still so young, I cannot readily go abroad, so I am really glad of the opportunity to communicate with people from various countries through JOI. Let's study Japanese together.
Last modified on