Blogs edited and submitted by Chiho Kamioka
JOI Support staff and manager.
A new era
Japanese Calendar
The Japanese calendar official dating system has been in use since the late 7th century. The separate eras mark the regin of a particular emperor, but in ancient times, some new eras were named after specific major events.
If you live in Japan, it is very useful to remember your birth year using the Japanese Calendar system, because you need to know it for many official documents.
In May 2019, the current Japanese emperor is planning to abdicate due to age and health issues, and his son, the crown prince will succeed him as the new emperor. This means that there is a new era waiting in the wings, and a lot of people are waiting to see what name they give the new era.
Read this interesting blog by Japanese teacher Megumi Hachiyama and listen to the video in Japanese to learn some more vocabulary and pronunciation.
新しい時代
A new era

By HACHIYAMA Megumi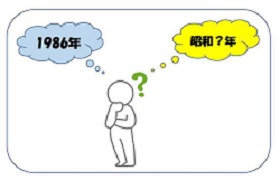 みなさんは、和暦という言葉を聞いたことがありますか。今年は西暦で言うと2018年ですが、和暦で言うと平成30年です。この「平成」のことを「元号」と言い、日本独自の元号をつけて表す年のことを和暦と言います。
 ところで、元号は天皇陛下の交代などで変わるのですが、実は、来年の5月に、今の「平成」から新しい元号に変わります。新しい元号は、まだ発表されていませんが、新元号の選定にはいくつか条件があるようです。例えば、漢字二文字で読みやすく書きやすいことや、良い意味を持つものであることなどです。国民の間では、新元号の予想を立てて、発表の瞬間を待っている人も多いようです。皆さんも、知っている漢字を使って新元号の予想を立ててみませんか。
 ちなみに、これまでの元号を表で表しました。みなさんの生まれた年を和暦で言うと何年ですか?調べてみてくださいね。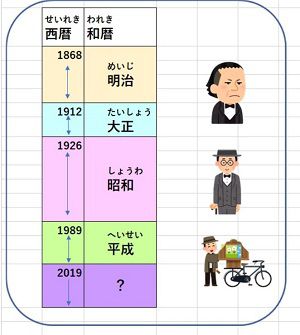 To listen to this blog, please watch our Youtube video.
新(あたら)しい時代(じだい)
 みなさんは、和暦(われき)という言葉(ことば)を聞(き)いたことがありますか。今年(ことし)は西暦(せいれき)で言(い)うと2018年(ねん)ですが、和暦(われき)で言(い)うと平成(へいせい)30年(ねん)です。この「平成(へいせい)」のことを「元号(げんごう)」と言(い)い、日本(にほん)独自(どくじ)の元号(げんごう)をつけて表(あらわ)す年(とし)のことを和暦(われき)と言(い)います。
 ところで、元号(げんごう)は天皇陛下(てんのうへいか)の交代(こうたい)などで変(か)わるのですが、実(じつ)は、来年(らいねん)の5月(がつ)に、今(いま)の「平成(へいせい)」から新(あたら)しい元号(げんごう)に変(か)わります。新(あたら)しい元号(げんごう)は、まだ発表(はっぴょう)されていませんが、新元号(しんげんごう)の選定(せんてい)にはいくつか条件(じょうけん)があるようです。例(たと)えば、漢字(かんじ)二文字(ふたもじ)で読(よ)みやすく書(か)きやすいことや、良(よ)い意味(いみ)を持(も)つものであることなどです。国民(こくみん)の間(あいだ)では、新元号(しんげんごう)の予想(よそう)を立(た)てて、発表(はっぴょう)の瞬間(しゅんかん)を待(ま)っている人(ひと)も多(おお)いようです。皆(みな)さんも、知(し)っている漢字(かんじ)を使(つか)って新元号(しんげんごう)の予想(よそう)を立(た)ててみませんか。
 ちなみに、これまでの元号(げんごう)を表(ひょう)で表(あらわ)しました。みなさんの生(う)まれた年(とし)を和暦(われき)で言(い)うと何年(なんねん)ですか?調(しら)べてみてくださいね。
A new era
Have you ever heard the word 'Wareki' (or Japanese Calendar) ? In the Western Calendar this year is 2018, but in the Japanese Calendar, it is Heisei 30. This word Heisei is known as 'Genkou' (or Japanese era name) and when the year is expressed along with this era name which is peculiar to Japan, it is known as called the Wareki year.
By the way, the Japanese era name changes when his Imperial Majesty the emperor is changed and actually in May next year the current Heisei will change to a new era name. The new era name has not been announced yet, but there are some conditions to the selection of the era names. For example, it should be two Kanji characters and should be easy to read and write, and that it should also have a good meaning. Among the citizens there has been a lot of speculations over what the new era name will be, so there are many people waiting for moment of the announcement. Why don't you try using the Kanji you know and try to make a projection of what the new era name will be.
Incidentally, I have displayed the different era names in a table. If you say the year of your birth in Wareki or using the Japanese calendar, what would it be? Please look it up.
和暦(われき)・・・the Japanese calendar
西暦(せいれき)・・・the Western calendar
元号(げんごう)・・・Japanese era name
天皇陛下(てんのうへいか)・・・his Imperial Majesty
交代(こうたい)する・・・change
選定(せんてい)・・・selection
条件(じょうけん)・・・conditions
予想(よそう)を立(た)てる・・・make a projection
発表(はっぴょう)・・・announcement
瞬間(しゅんかん)・・・moment
ちなみに・・・for your information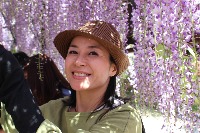 Hajimemashite everyone ! My name is Megumi Hachiyama. I live in Fukuoka prefecture. I have never lived anywhere else other than Fukuoka since I was born, but the nature here is so beautiful and the food is so delicious - I just love Fukuoka ! What part of Japanese or Japan are you interested in ?
I want to share with you the joy of that feeling you get when your "Wakaranai" (I don't understand) becomes "Wakaru" (I understand), and your "Wakaru" (I understand) becomes "Dekiru or Tsukaeru!" (I can use it !))... Looking forward to meeting you.
Last modified on