Blogs edited and submitted by Chiho Kamioka
JOI Support staff and manager.
Popular Lessons
Japanese children's hobbies
In Japanese education, children are often enrolled in various learning schools and children's hobby classes by parents that hope the skills they learn can give them a boost in life.
There are many schools and community center classes that offer lessons to children. And although the number of children in Japan is decreasing, these schools are still very popular businesses and cultural learning centers in the cities and countryside.
In this blog for Japanese learners, Kaori Ishibashi, a Japanese teacher at JOI reviews the top-ranked lessons taken by students in elementary school and below in Japan.
Ishibashi sensei reads the blog herself, so you can hear her fluent Japanese and study how to speak Japanese while also improving listening skills.
人気のある習い事
Popular Lessons

By ISHIBASHI Kaori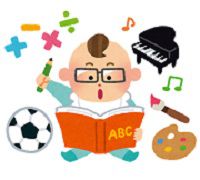 みなさんは小さいころ、どんな習い事をしていましたか。 日本の子どもたちもいろいろな習い事をしています。 日本の子どもたちの習い事ランキングを調べてみました。
第一位は水泳です。小さいころから始められますし、丈夫な体づくりのためだそうです。
第二位はピアノです。かつては女の子の習い事の定番でしたが、最近は男の子で習う子も少なくないようです。
第三位は英会話です。日本では数年前から小学校で英語の勉強が始まりました。英語は早いうちから身につけてほしいと考える親が多いようです。
第四位は体操です。昔と比べてまわりの環境のせいか、外で元気に遊ぶ子どもが少なくなってきたように思います。家の中でゲームをする時間も増える一方ですので、体操を習ってもっと体を動かしてほしいと思う親も多いのかもしれません。
第五位は学習塾です。受験対策などで早い年齢から塾に行く子も増えているようです。
新しい習い事としては、最近、プログラミングが注目されています。日本の小学校では、2020年から必修化される予定です。
いかがでしょうか。みなさんの国と比べてどうでしょうか。いずれにしても、子どもが楽しんで習い事を続けられることが一番でしょうね。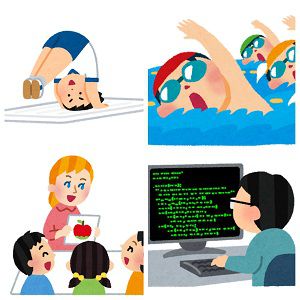 To listen to this blog, please watch our Youtube video.
人気(にんき)のある習(なら)い事(ごと)
みなさんは小(ちい)さいころ、どんな習い事をしていましたか。日本(にほん)の子(こ)どもたちもいろいろな習い事をしています。日本の子どもたちの習い事ランキングを調(しら)べてみました。
第一位(だいいちい)は水泳(すいえい)です。小さいころから始(はじ)められますし、丈夫(じょうぶ)な体(からだ)づくりのためだそうです。
第二位(だいにい)はピアノです。かつては女(おんな)の子(こ)の習い事の定番(ていばん)でしたが、最近(さいきん)は男(おとこ)の子で習う子も少(すく)なくないようです。
第三位(だいさんい)は英会話(えいかいわ)です。日本では数年前(すうねんまえ)から小学校(しょうがっこう)で英語(えいご)の勉強(べんきょう)が始まりました。英語は早(はや)いうちから身(み)につけてほしいと考(かんが)える親(おや)が多(おお)いようです。
第四位(だいよんい)は体操(たいそう)です。昔(むかし)と比(くら)べてまわりの環境(かんきょう)のせいか、外(そと)で元気(げんき)に遊(あそ)ぶ子どもが少なくなってきたように思(おも)います。家(いえ)の中(なか)でゲームをする時間(じかん)も増(ふ)える一方(いっぽう)ですので、体操(たいそう)を習(なら)ってもっと体を動(うご)かしてほしいと思う親も多いのかもしれません。
第五位(だいごい)は学習塾(がくしゅうじゅく)です。受験対策(じゅけんたいさく)などで早い年齢(ねんれい)から塾(じゅく)に行く子も増えているようです。
新(あたら)しい習(なら)い事(ごと)としては、最近(さいきん)、プログラミングが注目(ちゅうもく)されています。日本の小学校では、2020年から必修化(ひっしゅうか)される予定(よてい)です。
いかがでしょうか。みなさんの国と比(くら)べてどうですか。いずれにしても、子どもが楽(たの)しんで習い事を続(つづ)けられることが一番でしょうね。
Popular Lessons
What kind of lessons did you take when you were a kid? Japanese children learn a lot of different lessons. I researched the top ranking lessons that Japanese children take.
The number one lesson was swimming. You can start this from very young and it helps to build a strong body.
The number two ranked is piano lessons. It used to be a standard lesson for girls, but now the numbers of boys learning this are not as few recently.
The third-ranked is English conversation. A few years ago in Japan, they started English studies in Elementary schools. And there are many parents that think it is better to start learning it earlier.
The fourth-ranked is gymnastics. I think this could be due to the (difference in) environment compared to the past, since the number of children who energetically play outside has decreased. And the time spent indoors playing games has increased on the one hand, and there are probably many parents that want their children to exercise their bodies more.
The fifth-ranked is cram schools. It seems that the number of children who go to cram schools from an early age has increased in order to prepare for examinations.
As for new types of lessons, there has been some attention on programming lessons recently. From 2020 this is planned to become mandatory in Japanese elementary schools.
What do you think? What is the situation in your country? Either way, having children continue to enjoy studying lessons is the most important thing.
習(なら)い事(ごと)lessons
ランキングranking
丈夫(じょうぶ)な strong
体(からだ)づくりphysical culture; bodybuilding
かつてbefore, once
定番(ていばん)standard
身(み)につけるlearn
体操(たいそう)gymnastics
環境(かんきょう)environment
せい fault, due to
一方(いっぽう)だ keep on
学習塾(がくしゅうじゅく)cram school, private tuition
受験対策(じゅけんたいさく)prepare (oneself) for an examination
年齢(ねんれい)age
プログラミングprogramming
注目(ちゅうもく) されるattract attention
必修化(ひっしゅうか)compulsory, mandatory
いずれにしてもanyhow, either way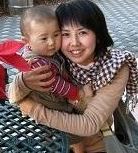 Hajimemashite, my name is Kaori Ishibashi.
I live in Ibaraki city, in Osaka prefecture, with my husband, son and daughter. Ibaraki city is in between Osaka and Kyoto and is in a very convenient location. Before I was married, I went to Canada and Spain as an exchange student. So I too love to study languages.
Since my children are still so young, I cannot readily go abroad, so I am really glad of the opportunity to communicate with people from various countries through JOI. Let's study Japanese together.
Last modified on