Blogs edited and submitted by Chiho Kamioka
JOI Support staff and manager.
Nursing our pet
Pets in Japan
Japanese people are great animal lovers and there are many households with pet dogs and cats. The skill and availability of veterinarians is also astonishing in this country. Many people spend a lot of time, money and emotion in taking care of their pets.
In this blog for students who would like to learn Japanese for free, Igarashi sensei shares her own harrowing but moving pet story.
Read the blog without Kanji help and with some help in Kanji reading. And also learn some new Japanese vocabulary.
ペットの介護
Nursing our pet

By IGARASHI Maki
私の家には16歳になる猫がいます。皮膚病にかかり瀕死の子猫を拾ってから早16年、長いようであっという間に時が経ちました。その間、私は結婚、出産、育児、仕事とステップを踏み、次はペットの介護に向き合う時が来たようです。
 16歳の猫「たんたん」は、昨年から便秘に悩まされ獣医師の勧める餌に切り替えました。それまで何度もトイレを行き来し、苦しげに泣いていたのが嘘のように改善しました。ほっとしたのもつかの間、今度は突然大声で鳴くようになりました。鳴くと言うより絶叫です。夜中に何度もそれが続くので調べてみると、老化によるものだとわかりました。夜中に起こされるのは参りますが、老化のせいなら仕方ないと思いながら今は対応しています。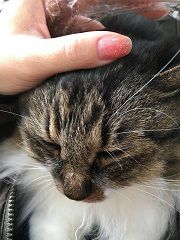 耳も遠くなってきましたし、これから更にいろいろな問題が出てくるかもしれませんが、縁あって家に来たたんたんを最後まで見守ろうと思います。レッスン中にたんたんの声が聞こえたら…ごめんなさいね!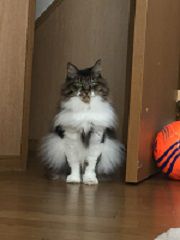 To listen to this blog, please watch our Youtube video.
ペットの介護(かいご)
私(わたし)の家(いえ)には16歳(さい)になる猫(ねこ)がいます。皮膚病(ひふびょう)にかかり瀕死(ひんし)の子猫(こねこ)を拾(ひろ)ってから早(はや)16年(ねん)、長(なが)いようであっという間(ま)に時(とき)が経(た)ちました。その間(かん)、私(わたし)は結婚(けっこん)、出産(しゅっさん)、育児(いくじ)、仕事(しごと)とステップを踏(ふ)み、次(つぎ)はペットの介護(かいご)に向(む)き合(あ)う時(とき)が来(き)たようです。
 16歳(さい)の猫(ねこ)「たんたん」は、昨年(さくねん)から便秘(べんぴ)に悩(なや)まされ獣医師(じゅういし)の勧(すす)める餌(えさ)に切(き)り替(か)えました。それまで何度(なんど)もトイレを行(い)き来(き)し、苦(くる)しげに泣(な)いていたのが嘘(うそ)のように改善(かいぜん)しました。ほっとしたのもつかの間(ま)、今度(こんど)は突然(とつぜん)大声(おおごえ)で鳴(な)くようになりました。鳴(な)くと言(い)うより絶叫(ぜっきょう)です。夜中(よなか)に何度(なんど)もそれが続(つづ)くので調(しら)べてみると、老化(ろうか)によるものだとわかりました。夜中(よなか)に起(お)こされるのは参(まい)りますが、老化(ろうか)のせいなら仕方(しかた)ないと思(おも)いながら今(いま)は対応(たいおう)しています。
 耳(みみ)も遠(とお)くなってきましたし、これから更(さら)にいろいろな問題(もんだい)が出(で)てくるかもしれませんが、縁(えん)あって家(うち)に来(き)たたんたんを最後(さいご)まで見守(みまも)ろうと思(おも)います。レッスン中(ちゅう)にたんたんの声(こえ)が聞(き)こえたら…ごめんなさいね!
Nursing our pet
There is a 16 year old cat in my house. It has been a fast 16 years since I picked it up, as a moribund kitten with skin disease, and although it might seem long, it feels like it passed in just a moment. Within this time, I have taken various steps like getting married, giving birth, raising children, working and next it seems as though I am facing the time of nursing our pet.
Our 16 year old cat "TanTan", worried us about her constipation so we changed her feed to one that the veterinarian recommended. Up until then she would come and go to the toilet so frequently and cry in such pain that it seemed unreal when it was cured. We only had a moment to feel relieved when next she suddenly started to meow loudly. It was more of a scream than a meow. This continued several times in the middle of the nights and when we investigated we found out that it was due to aging. Being woken up in the middle of the night was tough, but while thinking that since it was due to aging, it couldn't be helped, we are coping with it now.
Her ears are becoming deaf, and she will probably have various other problems but since fate brought TanTan to our house, we will take care of her until the end. If you can hear TanTan's voice in the background during the lessons... I'm really sorry !
皮膚病(ひふびょう) skin disease
瀕死(ひんし) moribund、dying
獣医師(じゅういし) veterinarian、veterinary surgeon
絶叫(ぜっきょう) scream
老化(ろうか) aging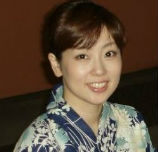 Hajimemashite, everyone . My name is Maki Igarashi.
Although I'm originally from Hokkaido, I live in Hiroshima because of my husband's work transfer. Hokkaido is the northernmost island of Japan. Winter is very cold and snowy, but Hokkaido's natural scenery is very beautiful, and we have a lot of delicious food. Here in Hiroshima, on Miya-jima Island, you can see Itsukushima Shrine, a world cultural heritage site. If you come to Japan, please visit these great places.
I'd like to see you smile at least once in every class. The lessons will be, well, fun! Prepare well, and review well! :o)
Don't get caught up thinking Japanese is a difficult language, enjoy studying and learning !
Try to use your newly learned vocabulary and phrases all the time in the lessons. Looking forward to meeting you all in class !
Last modified on