Blogs edited and submitted by Chiho Kamioka
JOI Support staff and manager.
Yoyogi Park
Tokyo's Yoyogi park
Yoyogi Park (Yoyogi Kōen) is one of Tokyo's largest city parks.
In 1964, it was used by the Tokyo Olympics for the athletes village so it has a history that is relevant to today's Japan.
Kamiyama sensei often goes to this park to enjoy the events there. She shares her appreciation for the park in this short and useful Japanese learner's blog with audio and video.
代々木公園
Yoyogi Park

By KAMIYAMA Yuki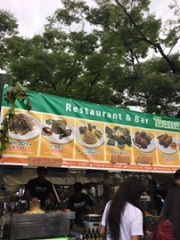 東京にある代々木公園は明治神宮に近く、木々の緑も多い公園です。 敷地の中には陸上競技場やサッカー場などのスポーツ施設、野外ステージもあります。
また、毎週のようにイベントやフリーマーケットが開かれています。 そのなかでも私が楽しみにしているのは、世界の国の料理や音楽が楽しめる国際フェスティバルです。 アイルランド、スペイン、インド、ベトナム、ブラジルなど、毎月いろいろな国のフェスティバルがあります。
私はこのあいだスリランカフェスティバルに行ってきました。 カレーなどのスリランカ料理を食べて、伝統舞踊を見て、かわいい雑貨も買いました。 日本にいながらにして海外気分が味わえて、とても楽しかったです。 みなさんの国のフェスティバルもあるかもしれませんよ。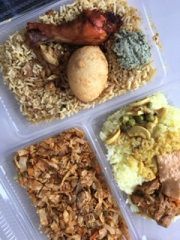 To listen to this blog, please watch our Youtube video.
よよぎ公園(よよぎこうえん)
東京(とうきょう)にある代々木公園(よよぎこうえん)は明治神宮(めいじじんぐう)に近(ちか)く、木々(きぎ)の緑(みどり)も多(おお)い公園(こうえん)です。 敷地(しきち)の中(なか)には陸上競技場(りくじょうきょうぎじょう)やサッカー場(じょう)などのスポーツ施設(しせつ)、野外(やがい)ステージもあります。
また、毎週(まいしゅう)のようにイベントやフリーマーケットが開(ひら)かれています。 そのなかでも私(わたし)が楽(たの)しみにしているのは、世界(せかい)の国(くに)の料理(りょうり)や音楽(おんがく)が楽(たの)しめる国際(こくさい)フェスティバルです。 アイルランド、スペイン、インド、ベトナム、ブラジルなど、毎月(まいつき)いろいろな国(くに)のフェスティバルがあります。
私(わたし)はこのあいだスリランカフェスティバルに行(い)ってきました。 カレーなどのスリランカ料理(りょうり)を食(た)べて、伝統舞踊(でんとうぶよう)を見(み)て、かわいい雑貨(ざっか)も買(か)いました。 日本(にほん)にいながらにして海外気分(かいがい)が味(あじ)わえて、とても楽(たの)しかったです。 みなさんの国(くに)のフェスティバルもあるかもしれませんよ。
Yoyogi Park
Yoyogi park is a park full of green with various trees, located in Tokyo near Meiji shrine. In the site there is an athletics field, a soccer ground and other sports installations and there is also an outdoor stage.
And there are events and flea markets held there almost every week. And among these I am really looking forward to the international festivals where we can enjoy food and music from all over the world.There are festivals for various countries including Ireland, Spain, India, Vietnam and Brazil.
The other day I went to the Sri Lanka festival. I ate curry and traditional Sri Lankan food, watched some traditional dances and bought some cute goos as well. I could feel like being abroad while staying here in Japan, it was really fun. There might be festivals for your country there too !
敷地(しきち)site  
陸上競技場(りくじょうきょうぎじょう)athletic field
施設(しせつ)installations
野外(やがい)outdoor
国際(こくさい)international
伝統舞踊(でんとうぶよう)traditional dance
雑貨(ざっか)goods

Hajimemashite, my name is Yuki Kamiyama. I live in Tokyo with my family (husband and two children).
My hobbies are reading books and watching movies. It doesn't matter what genre, I really enjoy and get stimulated by coming into contact with worlds that I do not yet know.
Why did you decide to study Japanese ? Was it for work, or for a hobby ? Or was it travel to Japan ? I would like to stand beside you and help you realize your hopes as you state, "I want to say this in Japanese ! I want to learn !" I will support you as much as I possibly can to get you to achieve your goals.
Last modified on