Blogs edited and submitted by Chiho Kamioka
JOI Support staff and manager.
Daruma dolls
Japanese traditional toys
There are various Japanese traditional toys, folk dolls and games. Most of these have a long history which have roots in Imperial or noble court life or in Buddhist rites and beliefs.
The toy introduced in this blog by Kamiyama sensei has it's roots in Zen Buddhism.
Read the blog and listen to the natural Japanese in the video for some free Japanese language lessons !
だるま
Daruma dolls

By KAMIYAMA Yuki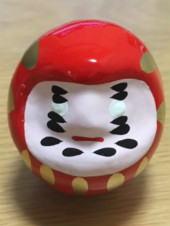 丸くて、赤くて、かわいらしいこの人形はだるまといいます。 だるまは押しても倒れずに何度でも起き上がってくることから、あきらめない、 目標を達成する象徴です。
実はだるまには目がありません。 目を描くのは願い事をするときです。家族の健康、会社の繁栄、受験の合格など、目標や願い事を心に決めて左目を描きます。 そして、目標や願い事が叶ったとき右目を描きます。
目標や願い事を叶えるために、あきらめないで、努力を積み重ねて、がんばるのを見守ってくれるのがだるまです。
To listen to this blog, please watch our Youtube video.
だるま
丸(まる)くて、赤(あか)くて、かわいらしいこの人形(にんぎょう)はだるまといいます。 だるまは押(お)しても倒(たお)れずに何度(なんど)でも起(お)き上(あ)がってくることから、あきらめない、目標(もくひょう)を達成(たっせい)する象徴(しょうちょう)です。
実(じつ)はだるまには目(め)がありません。 目(め)を描(か)くのは願い事(ねがいごと)をするときです。家族(かぞく)の健康(けんこう)、会社(かいしゃ)の繁栄(はんえい)、受験(じゅけん)の合格(ごうかく)など、目標(もくひょう)や願い事(ねがいごと)を心(こころ)に決(き)めて左目(ひだりめ)を描(か)きます。 そして、目標(もくひょう)や願い事(ねがいごと)が叶(かな)ったとき右目(みぎめ)を描(か)きます。
目標(もくひょう)や願い事(ねがいごと)を叶(かな)えるために、あきらめないで、努力(どりょく)を積(つ)み重(かさ)ねて、がんばるのを見守(みまも)ってくれるのがだるまです。
Daruma dolls
This round, red and sweet-looking doll is known as a 'Daruma doll' or Dharma doll. How ever many times you push this 'Daruma', it doesn't fall over and still stands back up so it is known as a symbol of never giving up and achieving one's goals.
Actually, a 'Daruma' does not have any eyes. You draw in the eyes when you have something to wish for. When you have decided a goal or wish, for example your family's health, your company's prosperity, or passing an exam, you draw in the left eye. Then when this wish or goal is accomplished or comes true, then you draw in the right eye.
The 'Daruma' then watches over your perseverance, as you build up your efforts, and never give up until the wish or goal comes true.
あきらめない   never give up
象徴(しょうちょう)symbol
描く(かく) draw
願い事(ねがいごと)をする make a wish
繁栄(はんえい) prosperity
叶う(かなう)  come true

Hajimemashite, my name is Yuki Kamiyama. I live in Tokyo with my family (husband and two children).
My hobbies are reading books and watching movies. It doesn't matter what genre, I really enjoy and get stimulated by coming into contact with worlds that I do not yet know.
Why did you decide to study Japanese ? Was it for work, or for a hobby ? Or was it travel to Japan ? I would like to stand beside you and help you realize your hopes as you state, "I want to say this in Japanese ! I want to learn !" I will support you as much as I possibly can to get you to achieve your goals.
Last modified on