Blogs edited and submitted by Chiho Kamioka
JOI Support staff and manager.
Edo Wonderland Nikko Edomura
Japanese historical theme parks
There are a large number of amusement parks in Japan, some with overwhelming visitor numbers and some less visited. The world renown Disneyland and Universal Studios are a must-see for families with children, but for those of you interested in historical attractions, then there are some great theme parks to enjoy all over Japan.
One of these is introduced here by Suzuki sensei. Please read through the blog, and listen to the audio while watching the video and learn some Japanese vocabulary from our weekly teachers' blog.
日光江戸村
Edo Wonderland Nikko Edomura

By SUZUKI Ayako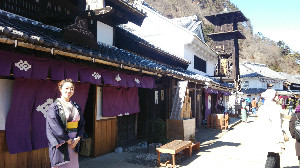 私が住んでいる栃木県には、「日光」という有名なまちがあります。毎年国内外から約1,000万人の人が訪れる、人気の観光地です。世界遺産に登録されている日光東照宮、日本三大名瀑の一つ華厳の滝、中禅寺湖や奥日光の湿原の美しい自然など、たくさんの見所があり、温泉も楽しめる魅力的なところです。今回はそんな日光の中で、一味違った観光スポット「Edo Wonderland 日光江戸村」をご紹介いたします。
日光江戸村は江戸時代の町並みを再現しているテーマパークです。中に入ると、江戸時代のサムライや町人が歩いています。屋根の上には忍者もいて、まるで江戸時代にタイムスリップしたような気分になります。そして、私たちも殿様や忍者の衣装に着替えて、江戸人に変身できます。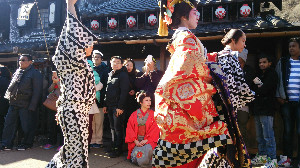 忍者劇場での迫力ある忍者のアクションショーは必見。手裏剣投げや弓矢などで遊んだり、サムライの生活を体験したり、自分でせんべいを焼いて食べたりすることもできます。忍者が好きな子供たちは、忍者の基本的な技術を習うこともできますよ。
皆さん、ぜひ日光江戸村で江戸気分を味わってみてくださいね。
To listen to this blog, please watch our Youtube video.
日光江戸村(にっこいうえどむら)
私(わたし)が住(す)んでいる栃木県(とちぎけん)には、「日光(にっこう)」という有名(ゆうめい)なまちがあります。毎年(まいとし)国内外(こくないがい)から約(やく)1,000万人(まんにん)の人(ひと)が訪(おとず)れる、人気(にんき)の観光地(かんこうち)です。世界遺産(せかいいさん)に登録(とうろく)されている日光東照宮(にっこうとうしょうぐう)、日本三大名瀑(にほんさんだいめいばく)の一つ(ひとつ)華厳(けごん)の滝(たき)、中禅寺湖(ちゅうぜんじこ)や奥日光(おくにっこう)の湿原(しつげん)の美(うつく)しい自然(しぜん)など、たくさんの見所(みどころ)があり、温泉(おんせん)も楽(たの)しめる魅力的(みりょくてき)なところです。今回(こんかい)はそんな日光(にっこう)の中(なか)で、一味(ひとあじ)違(ちが)った観光(かんこう)スポット「Edo Wonderland 日光江戸村(にっこうえどむら) をご紹介(しょうかい)いたします。
日光江戸村(にっこうえどむら)は江戸時代(えどじだい)の町並(まちな)みを再現(さいげん)しているテーマパークです。中(なか)に入(はい)ると、江戸時代(えどじだい)のサムライや町人(ちょうにん)が歩(ある)いています。屋根(やね)の上(うえ)には忍者(にんじゃ)もいて、まるで江戸時代(えどじだい)にタイムスリップしたような気分(きぶん)になります。そして、私(わたし)たちも殿様(とのさま)や忍者(にんじゃ)の衣装(いしょう)に着替(きが)えて、江戸人(えどじん)に変身(へんしん)できます。
忍者劇場(にんじゃげきじょう)での迫力(はくりょく)ある忍者(にんじゃ)のアクションショーは必見(ひっけん)。手裏剣(しゅりけん)投(な)げや弓矢(ゆみや)などで遊(あそ)んだり、サムライの生活(せいかつ)を体験(たいけん)したり、自分(じぶん)でせんべいを焼(や)いて食(た)べたりすることもできます。忍者(にんじゃ)が好(す)きな子供(こども)たちは、忍者(にんじゃ)の基本的(きほんてき)な技術(ぎじゅつ)を習(なら)うこともできますよ。
皆(みな)さん、ぜひ日光江戸村(にっこうえどむら)で江戸気分(えどきぶん)を味(あじ)わってみてくださいね。
Edo Wonderland Nikko Edomura
In the place where I live, Tochigi prefecture, there is a famous town known as Nikko. It is a popular sightseeing spot with about 10 million people visiting here annually from abroad and domestically. At the Nikko Toshogu Shinto Shrine which was registered as a World Heritage Site, there are many highlights to see, like Kegon Falls which is one of the 3 great waterfalls of Japan, Lake Chūzenji and the Oku-Nikko wetlands which have beautiful nature and another attractive point is that you can enjoy an Onsen hot spring. And in this blog about Nikko, I'd like to introduce an unusual sight-seeing spot called Edo Wonderland Nikko Edomura.
Edo Wonderland Nikko Edomura is a theme park around a reproduced Edo period townscape. There are townspeople and samurai warriors from the Edo period walking around. There are also ninjas on the rooftops, so it feels just like you've taken a time slip to the Edo period. And then we too can change into Edo period costumes of ninjas or overlords and transform into Edo people.
And you have to check out the spectacular Ninja action show at the Ninja theater. You can play with Shuriken throwing stars and bows and arrows, experience samurai life, and also bake and eat your own sembei cookies. And for kids who love Ninjas, they can learn some of the basic Ninja skills.
Please go and visit the Edo Wonderland Nikko Edomura and experience life in the Edo period.
世界遺産(せかいいさん)  World Heritage; a World Heritage site
日本三大名瀑(にほんさんだいめいばく)  the three great water falls in Japan
江戸時代(えどじだい)   the Edo Period (1603~1867)
町並(まちな)み   a row of stores and houses on a street; townscape
殿様(とのさま)  a (feudal) lord
変身(へんしん)  a change of appearance; transformation
迫力(はくりょく)ある   be powerful; have a tremendous impact
手裏剣(しゅりけん)  a ninja star; a throwing star
弓矢(ゆみや)  a bow and arrow

Konnichiwa. My name is Ayako Suzuki.
I live in Tochigi prefecture with my husband and two children. Tochigi has two towns that are very popular tourist attractions; Nikko, which is famous for its World Heritage shrine and its wonderful nature, and Mashiko which is famous for its pottery. Its only two hours by train from Tokyo, so if you get that chance, please come and visit Tochigi.
Through the language of Japanese, I am happy to and looking forward to meeting you all. Lets study Japanese together.
Last modified on