Blogs edited and submitted by Chiho Kamioka
JOI Support staff and manager.
Osaka gourmet city
Osaka
Osaka city is the capital of the Kansai region of Japan and second largest city in Japan. This city is famous for its large port and merchant class of people that bring a lively character to the area.
It is also a city well known for its Japanese cuisine. In 2016, the JOI teachers met up in Osaka and of course food was one of the top points on their agenda !
Read this fun blog about those memories from Shiomi sensei and listen to Shiomi sensei reading the blog herself and listen to natural Japanese for free !
食い倒れの街
Osaka gourmet city

By SHIOMI Kyoko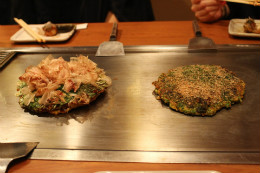 去年、JOIの代表と先生と一緒に大阪へ行きました。 大阪は昔から「食い倒れの街」といわれています。
大阪の人は食べ物へのこだわりが強くて、大阪にはおいしい店がたくさんあります。 特に、大阪名物のたこ焼きやお好み焼きはとても人気で、わざわざ遠方から食べに来る人もいます。串カツやうどんも人気があって、土日やランチタイムには行列ができることもあるそうです。
道頓堀界隈は、安くておいしい店が軒をつらねていて、平日でも多くの人でにぎわっています。私達も、おいしいお好み焼き、たこ焼きを堪能して、商店街を散歩して、戎橋や法善寺横丁で写真を撮りました。ネオンと活気に溢れた大阪の夜は、とても刺激的でした。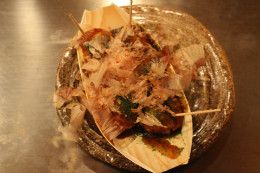 To listen to this blog, please watch our Youtube video.
食(く)い倒(だお)れの街(まち)
去年(きょねん)、JOIの代表(だいひょう)と先生(せんせい)と一緒(いっしょ)に大阪(おおさか)へ行(い)きました。 大阪(おおさか)は昔(むかし)から「食(く)い倒(だお)れの街(まち)」といわれています。
大阪(おおさか)の人(ひと)は食(た)べ物(もの)へのこだわりが強(つよ)くて、大阪(おおさか)にはおいしい店(みせ)がたくさんあります。 特(とく)に、大阪名物(おおさかめいぶつ)のたこ焼(や)きやお好(この)み焼(や)きはとても人気(にんき)で、わざわざ遠方(えんぽう)から食(た)べに来(く)る人(ひと)もいます。串(くし)カツやうどんも人気(にんき)があって、土日(どにち)やランチタイムには行列(ぎょうれつ)ができることもあるそうです。
道頓堀(どうとんぼり)界隈(かいわい)は、安(やす)くておいしい店(みせ)が軒(のき)をつらねていて、平日(へいじつ)でも多(おお)くの人(ひと)でにぎわっています。私達(わたしたち)も、おいしいお好(この)み焼(や)き、たこ焼(や)きを堪能(たんのう)して、商店街(しょうてんがい)を散歩して、戎橋(えびすばし)や法善寺横丁(ほうぜんじよこちょう)で写真(しゃしん)を撮(と)りました。ネオンと活気(かっき)に溢(あふ)れた大阪(おおさか)の夜(よる)は、とても刺激的(しげきてき)でした。
Osaka gourmet city
Last year, I went to Osaka with some JOI teachers and the Director. Osaka has been known as a town where people financially ruining themselves by overindulging in food and drink. Osaka people have a strong obsession with food, and there are many delicious food shops in Osaka.
Especially Osaka's famous specialties of Takoyaki and Okonomiyaki are really popular and people go to the trouble of coming from faraway to eat them. Kushikatsu ( fried pork and green onions on skewers) and Udon noodles are also popular, and on the weekends and at lunchtime long queues sometimes form.
In the Dotonbori Arcade, there are many cheap and delicious shops lined up side-by-side, and even on the weekends it is busy filled with people.
We also ate our fill of delicious Okonomiyaki and Takoyaki and walked through the arcade and took photographs at Ebisu Bashi Bridge and Hozenji Yokocho Alley. The Osaka nightlife, overflowing with the energy of the neon lights, was really stimulating.
代表(だいひょう)   representative
食(く)い倒(だお)れ  bringing ruin upon oneself by extravagance in food
こだわり  obsession
名物(めいぶつ) speciality; special product
遠方(えんぽう) long way; distant place
行列(ぎょうれつ) line; queue
界隈(かいわい) neighborhood
軒(のき)をつらねて to stand side by side
堪能(たんのう)して to eat one's fill
活気(かっき) energy; liveliness
溢(あふ)れた to overflow
刺激的(しげきてき) stimulating; exciting

Hajimemashite everyone,My name is Kyoko Shiomi.
I'm originally from Kobe, Hyogo prefecture. Kobe is a beautiful city that is surrounded by the sea and mountains. Himeji castle is located in Hyogo prefecture and it is the largest and the most beautiful castle in Japan. It has also been registered as a World Heritage Site.
There are many other attractive places in Japan. I would like to teach not only language, but also introduce Japanese culture and tourist spots, if you are interested. I used to live in Tokyo and London and work with people from many different parts of the world. Let´s talk a lot in Japanese and enjoy learning together! Looking forward to meeting you soon in the classroom.
Last modified on