Blogs edited and submitted by Chiho Kamioka
JOI Support staff and manager.
Ehou maki
Japanese roll sushi
There are many types of sushi in Japan. But in the United States and around the world, the most common type you can find is the sushi roll. This is usually composed of colorful ingredients and wrapped in Nori seaweed.
One type of sushi roll is popular in Japan during the month of February. Below Igarashi sensei gives us a brief introduction to this new custom that has been sweeping the country over the past 20 years or so.
Learn some Japanese with this free language learner's blog and read the vocabulary list to study some Japanese words and listen to the video to hear natural and fluent spoken Japanese.
恵方巻
Ehou maki

By IGARASHI Maki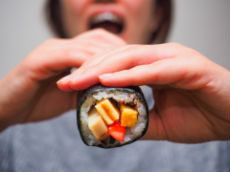 2月3日は節分の日です。「節分」 という言葉には「季節の分かれ目」という意味があり、この日は春の始まりを表します。いい一年になるようにとの願いをこめて、鬼のお面をかぶった人に豆を投げるのが日本の風習でしたが、最近はそれにもう一つの風習が定着しつつあります。
それは、巻き寿司を切らずにそのまま食べることです。その年の縁起がいいとされる方角に向かって、心の中で願いをとなえながら無言で食べるのです。大阪では1930年頃からこの風習が始まり、「巻きの丸かぶり」などと呼ばれていますが、日本中に広まったのは1998年にセブンイレブンが「恵方巻」という名前で巻き寿司を売り出してからです。
 「恵方」は「縁起のいい方角」という意味で、今年は北北西がその方角になります。家族や友達と同じ方を向いて無言で食べるのは、笑ってしまったりつい話してしまったりして、意外と難しいです。みなさんも是非やってみてくださいね。
To listen to this blog, please watch our Youtube video.
2月(がつ)3日(みっか)は節分(せつぶん)の日(ひ)です。「節分(せつぶん)」という言葉(ことば)には「季節(きせつ)の分(わ)かれ目(め)」という意味(いみ)があり、この日(ひ)は春(はる)の始(はじ)まりを表(あらわ)します。いい一年(いちねん)になるようにとの願(ねが)いをこめて、鬼(おに)のお面(めん)をかぶった人(ひと)に豆(まめ)を投(な)げるのが日本(にほん)の風習(ふうしゅう)でしたが、最近(さいきん)はそれにもう一(ひと)つの風習(ふうしゅう)が定着(ていちゃく)しつつあります。
それは、巻(ま)き寿司(ずし)を切(き)らずにそのまま食(た)べることです。その年(とし)の縁起(えんぎ)がいいとされる方角(ほうがく)に向(む)かって、心(こころ)の中(なか)で願(ねが)いをとなえながら無言(むごん)で食(た)べるのです。大阪(おおさか)では1930年頃(ねんごろ)からこの風習(ふうしゅう)が始(はじ)まり、「巻(ま)きの丸(まる)かぶり」などと呼(よ)ばれていますが、日本中(にほんじゅう)に広(ひろ)まったのは1998年(ねん)にセブンイレブンが「恵方巻(えほうまき)」という名前(なまえ)で巻(ま)き寿司(ずし)を売(う)り出(だ)してからです。
 「恵方(えほう)」は「縁起(えんぎ)のいい方角(ほうがく)」という意味(いみ)で、今年(ことし)は北北西(ほくほくせい)がその方角(ほうがく)になります。家族(かぞく)や友達(ともだち)と同(おな)じ方(ほう)を向(む)いて無言(むごん)で食(た)べるのは、笑(わら)ってしまったりつい話(はな)してしまったりして、意外(いがい)と難(むずか)しいです。みなさんも是非(ぜひ)やってみてくださいね。
Ehou maki
February 3rd is Setsubun day. The word Setsubun means the turning point of the seasons, and this day marks the start of Spring. There is a Japanese custom of throwing beans at a person wearing a demon mask in order to pray for a good year, but recently another custom has become established on top of this.
This is the practice of eating a sushi roll as it is without cutting it. You face the direction of good luck that has been decided for that year, and in your heart you say a prayer while eating the sushi roll silently. The custom started in Osaka around 1930, and is also known as "Maki maru kaburi" among other names, but in 1998 it spread around the whole country after Seven Eleven stores started to sell roll sushi under the name of "Ehou Maki".
"Ehou" means the right direction of good luck and this year the direction will be North by Northwest. When facing the same direction and eating something silently with family and friends you tend to burst out laughing or start speaking , so it's unexpectedly difficult. Please give this a try.
分(わ)かれ目(め) turning point
お面(めん) mask
風習(ふうしゅう)  habit; practice; custom
定着(ていちゃく)  take [strike] root, fix, become established
縁起(えんぎ) luck
方角(ほうがく)  direction, way
無言(むごん)  silent, without speaking
意外(いがい)と surprisingly, unexpectedly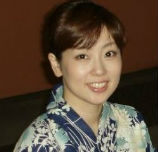 Hajimemashite, everyone . My name is Maki Igarashi.
Although I'm originally from Hokkaido, I live in Hiroshima because of my husband's work transfer. Hokkaido is the northernmost island of Japan. Winter is very cold and snowy, but Hokkaido's natural scenery is very beautiful, and we have a lot of delicious food. Here in Hiroshima, on Miya-jima Island, you can see Itsukushima Shrine, a world cultural heritage site. If you come to Japan, please visit these great places.
I'd like to see you smile at least once in every class. The lessons will be, well, fun! Prepare well, and review well! :o)
Don't get caught up thinking Japanese is a difficult language, enjoy studying and learning !
Try to use your newly learned vocabulary and phrases all the time in the lessons. Looking forward to meeting you all in class !
Last modified on