Blogs edited and submitted by Chiho Kamioka
JOI Support staff and manager.
National public holidays
Holidays and observances in Japan
Japan is a country that has a surprising number national public holidays as well as days of observance. The difference between the two is that on days of observance people do not get time off work but they usually celebrate the days with either cultural ceremonies and decorations, or small festivals.
Many of the observance days have roots in the ancient culture like the 7-5-3 Day and the Dolls' Festival. Yet some seem to be imported, like Christmas.
Here in this Japanese teacher's blog by Suzuki sensei, you can read about the latest Japanese naitonal public holiday. Read, listen to and learn Japanese for free with this regular learning tool.
国民の祝日
National public holidays

By SUZUKI Ayako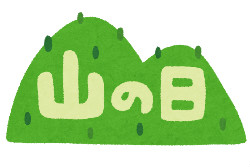 皆さんの国は祝日が1年間に何日ありますか。日本は昨年まで年間の祝日数は15日でしたが、今年から8月11日が新たに国民の祝日となりました。新しい祝日は「山の日」です。「山に親しむ機会を得て、山の恩恵に感謝する」 という目的で、制定されました。これで日本の祝日の日数は16日に増え、祝日がない月は6月だけになりました。
16日間という祝日の日数は世界的に見て、多いほうのようです。でも、日本では有給休暇を取りにくいサラリーマンも多く、実質的に仕事が休みの日は、他の国より少ないかもしれませんね。
To listen to this blog, please watch our Youtube video.
国民(こくみん)の祝日(しゅくじつ)
皆(みな)さんの国(くに)は祝日(しゅくじつ)が1年間(ねんかん)に何日(なんにち)ありますか。日本(にほん)は昨年(さくねん)まで年間(ねんかん)の祝日数(しょくじつすう)は15日(にち)でしたが、今年(ことし)から8月(がつ)11日(にち)が新(あら)たに国民(こくみん)の祝日(しゅくじつ)となりました。新(あたら)しい祝日(しゅくじつ)は「山(やま)の日(ひ)」です。「山(やま)に親(した)しむ機会(きかい)を得(え)て、山(やま)の恩恵(おんけい)に感謝(かんしゃ)する」 という目的(もくてき)で、制定(せいてい)されました。これで日本(にほん)の祝日(しゅくじつ)の日数(にっすう)は16日(にち)に増(ふ)え、祝日(しゅくじつ)がない月(つき)は6月(がつ)だけになりました。
16日間(にちかん)という祝日(しゅくじつ)の日数(にっすう)は世界的(せかいてき)に見(み)て、多(おお)いほうのようです。でも、日本(にほん)では有給休暇(ゆうきゅうきゅうか)を取(と)りにくいサラリーマンも多(おお)く、実質的(じっしつてき)に仕事(しごと)が休(やす)みの日(ひ)は、他(ほか)の国(くに)より少(すく)ないかもしれませんね。
National public holidays
How many national public holidays do you have in your country ? In Japan, until last year there were 15 days of public holidays per year, but from this year, August 11th became a new national holiday. The new national holiday is called Mountain Day. The purpose of this enactment was to bring people closer to mountains and to give thanks to the blessings of mountains. With this, the national holidays in Japan have increased to 16 and the only month without a holiday is now June.
When compared globally, 16 days seems like a lot. But in Japan there are many businessmen that find it difficult to take paid leave, so the actual days that people take a rest from work are probably less than other countries.
親(した)しむ enjoy, spend a lot of time, get familiar
機会(きかい) a chance, an opportunity
恩恵(おんけい) a favor; a benefit; a blessing
制定(せいてい) enactment
有給休暇(ゆうきゅうきゅうか) paid holiday
実質的(じっしつてき)に practically, substantively

Konnichiwa. My name is Ayako Suzuki.
I live in Tochigi prefecture with my husband and two children. Tochigi has two towns that are very popular tourist attractions; Nikko, which is famous for its World Heritage shrine and its wonderful nature, and Mashiko which is famous for its pottery. Its only two hours by train from Tokyo, so if you get that chance, please come and visit Tochigi.
Through the language of Japanese, I am happy to and looking forward to meeting you all. Lets study Japanese together.
Last modified on