Many countries have national exercise routines, especially in Asia. One of the most celebrated is the Radio Calisthenics in Japan, which has a long history.
Read the blog, listen to the video and learn Japanese vocabulary from the translations below.
ラジオ体操
Radio Calisthenics

By ISHIBASHI Kaori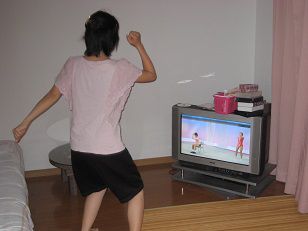 みなさんは普段どんな運動をしていますか?わたしは毎朝ラジオ体操をしています。
ラジオ体操とは、日本人ならおそらくだれでも知っている、約80年も歴史のある有名な体操です。80年前はテレビよりもラジオが一般的でしたから、このラジオ体操は国民の健康増進を目的として、ラジオで放送されました。その後、老若男女を問わず、だれでも簡単にできる体操として、日本では広く学校から会社などで行われてきました。
そして、ここ1、2年になって、このラジオ体操が、「続けると、いいこと尽くしの万能体操」として再び注目を集めています。現在は日本のテレビ番組の日本放送協会、いわゆるNHKで1日2回放送されています。
みなさんも一度、日本のラジオ体操を体験してみませんか?朝の体操はとても気持ちがいいですよ 。
To listen to this blog, please watch our Youtube video.
ラジオ体操(たいそう)
みなさんは普段(ふだん)どんな運動(うんどう)をしていますか?わたしは毎朝(まいあさ)ラジオ体操をしています。
ラジオ体操とは、日本人(にほんじん)ならおそらくだれでも知(し)っている、約(やく)80年(ねん)も歴史(れきし)のある有名(ゆうめい)な体操です。80年前(まえ)はテレビよりもラジオが一般的(いっぱんてき)でしたから、このラジオ体操は国民(こくみん)の健康増進(こんこうぞうしん)を目的(もくてき)として、ラジオで放送(ほうそう)されました。その後(ご)、老若男女(ろうにゃくなんにょ)を問(と)わず、だれでも簡単(かんたん)にできる体操として、日本では広(ひろ)く学校(がっこう)から会社(かいしゃ)などで行(おこな)われてきました。
そして、ここ1、2年になって、このラジオ体操が、「続(つづ)けると、いいこと尽(づ)くしの万能(ばんのう)体操」として再(ふたた)び注目(ちゅうもく)を集(あつ)めています。現在(げんざい)は日本のテレビ番組(ばんぐみ)の日本放送協会(にほんほうそうきょうかい)、いわゆるNHKで1日(にち)2回(かい)放送(ほうそう)されています。
みなさんも一度(いちど)、日本のラジオ体操を体験(たいけん)してみませんか?朝の体操はとても気持(きも)ちがいいですよ。
Radio Calisthenics
Do you usually exercise ? Every morning, I do the Radio Calisthenics. Radio Calisthenics is something that probably every Japanese person knows, which is a famous exercise routine that has an approximately 80 year history.
80 years ago, radios were more popular than televisions and this Radio Calisthenics was broadcast on the radio with aim to improve the nation's health condition. After its introduction, Radio Calisthenics was practiced in Japanese schools and companies and was an easy exercise that could be practiced by both men and women regardless of age.
In these last 1 or 2 years, this Radio Calisthenics has regained attention as a general cure-all for a number of common ailments if one continues to do it. Currently, Radio Calisthenics is broadcast twice a day on Japanese TV by the Japan Broadcasting Corporation otherwise known as NHK.
Why don't you have a go at trying Radio Calisthenics ? It is a great way to exercise in the mornings.
体操(たいそう)exercises
普段(ふだん)usually
おそらく probably
歴史(れきし)history
一般的(いっぱんてき)popular
国民(こくみん)national people
健康増進(けんこうぞうしん)health improve
放送(ほうそう)broadcast
老若男女(ろうにゃくなんにょ)men and women of all ages
問(と)わず no matter, regardless
行(おこな)われる be done
尽(づ)くし all sorts of
万能(ばんのう)a cure-all
再(ふたた)び again
注目(ちゅうもく)attention
番組(ばんぐみ)program
いわゆる the so called
体験(たいけん)experience